We like Neil Patrick Harris at TODAY; he's a fun guest and an all-around good egg. But that may have changed after the stunt he pulled on Matt Lauer and Savannah Guthrie on Tuesday's "Best Time Ever"!
Via one of TODAY's producers, Harris talked the pair into visiting the Doob Store and standing in what was called the "Dooblicator" (which is a real thing). Once inside, they were told their likenesses would be used to create action figures.
"We were more than happy to give it a try," Lauer said on TODAY Wednesday. "But little did we know there were two dozen hidden cameras catching every move we made and every word we said."
Then out came the holiday costumes, and the pair were enticed into dressing up like an elf and a tin soldier. (Harris, by the way, was on hand in disguise as a Doob Store employee named Eric.)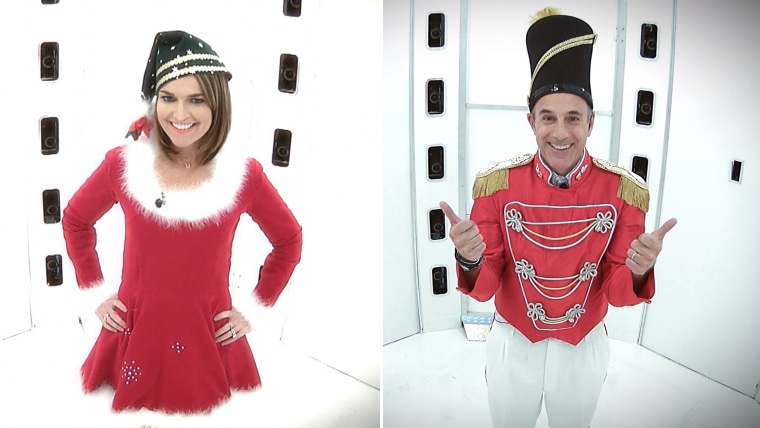 But once they were inside the Dooblicator, things started to go wrong. First, Savannah got locked inside. Then while Matt took his turn, sparks began to fly. And panels fell off. And liquid began to spurt. "Eric" ran to the rescue and ... all was revealed.
"Oh, my God!" cried Savannah when she realized what was going on.
"You son of a ..." noted Matt.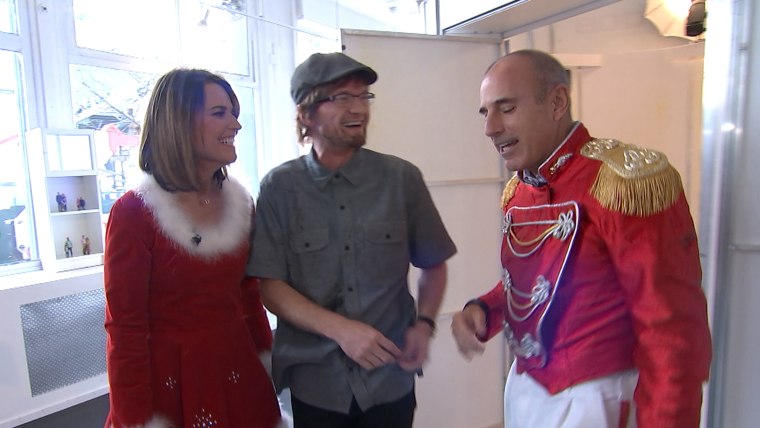 On Wednesday, Matt said he guessed it was probably a prank, but added that the smell of the yellow liquid was pretty foul. He also pointed out that despite his apparent danger, "Savannah was scared because she saw the sparks; did she make even one move toward the door to try and rescue me?"
"I called for help!" Savannah insisted.
But there was a good side: They got their action figures!
Watch "Best Time Ever" on Tuesdays at 8 p.m. on NBC.