As expected, Neil Patrick Harris brought the usual song and dance as he hosted Sunday's Academy Awards ceremony, tweaking the entertainment industry along the way.
"Tonight we honor today's best and whitest—sorry, brightest!" he joked, before quickly launching into a musical number in which he opined, "I secretly hope someone pulls a Kanye West."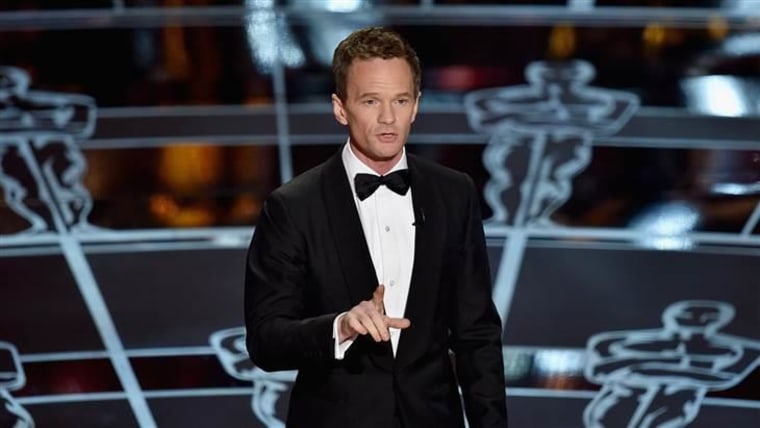 Harris' song and dance got some help from Anna Kendrick, channeling her "Into the Woods" character of Cinderella, and Jack Black, who worried about the fate of movies after "Fifty Shades of Grey's" success. "They'll all have leather whips," he sang.
The song also offered a synopsis of best-picture nominees, "whether we're big-brained and British, or hiking and skittish, a legendary leader, a Birdman in a theater, a boy we watch until he's grown, a sniper in a combat zone, a wealthy philanthropic creep, magic Meryl effin' Streep, lobby boys and bleeding drummers."
At the end of the number, Harris basked in the applause, and joked, "That whole thing? Completely improvised."
He also poked fun at his own movie career. "Tonight on this stage we have come together to celebrate and hopefully to fall in love with moving pictures all over again," he said. "OK, maybe not 'Smurfs 2.'"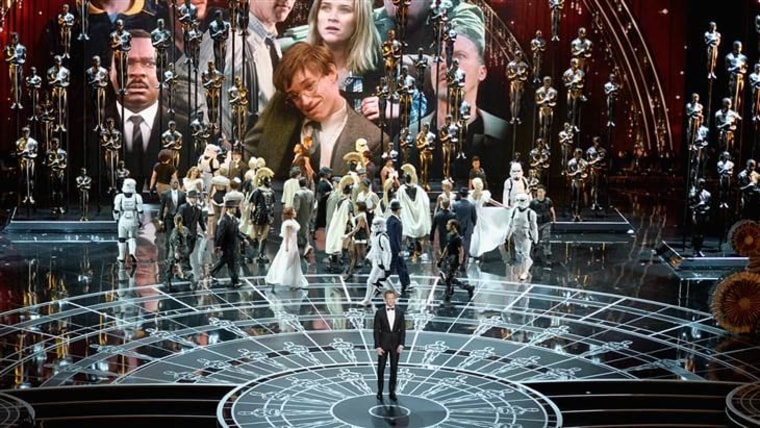 Harris smirked at the box-office disparity between "American Sniper" and all other films nominated for best picture, as the Clint Eastwood-directed war film made more than half of the $600 million that all eight films grossed combined. "To put that in perspective," Harris quipped, "everyone on this side of the theater is the seven other nominees, and 'American Sniper' is Oprah."
The host poked fun at the opulence of the event, too. "Here's a fun fact," he said. "This year's nominated actors will receive gift bags containing $160,000 worth of merchandise, including two vacations, makeup, clothes, shoes, and an armored car ride to safety when the revolution comes."
After J.K. Simmons won his Oscar for "Whiplash," Harris sang the commercial jingle for Farmers Insurance, for which Simmons is a spokesman — but replaced the lyrics with, "He won an Oscar / bum-ba-dum-bum bum bum bum!"
Harris introduced "Magic Mike" star Channing Tatum as "an actor who is as appealing playing a male stripper as he is playing a wrestler in a onesie. He's the real deal, pants down. Hands down. Did I say pants? I meant pants."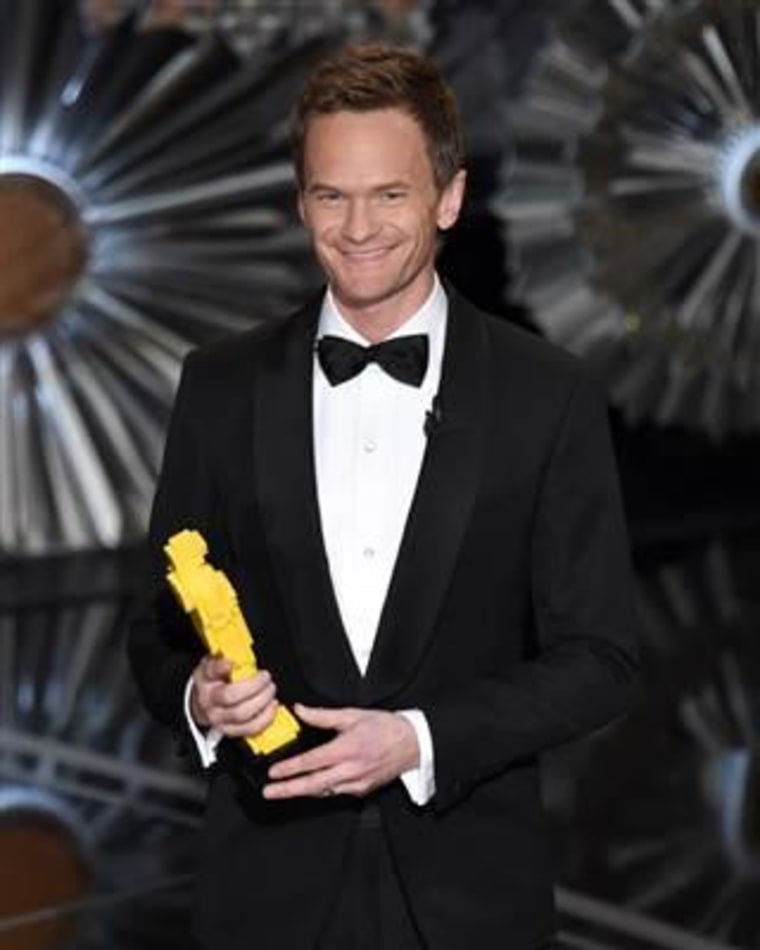 Speaking of lacking pants, after a commercial break, Harris appeared in only a pair of underwear, spoofing a famous scene from "Birdman." After passing "Whiplash" star Miles Teller on a drum set on the way to the stage, Harris mimicked Simmons' Oscar-winning character and muttered, "Not my tempo."
After brief interviews with two relatively unknown seat-fillers, Harris approached Steve Carell, whose performance in "Foxcatcher" earned him a nomination for best actor.
"First time here?"
"Yes," Carell replied, earning laughter from the crowd.
Harris then asked Carell about who he was most looking forward to meeting that night.
"Oh, Edward Norton," Carell answered. "He's right over there!"
Harris got a huge laugh at the expense of the man who once introduced "Adele Dazeem" instead of Idina Menzel. "Benedict Cumberbatch: It's not only the most awesome name in show business; it's also the sound you get when you ask John Travolta to pronounce 'Ben Affleck.'" Harris then introduced Menzel, who welcomed her "very dear friend, Glom Gazingo," a.k.a. Travolta, to the stage.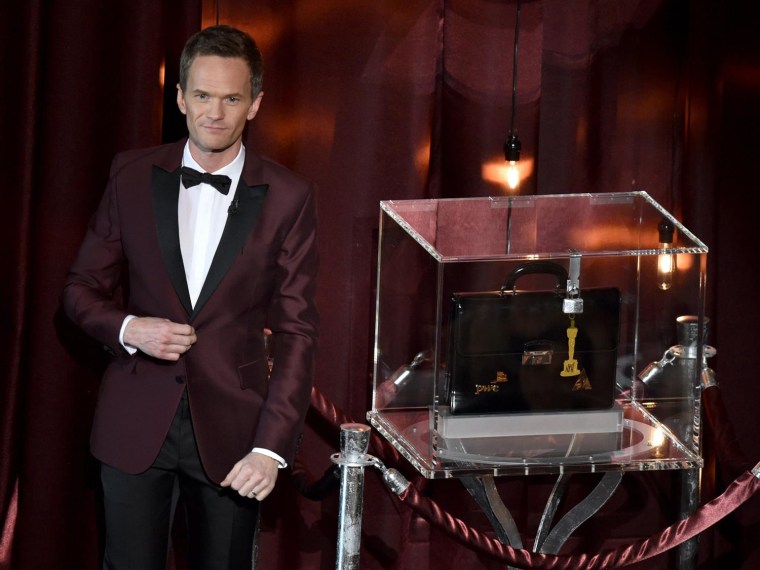 Right before "Birdman" was announced as the winner for best picture, Harris revealed a list of "predictions" he'd supposedly made before the broadcast aired. Among the highlights:
The foreign film winner from Poland will get played off, then back on.
During Patricia Arquette's "Norma Rae" moment, Meryl Streep will suddenly realize she's underpaid.
Travolta will be back again next year to apologize for all the face touching.
Prior to hosting the Academy Awards, Harris hosted the Tony Awards four times and the Emmy Awards twice.
Follow TODAY.com writer Chris Serico on Twitter.