Look out, "Star Wars," because the "MythBusters" are coming after you! Discovery's popular show is putting several of the beloved film series' famous scenes to the test. 
One of the spectacles co-hosts Adam Savage and Jamie Hyneman will be investigating is Luke (Mark Hamill) and Leia's (Carrie Fisher) swing across a giant chasm as they escape Stormtroopers in the original film. Could the pair really have made it to the other side together?
The original stars of the hit movie won't be reprising their roles for "MythBusters," but in a clip that Discovery is sharing exclusively with TODAY, Hyneman takes on the role of the dashing young Jedi, complete with a mop of brown hair. And the part of Leia? No, Savage won't be sporting the cinnamon roll-like 'do. Instead, Sophia Bush, star of NBC's "Chicago PD," plays the pretty princess. 
As Hyneman points out in the video, the chasm for this experiment is replaced by a 30-foot gap on "MythBusters" (but complete with a replica of a Death Star door marked "danger"). Non-Jedi Hyneman also has a safety harness and mats "in case something goes horribly wrong."
In addition to the big jump, "MythBusters" will take a look at whether Luke could've really survived the frigid cold of Hoth while cozied up inside the belly of a dead Tauntaun, and whether the adorable little Ewoks would've been able to take down Darth Vader's more advanced devices of destruction. (Fun fact: Savage, who does special effects, worked on "Star Wars Episode I: The Phantom Menace" as well as "Episode II: Attack of the Clones.")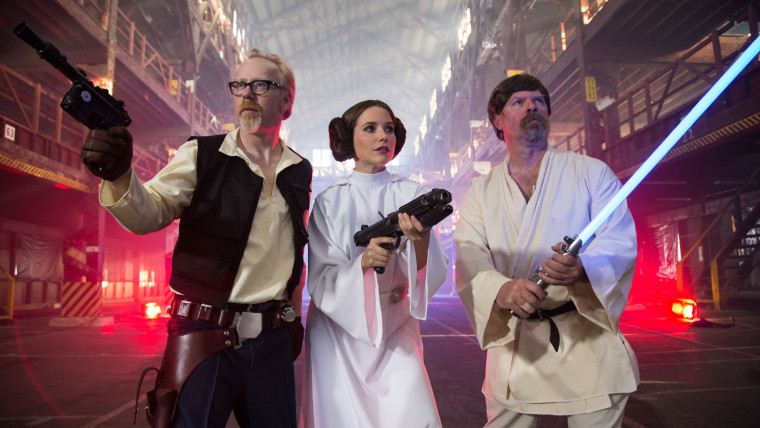 As if a "Star Wars"-themed episode isn't great enough, Discovery is offering a live component for this premiere. Savage and Hyneman will be doing a live video feed at 8 p.m. ET on Discovery.com/MBLive. Not only will the guys be interviewing special guests and giving away prizes from the episode during commercial breaks, they'll also be answering fan questions. Simply tweet or Facebook your burning queries with the hashtag #SithBusters.
As for the question of whether the Force will be with Hyneman and Bush as they make their Luke and Leia leap, watch you must on Saturday!
"MythBusters" premieres Saturday at 8 p.m. on Discovery.