All he had was a photograph, but Ringo Starr wanted to know: Who were the teens in this picture he took in 1964? Well, 49 years later, consider the mystery solved. Those former teens dropped by TODAY Monday to talk about being a part of Beatles history.
Gary Van Deursen was driving a borrowed Chevy Impala on the day the Beatles arrived at JFK airport in New York, and brought along buddies Suzanne Rayot, Arlene Norbe, Charlie Schwartz, Bob Toth and Matt Blender. (Blender passed away in 2011.) The teens had cut class to go see the band arrive, and got lucky as they passed a row of limousines carrying the Fab Four. 
"We went back up to the front (of the limousine line), waved to each one of them, and the last one was Ringo, he's the one who went, 'Roll down your window!'" reported Van Deursen. They did, and snap went Starr's camera.
But the teens never handed their names over to the drummer, who went on his way to iconic success with the band. Then, when Starr added the picture to his new book and exhibit, "Photograph," the question came up again: Who were those fresh-faced folks?
USA Today started the search in an issue last week, followed quickly by TODAY, and with the word out, the answer came swiftly. And during their visit to the plaza, TODAY photographers made sure to re-create the image of the carload of no-longer-teens.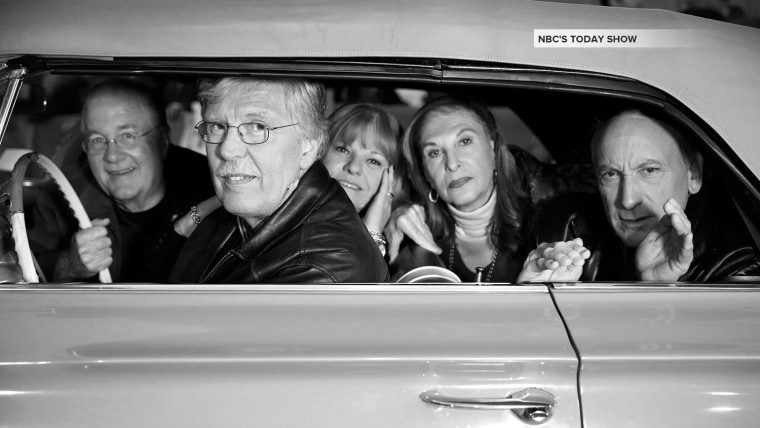 Starr himself was also thrilled to learn who they were, saying in a statement, "How great that they found these people! And how cool to now know a little of their story and what that moment was like from their perspective. Right now I'm off in Latin America on tour and I won't be back until November when we play two shows at the Palms in Las Vegas. I look forward to meeting them when I get back. See you in Las Vegas! Peace & love, Ringo"