Fans will finally get to see the stars of "My Big Fat Greek Wedding" reunite on the big screen when the highly-anticipated sequel opens later this month.
But they don't have to wait at all for a mini-reunion on TODAY!
Writer and leading lady Nia Vardalos joined her co-stars Lainie Kazan, Andrea Martin and Joey Fatone Monday morning to explain why the group decided to get back together more than a decade after the first film became a worldwide smash.
"We love each other!" Vardalos said.
MORE: Opa! TODAY goes behind the scenes of the 'My Big Fat Greek Wedding' sequel
And while it's been 14 years since moviegoers have seen the Portokalos family all together, it hasn't been that long for this group of on-and-off-screen friends.
"We see each other all the time," Kazan said.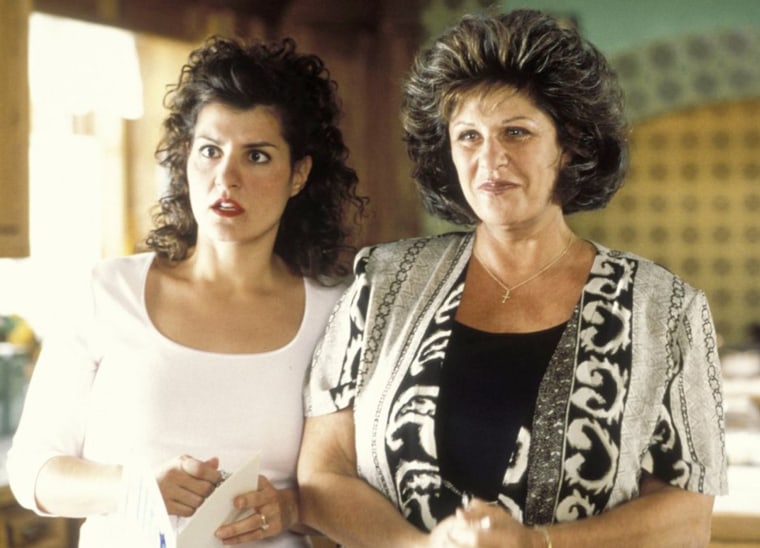 That real-life camaraderie made for an enjoyable time filming the sequel — for most of them.
"It was really joyous to be on set, but we felt sorry for our director, because this is us on set ..." Vardalos said, as the group started talking over each other all at once.
The chemistry that captured audiences in 2002 is clearly still there.
"Everyone identified with the characters," Kazan said of what made "My Big Fat Greek Wedding" a hit.
"It didn't matter what nationality you were. Nia touched chord in everyone — even my Vietnamese manicurist. She said, 'Oh, that's just like my family!'"
MORE: America says 'I do!' Meet the winning couple of TODAY's Big Fat Wedding
As for the long wait between films, Vardalos explained that she wanted to start a family first.
"I started writing on my daughter's first day of kindergarten," she said.
Her daughter Ilaria is now 11.
"It takes a while!" Vardalos added.
MORE: 'My Big Fat Greek Wedding' star Nia Vardalos weighs in on adoption
Catch more of the reunion in the video, and see even more when "My Big Fat Greek Wedding 2" opens in theaters March 25.
Follow Ree Hines on Twitter.