Prince tries to school young listeners with "Musicology," Mario Winans offers a melodic prescription men need to mend in "Hurt No More," and Mary Chapin Carpenter offers a little comfort in "Between Here and Gone" in this week's new releases.
"Musicology," Prince
Though Prince has been releasing new music at a steady pace for years, he's done so in relatively obscurity — at least for someone who used to be a multiplatinum superstar. By eschewing major record labels to dole out his music his way on his terms, he's fallen out of the pop spotlight — a spotlight he's now trying to reclaim.
The normally reclusive singer has embarked on a media blitz that's included a nationwide tour, television appearances, and an album release on Columbia Records. But he won't call it a comeback attempt. Instead, the newest member of the Rock and Roll Hall of Fame sees his latest CD, "Musicology," as his opportunity to school the kids on true music in an era of sampling, lip-synching and nebulous talent.
Problem is, there isn't much new — or inspiring — in his teachings. Instead, it seems as if he's dusted off his old lesson plans to try and reach out to a new generation.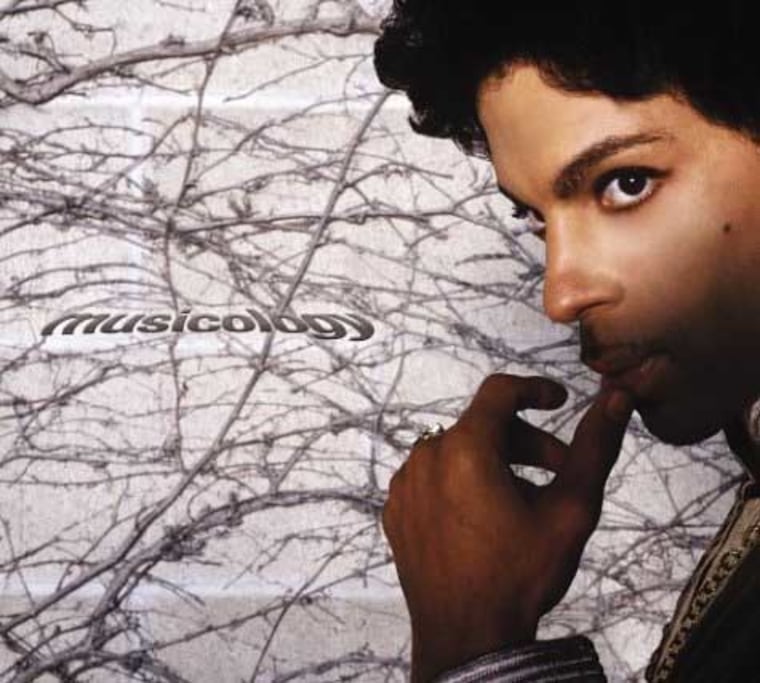 Of course, given that Prince basically rewrote the textbook for funk, rock and soul over his 25-years-and-counting career, any lesson he gives is worthy and relevant. But it's not terribly exciting.
The title track, while engaging, is a retread of those same James Brown-inspired funk grooves he's done in the past; "Life of the Party," "Illusion, Coma, Pimp and Circumstance," about an ugly, rich woman and the man teaching her to groove, sounds disjointed and silly, and lacks the lyrical wit we've come to expect from the Purple One. And despite the thumping groove of "Life of the Party," it's not something you'd really want to party to.
Certainly, there are some gems here. "Call My Name" is yet another luscious ballad that shows Prince is still the master of intoxicating pillow talk, even as the Jehovah's Witness has cleaned up his previously naughty act.
"What Do You Want Me 2 Do?" lures you with its mellow, jazzy sound, while "Dear Mr. Man" is a searing, sobering indictment of today's society that certainly rivals anything he's done in the past.
But it's rare his new work reaches the artistic peaks of his previous material — and that's his conundrum. Those old hits, and even misses, are still dynamic and innovative for today's musical landscape, and you can't get them out of your mind.
After the first track, he makes the mistake of interloping snippets of his past hits as a testament to his musical greatness. But it just makes you want to pull out those old tunes and listen to them instead.
It may not be fair to expect Prince, after years and years of being a musical innovator, to keep topping himself. But he's the one that spoiled us with his musical genius. So we do expect him to teach us something new.— Nekesa Mumbi Moody
"Hurt No More," Mario Winans
When you're born into a prominent musical dynasty, there's a good chance of inheriting your family's talent. Bad Boy's hitman producer Mario "Yellowman" Winans — son of gospel chanteuse Vickie Winans and Marvin Winans of The Winans — continues the family's musical legacy with his debut effort, "Hurt No More," though he's chosen the R&B route instead of a gospel one.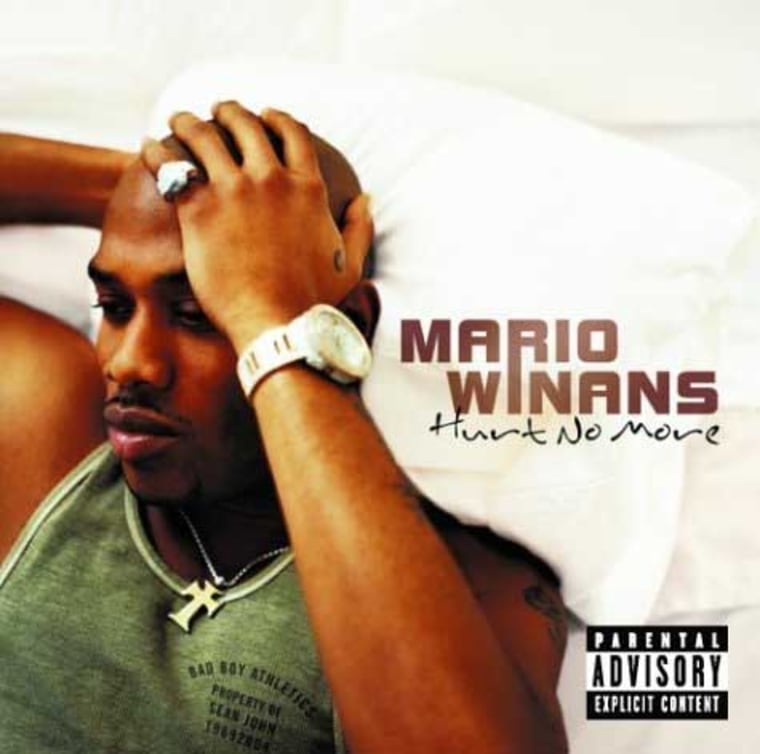 Winans, who has worked with artists such as R. Kelly, Mary J. Blige, Jennifer Lopez, Brian McKnight, and the Notorious B.I.G., tackles the hard knocks of love — hurt, betrayal and infidelity — so earnestly that the album sounds like a much-needed therapy session. From the infectious debut single "I Don't Wanna Know" featuring Enya (it samples her "Boadicea" also used by The Fugees for their 1996 chart topper "Ready or Not") & P. Diddy, where he confronts his lover's unfaithfulness by ignoring it, to the catchy "Never Really Was" and regretfully somber "Should've Known Better," Winans drops a dime like a Michael Baisden novel: Men cry in the dark too and occasionally have a conscience.
Less melancholy tracks such as the party-starter "So Fine," the mid-tempo "I Got You Babe" and scathing "Pretty Girl ..." featuring Foxy Brown add just enough street-edge to prevent Winans from having his playboy card totally revoked.
Although Winans tries to uphold the family legacy, he's no powerhouse singer — he simply wasn't blessed with their soulful pipes. Still, "Hurt No More," isn't too hard on the ears and just may be the melodic prescription men need to mend, if not, numb a broken heart.— Kenya N. Byrd
"Between Here and Gone," Mary Chapin Carpenter
Singer-songwriter Mary Chapin Carpenter has always had the knack for writing literary songs that focus, subtly at times, on love, loss, and going through life with a certain sense of grace.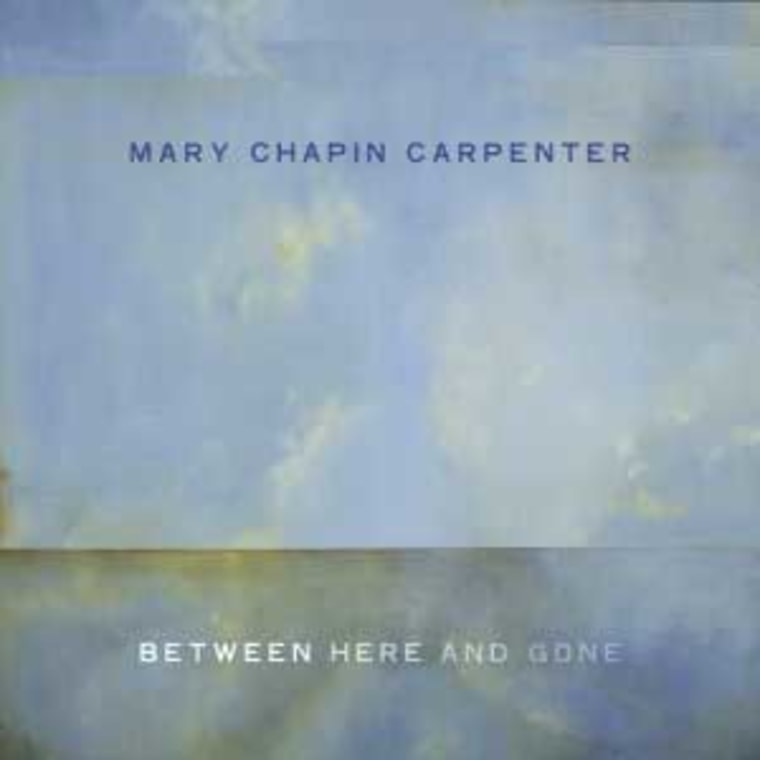 Like her peers, including Lucinda Williams, Kate Campbell and Lyle Lovett, she's carved out a section of American music that is equal parts folk, country and soul-piercing self-reflection.
The 12 songs on her eighth studio LP, "Between Here and Gone," are a like characters worn down by life, but strangely optimistic — comfortable in the belief that the hard times will eventually go soft.
Take "Goodnight America," a delightful gem that looks at the nature of hope and how it keeps people moving forward. "I'm a stranger here, no one you would know/My ship has not come in, but I keep hoping though," Chapin Carpenter sings. She's backed by co-producer Matt Rolling, who's session piano work is crisp and delicate.
"Girls like me like summer light, a cold beer on a summer night/And boys who aren't afraid of what they see inside the eyes of girls like me," she sings, resigned and baleful in "Girls Like Me."
It's clear that as Chapin Carpenter grows in her work, and her own experiences, the music is the beneficiary.— Matt Moore
"Revolutions," X-ecutioners
With their latest album, "Revolutions," the X-ecutioners — the collective of DJ Rob Swift, Grandmaster Roc Raida and DJ Total Eclipse — prove that they are some of the most talented turntablists around, mixing everything from rock to rap to pop with ease.
From the swift-wristed scratching of the opener "The Countdown Part 2" to the closer "Don't Believe the Hype '04," (a modern re-imagining of the Public Enemy classic infused with excerpts from President Bush's speeches) their abilities are unprecedented.
What makes "Revolutions" even better is its A-list of guest MC's. With raps from Dead Prez, The Roots' Black Thought and Wu-Tang Clan's Ghostface Killah, it's hard for an album to go wrong — having a hot name rocking the mic on your mix never hurts.
But the most intense, and surprising, guest appearance is that of emo hip-hop golden boy Slug from Atmosphere on "More Human Than Human," an anthem on freakdom built on the chorus from the White Zombie song from which it derives its name. Slug's attack on the mainstream, although not the whiz kid's smartest rap, is relentless and hits with each crashing beat.
One of the most surprising songs is "Like This" which spins vocals from Nikki with a pop-rock riff and dance beats. What makes the song so interesting is its school yard, singsong rap cheeriness. On an album full of hard rock-tinged rap mixes, the track is evocative of a souped-up old Salt-N-Pepa jam and its brilliantly fun.
While more than a few DJs can fuse hip-hop, rock and club beats like the X-ecutioners do, hardly any can do it with the same wide-ranging appeal and pop sensibility, and "Revolutions" is a testament to that.— Angela Watercutter
"True Love," Toots and the Maytals
There's no question reggae's legendary pioneers, Toots and the Maytals, make great music. But add collaborations with some mainstream rock 'n' roll greats and the music feels updated.
Much of "True Love" features remakes of Frederick "Toots" Hibbert's classics with a twist — a lineup that includes Bonnie Raitt, Jeff Beck, Eric Clapton, Ben Harper, No Doubt, Keith Richards and Bootsy Collins and The Roots.
Think Santana's "Supernatural," only better.
The solid performance of Toots and No Doubt — the man who helped introduce ska to the mainstream and the band that helped bring along the 1990s ska rebirth — on the classic "Monkey Man" is a no-brainer. The blending of the rocking band and Toots' soulful voice is one of the album's gems.
Clapton takes front and center on "Pressure Drop," one of Toots' signature songs. Adams shines with "Time Tough."
But understand, this album belongs to Toots and The Maytals.
During the collaboration with Jeff Beck on "54-46 Was My Number," a song about the singer's time in jail — Toots owns the song with his scatting.
Sadly missing from the album is "Do the Reggay," the 1968 song by Toots that many credit with giving reggae its name.— Chelsea J. Carter
"Plow to the End of the Row," Adrienne Young & Little SadieAdrienne Young's greatest gift is composing, which is saying something because she's also a talented alt-bluegrass singer and multi-instrumentalist. Performing with her band Little Sadie on a charming debut, "Plow to the End of the Row," Young mixes her own rootsy songs with such traditional tunes as "Solider's Joy" and "Leather Britches," and the results sound seamless and timeless.
To underscore the Nashville artist's earthy approach, her CD package contains an envelop of wildflower seeds. There's also a lovely duet with Will Kimbrough titled "Home Remedy," and Young strikes a chord singing about reincarnaction, murder-suicide and the Iraq war — which she opposes, like a true dixie chick.— Steven Wine