Trent Reznor, R.E.M., Pearl Jam and The Roots are among the musicians joining the National Campaign to Close Guantanamo and are backing an effort to have documents detailing the use of music used in conjunction with torture there declassified.
(The United Nations has banned the use of music as torture under the UN Convention Against Torture and Other Cruel, Inhuman or Degrading Treatment or Punishment, but the Convention "goes largely unenforced," according to the National Campaign to Close Guantanamo.)
The use of music in torture was brought to light when a 2004 Defense Department report on abuses at the military base in Cuba said that the "futility technique included the playing of Metallica, Britney Spears and Rap music."
"When we found out that music was being used as part of the torture going on at Guantanamo, shackling and beating people — we were angry," The Roots said in a statement. "Just as we wouldn't be caught dead allowing Dick Cheney to use our music for his campaigns, you can be damn sure we wouldn't allow him to use it to torture other human beings. Congress needs to shut Guantanamo down."
Lifetime cancels Heene 'Wife Swap' episodeWith all the speed of a homemade, tin-foil UFO skipping across portions of Colorado, Lifetime is pulling from the lineup the repeat of the "Wife Swap" episode featuring the Heene family. The family's first episode for "Wife Swap" (they appeared twice) was supposed to air on Lifetime on Oct. 29.
"It was on the schedule long before the incident," a Lifetime spokesperson said. "Once we found out (the incident was a hoax) we decided to pull it off the air. At this time, we don't have any plans to air it in the near future."
Michael Lohan's campaign to save Lindsay
Jake Johnson and Damon Wayans Jr. on the "Let's Be Cops," red carpet, Selena Gomez is immortalized in wax and more.
An open letter in a national publication isn't the typical way of going about an intervention, but that's the course Michael Lohan has chosen regarding his daughter, Lindsay. In a letter in the current issue of In Touch Weekly, he writes of his perception of his daughter's well being: "I'm sorry for the pain and inner turmoil that I am responsible for, for being away in prison or getting divorced from Mom ... I'm also sorry for doing this so publicly, Honey, but I can see, I hear and I know what's happening ... I tried every way to make you see what is happening to you."
And Lindsay's dad isn't limiting himself to one medium to get his message out — he also spoke to Us Weekly. On Oct. 19 he said, "I'm going to try to get a conservatorship. If that doesn't work, I wish I could kidnap her and detox her myself. She is killing herself." Us went to Lindsay for a response: "He'sthe one who needs to see someone — for his addiction to the media," she said.
Keeping tabs: Nicole Richie's baby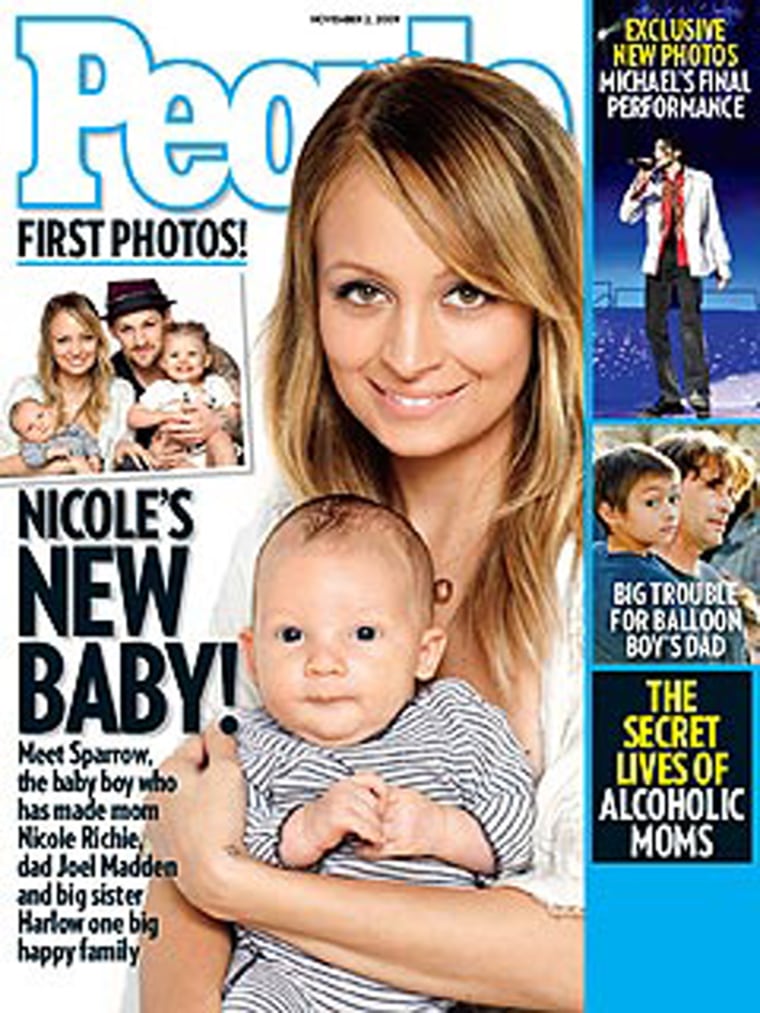 Photos of celebrity babies tend to perform quite well on newsstands and Nichole Richie on the cover of People with her new son Sparrow will be no exception. And there's this: Richie and husband Joel Madden are more interesting than your average young Hollywood parents. They're young, they're edgy and until daughter Harlow came along, you wouldn't exactly call Richie a homebody. This all contributes to making any inside look into their lives more interesting. Also, sales of Star magazine could see a bump thanks to People. Star's cover, "Nicole & Joel Married" will appeal to the Richie/Madden fanbase in search of more details. Speaking of babies: A very pregnant Kendra Wilkinson on the cover of In Touch ... just asking — why? Hit me up on Twitter, @courtneyatmsnbc, if you're a fan — I don't totally get the appeal here, show me the way.
Courtney Hazlett delivers the Scoop Monday through Friday on msnbc.com. Follow Scoop on Twitter @courtneyatmsnbc