Victoria Beckham wants her daughter-in-law to enjoy her special day.
On Jan. 9, the former Spice Girl posted a message to son Brooklyn's wife in honor of her 28th birthday.
"Happy Birthday @NicolaAnnePeltzBeckham," she captioned a picture of her and Nicola Peltz Beckham at a kitchen table, with Beckham resting her hand on her mouth and Peltz Beckham laughing as she covers her mouth with her own hand. "Hope you have a lovely day!!!"
"Thank you so much! " Peltz Beckham wrote in the comments.
Brooklyn Peltz Beckham and Nicola Peltz Beckham married in April 2022.
"Congratulations Mr and Mrs Beckham X Welcome to the family," Victoria Beckham wrote on Instagram after they tied the knot.
"The MOST exciting news!! We could not be happier that @brooklynbeckham and @nicolaannepeltz are getting married!" Beckham also wrote on Instagram after they got engaged in 2020. "Wishing you so much love and a lifetime of happiness. We all love you both so much."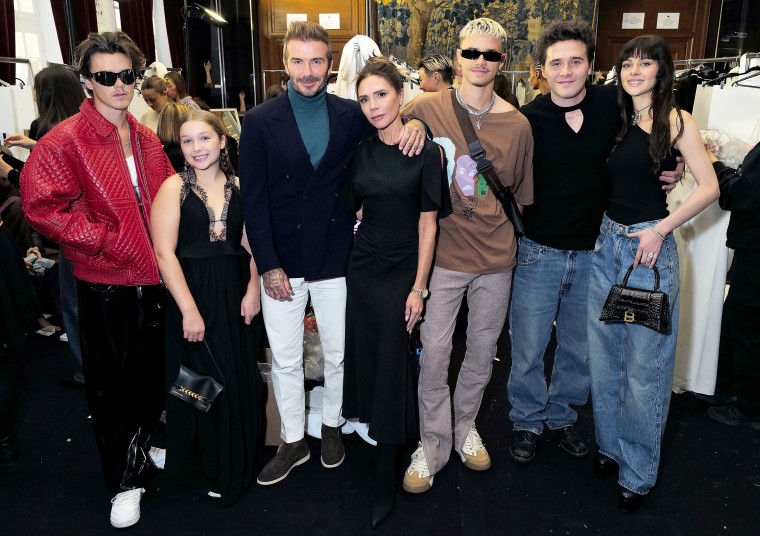 Rumors of a rift between Victoria and Nicola surfaced last year. Nicola Peltz Beckham says the chatter began when she wore a Valentino gown at her wedding, instead of a dress her mother-in-law had designed.
"I was going to and I really wanted to, and then a few months down the line, she realized that her atelier couldn't do it, so then I had to pick another dress," Nicola Peltz Beckham told Variety last August. "She didn't say you can't wear it; I didn't say I didn't want to wear it. That's where it started, and then they ran with that."
Brooklyn Peltz Beckham tried to diffuse the rumors by telling Variety that some media outlets are "always going to try and put people down."
"But everyone gets along, which is good," he said.