Taylor Swift is getting ready to drop some new music this fall, nearly two years after releasing her last two surprise albums, "Folklore" and "Evermore," in 2020.
The 32-year-old made the exciting announcement during the MTV Video Music Awards while accepting the award for video of the year for "All Too Well (Taylor's Version)," her third award of the night.
"I had made up my mind that if you were going to be this generous and give us this, I thought it might be a fun moment to tell you that my brand new album comes out on Oct. 21," Swift said during her acceptance speech, promising to share more details at midnight that evening.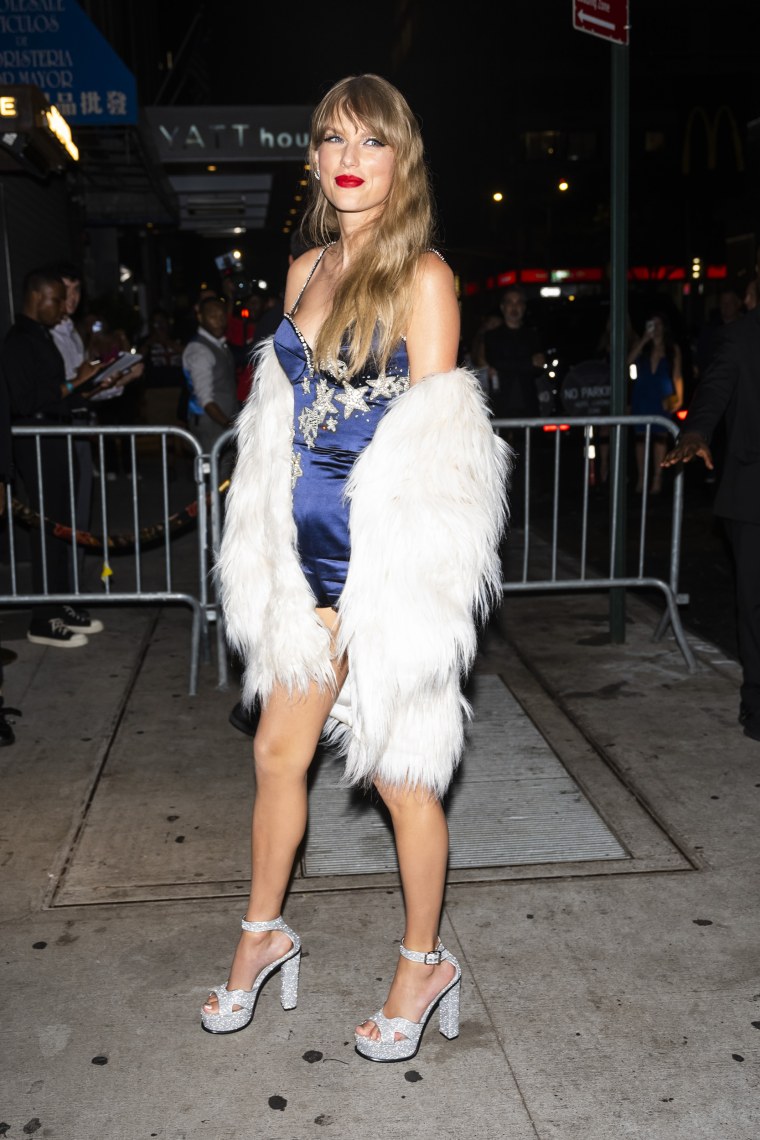 Afterwards, the phrase "meet me at midnight" was trending, with fans anticipating information about the new album. As expected, Swift posted more details about her forthcoming album on her social media channels.
If you're counting down the days until the singer's new music drops, here's everything we know about the album so far.
The album, titled 'Midnights,' will be released in October
Swifties won't have to wait long to binge the singer's new album. Per Swift's Instagram post, the music will be available on Friday, Oct. 21 at midnight sharp.
Fans can now pre-order the album, which is available in four formats: a vinyl edition for $29.99, a CD for $12.99, a cassette for $17.99 and a digital album for $11.99. There will also be three special edition covers for the vinyl albums.
'Midnights' will have 13 songs, but the track list isn't complete
We'll have to wait to find out the exact names of the songs on Swift's forthcoming album, but the singer did reveal that it will be divided into two sections, with a total of thirteen songs.
Side A
Track One
Track Two
Track Three
Track Four
Track Five
Track Six
Side B
Track Seven
Track Eight
Track Nine
Track Ten
Track Eleven
Track Twelve
Track Thirteen
"Midnights" will contain fewer songs that Swift's most recent albums. In 2020, Swift dropped two surprise albums, "Folklore" and "Evermore," which included 16 and 15 songs respectively. The re-recording of her 2012 album "Red" had 30 songs.
But there will be 3 bonus tracks — if you buy a certain version
Target's special edition of the "Midnights" CD will feature three bonus target. Target will also sell an exclusive lavender edition of the vinyl album.
Swift said the songs on 'Midnights' will have an overarching theme
In her Instagram post, Swift offered a bit of background on the inspiration behind her new album. "Midnights" will tell the story of "the stories of 13 sleepless nights" scattered throughout Swift's life.
"We lie awake in love and in fear, in turmoil and in tears. We stare at walls and drink until they speak back. We twist in our self-made cages and pray that we aren't — right this minute — about to make some fateful life-altering mistake," she wrote..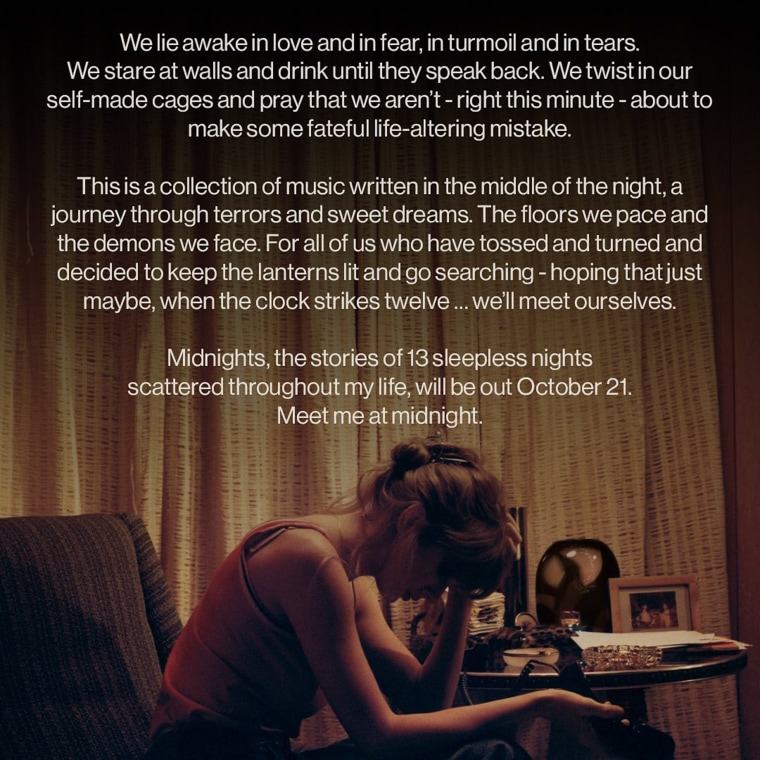 The 32-year-old went on to describe the songs as a "collection of music written in the middle of the night, a journey through terrors and sweet dreams. The floors we pace and the demons we face."
She ended her post with the following note: "For all of us who have tossed and turned and decided to keep the lanterns lit and go searching — hoping that just maybe, when the clock strikes twelve ... we'll meet ourselves."
This is Swift's first new album in two years
It's been a while since the singer released a full studio album, but she did drop a new song, "Carolina," in June to go along with the film "Where the Crawdads Sing."
Swift has also been busy re-recording her old music and released a new version of the 2012 album "Red" in 2021.
Midnight is a popular lyrical theme for Swift
This is hardly the first time Swift has mentioned the word "midnight" in one of her songs. The term has popped up on several occasions over the years, including lyrics in the following songs:
"22:" "It feels like a perfect night/For breakfast at midnight"
"Style:" "Midnight, you come and pick me up, no headlights" 
"You Are In Love:" Small talk, he drives, coffee at midnight"
"New Year's Day:" "I want your midnights, but I'll be cleaning up bottles with you on New Year's Day"
"The Last Great American Dynasty:" "They say she was seen on occasion pacing the rocks, staring out at the midnight sea"
"Happiness:" "In our history, across our great divide, there is a glorious sunrise dappled with the flickers of light from the dress I wore at midnight"
Some fans think 'Midnights" is a continuation of Swift's 2019 album 'Lover'
So far, Swift hasn't offered any details on what genre of music "Midnights" will cover, but fans have some theories. For starters, some of them are speculating that the new album will be a continuation of Swift's 2019 album "Lover."
In a 2019 interview with Ryan Seacrest, Swift announced that she almost called the album "Daylight" (a name of one of the songs on the album).
The song "Daylight" also ends with a recording of Swift that alludes to the concept of midnight when she says, "I wanna be defined by the things that I love. Not the things I hate. Not the things that I'm afraid of, I'm afraid of. Not the things that haunt me in the middle of the night. I just think that you are what you love."
One TikTok fan pointed out their theory in a short video, writing, "Thinking about how Swifties totally forgot about that random theory that Lover had a Side B, which was going to be 'blue,' and how Taylor said she plans things three years in advance sometimes, and how she ends 'Daylight' with 'the things that haunt me in the middle of the night' and now we get Midnights, which is literally an album about the things that haunt her in the middle of the night, three years after Lover (which was originally going to be named Daylight) came out."
Some fans think Swift strategically chose the dress she wore during her album announcement
The singer showed off lots of bling on the VMAs red carpet in a stunning bejeweled gown with a nude lining. Swift always steals the show on the red carpet, but some of her fans have a feeling that this particular dress had special meaning.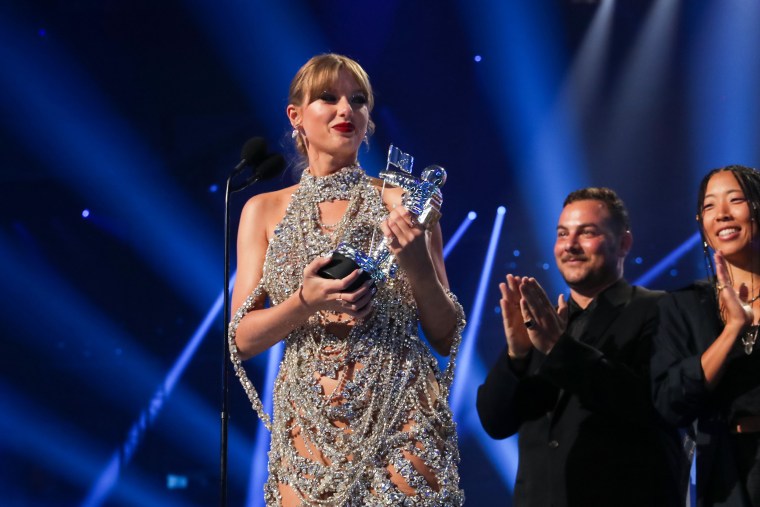 Perhaps you remember the 2009 VMAs when Kanye West crashed Swift's acceptance speech for the Best Female Video Award. And maybe you recall her 2017 music video for the song "Look What You Made Me Do," which many folks considered to be Swift's response to her feud with West.
In the "Look What You Made Me Do" video, Swift was covered in diamonds, so many of her fans think her 2022 VMAs ensemble was a "revenge dress" and a clue.
"13 years ago today, Kanye West interrupted Taylor Swift when she received the award for best music video of the year in 2009. 13 years later Taylor Swift is at the VMAS nominated for the same award," one fan wrote on Twitter.
"Taylor Swift wore her "revenge and redemption" dress to the #VMAs," another wrote.