When it comes to her friends, Taylor Swift has been known to embrace their families into her inner circle.
The singer has never shied away from grand gestures that make her pals' families feel special.
At her concert on Aug. 3, she made audience members' hearts melt over a sweet embrace she shared with Kobe Bryant's daughter, Bianka, during a performance of her hit "22."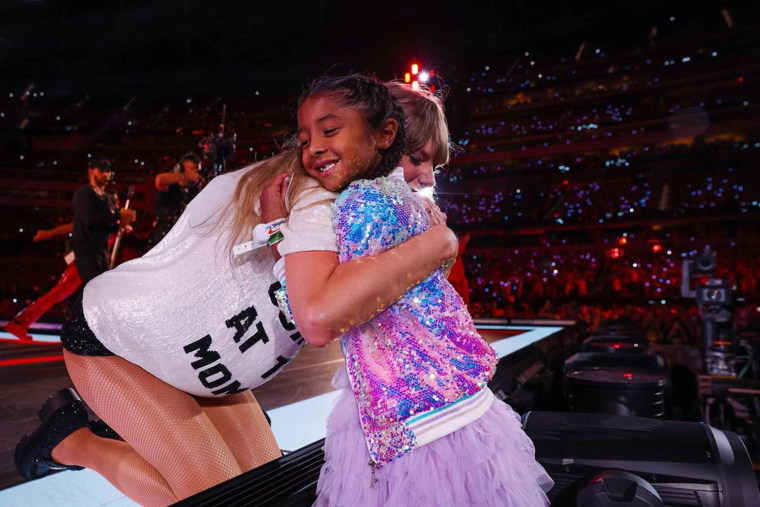 Swift and Kobe Bryant might be an unlikely pairing, but they knew each other for years before his tragic death in 2020. Ever since then, Swift has maintained a bond with his family.
Here's a timeline of their touching friendship and some of the sweetest moments the singer has shared with the Bryant family.
Kobe Bryant honored Taylor Swift onstage in 2015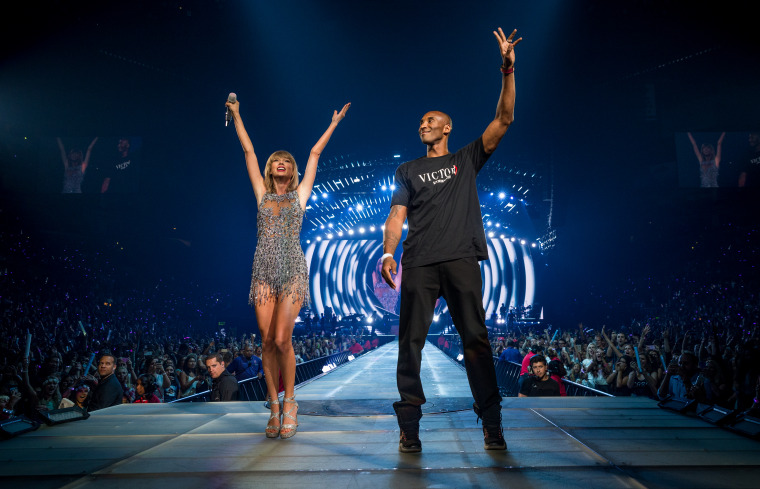 In 2015, Kobe Bryant made a surprise appearance at one of Swift's concerts in Los Angeles. Per NBC Sports, it was the 16th time the singer performed a sold-out concert at Staples Center, making her the first artist to earn this accolade.
Kobe Bryant appeared on stage with the performer and explained that the number 16 was also the amount of championships the Los Angeles Lakers had at the time. The basketball player then unveiled a special banner that would hang at the arena in honor of Swift's achievement.
When Swift thanked Kobe Bryant via Twitter, a platform now known as X, the pro shared the following response: "My pleasure @taylorswift13 Keep breaking records and changing lives."
The NBA legend also shared a photo from the special moment on Instagram, penning the caption: "Friends hang from time to time but banners hang forever."
Kobe Bryant spoke highly of Taylor Swift during a 2019 interview
While appearing on "The Jordan Harbinger Show" in 2019, Kobe Bryant expressed his admiration for Swift while admitting that he was a big fan.
"I think it's important to listen to people who do great things, you know? So it's not just genre specific but it's like, Taylor's been at the top of the game for a very, very long time. How and why?" he said.
During the interview, the basketball pro also applauded Swift for being a kind person.
"She's a sweet kid. I mean, she was a sweetheart to my girls before she even blew up and became Taylor Swift. So that's why I'll always, if she needs anything from me, I'm always there," he said.
Taylor Swift paid tribute to Kobe Bryant when he died in 2020
Kobe Bryant and his 13-year-old daughter, Gianna, died in a helicopter crash Jan. 26, 2020, along with seven other people.
Swift paid tribute to the NBA legend on X.
"My heart is in pieces hearing the news of this unimaginable tragedy. I can't fathom what the families are going through. Kobe meant so much to me and to us all. Sending my prayers, love, and endless condolences to Vanessa and the family and anyone who lost someone on that flight," she wrote at the time.
Taylor Swift gifted Kobe's Bryant's daughter Natalia a cardigan in 2020
In July 2020, Swift surprised Kobe Bryant's daughter Natalia with a replica of the cardigan she wore in one of her music videos from the album "Folklore."
"Thank you SO much @taylorswift," Natalia Bryant shared on her Instagram story, per NBC. "I am OBSESSED with 'folklore'!!!"
Natalia Bryant considers Taylor Swift a 'role model'
After signing with IMG Models in 2021, Natalia Bryant filmed an interview for the agency and answered a series of personal questions. While talking about her musical preferences, Natalia Bryant cited Swift's album "Reputation" as her favorite and said she's always admired the singer.
"I just love how she's always, she's very positive but she also empowers young girls and she empowers women, and I just think that's so important in life. And she's always been one of my biggest role models," she said.
Taylor Swift gave Bianka Bryant her hat during a concert in 2023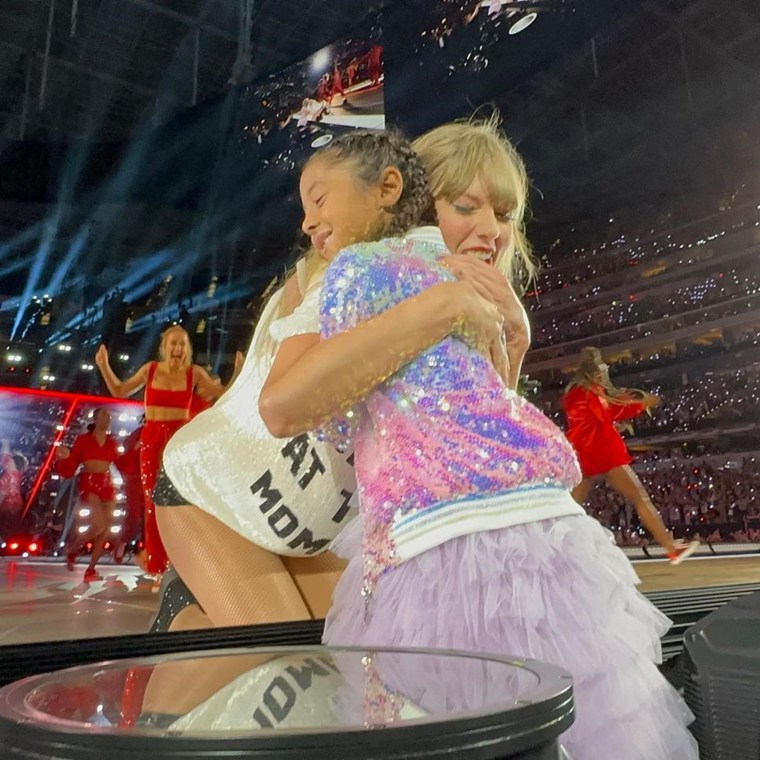 In August, Vanessa Bryant and her daughters attended one of Swift's concerts in Los Angeles. During the show, the singer took a brief break from performing to hug Bianka Bryant, who turns 7 in December.
One fan shared a video of the moment on X. In the short clip, Swift embraces Bianka Bryant and briefly talks to her before giving her the black hat she was wearing during her performance. Swift begins performing again as she waves to Bianka Bryant.
Vanessa Bryant shared a photo of the moment on Instagram and captioned the post, "We love you @taylorswift ❤️."
The proud mom also shared several additional photos from the fun night out.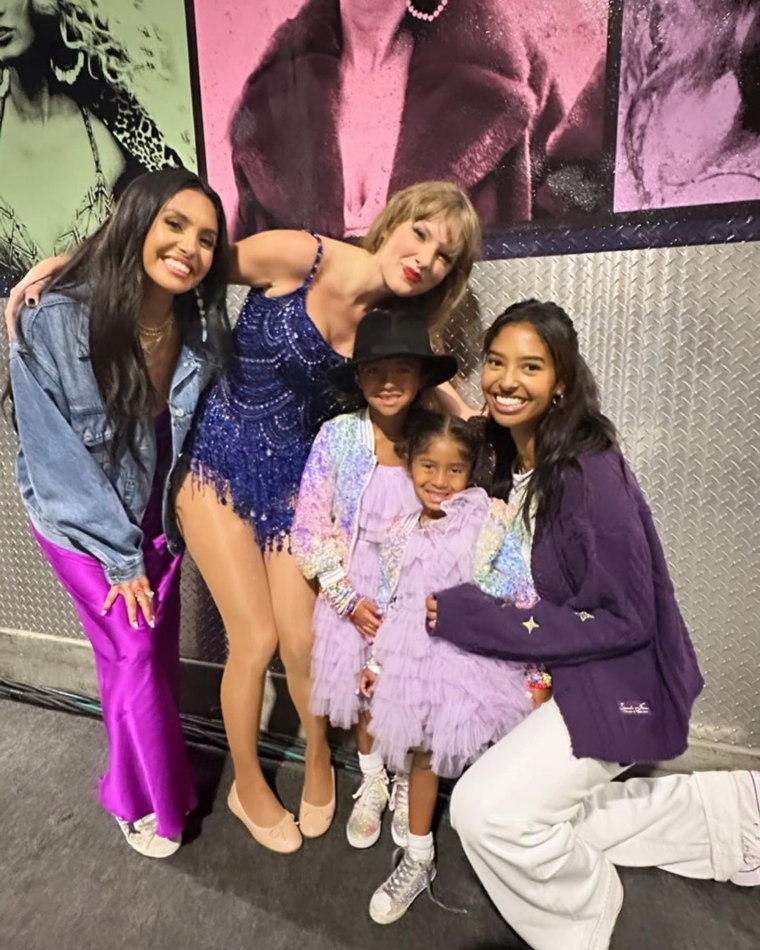 For the concert, the basketball player's widow sported a bedazzled denim jacket that honored her late husband and daughter.
In her Instagram story, Vanessa Bryant posted a few photos of the jacket, which featured a photo of her husband with Swift from his 2015 appearance at her concert.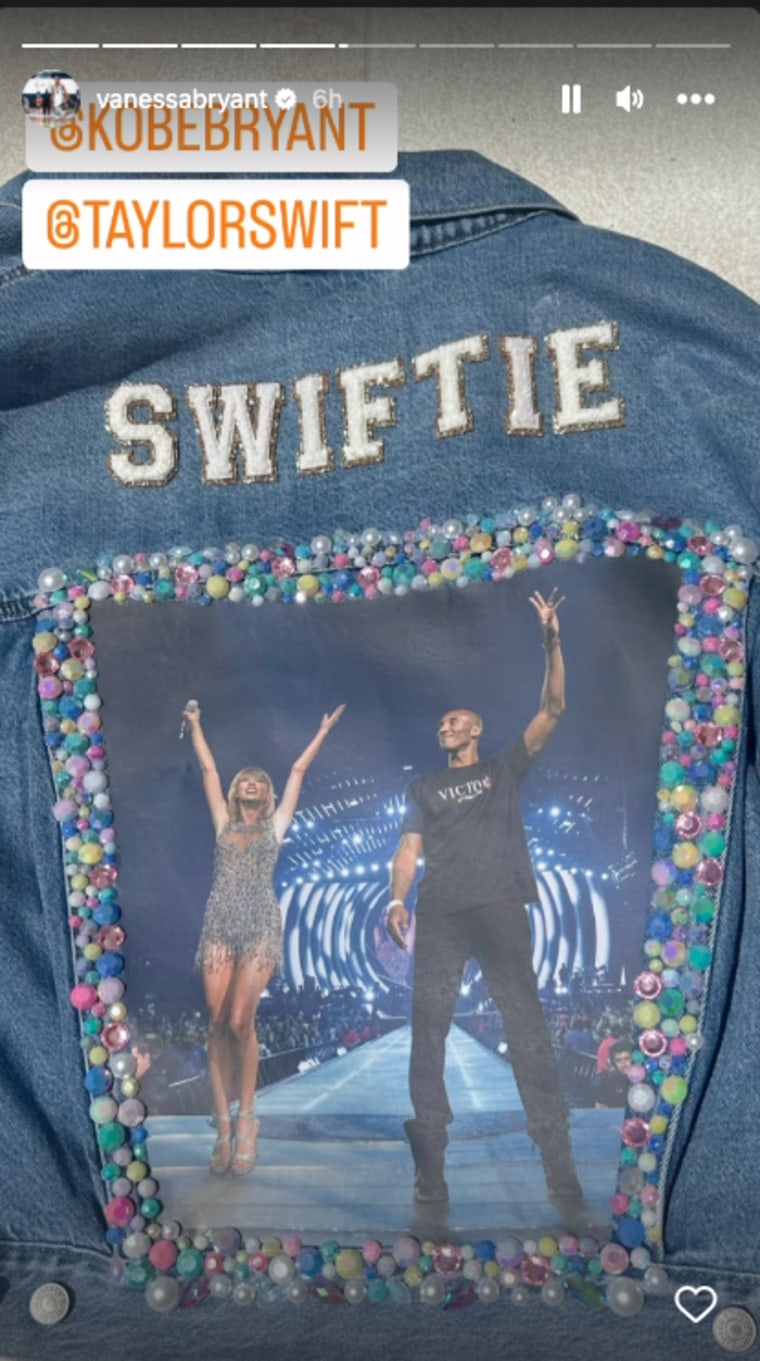 The jacket, which had the word "Swiftie" on it, also featured the following lyrics from "Wildest Dreams" inside of a heart: "Say you'll remember me."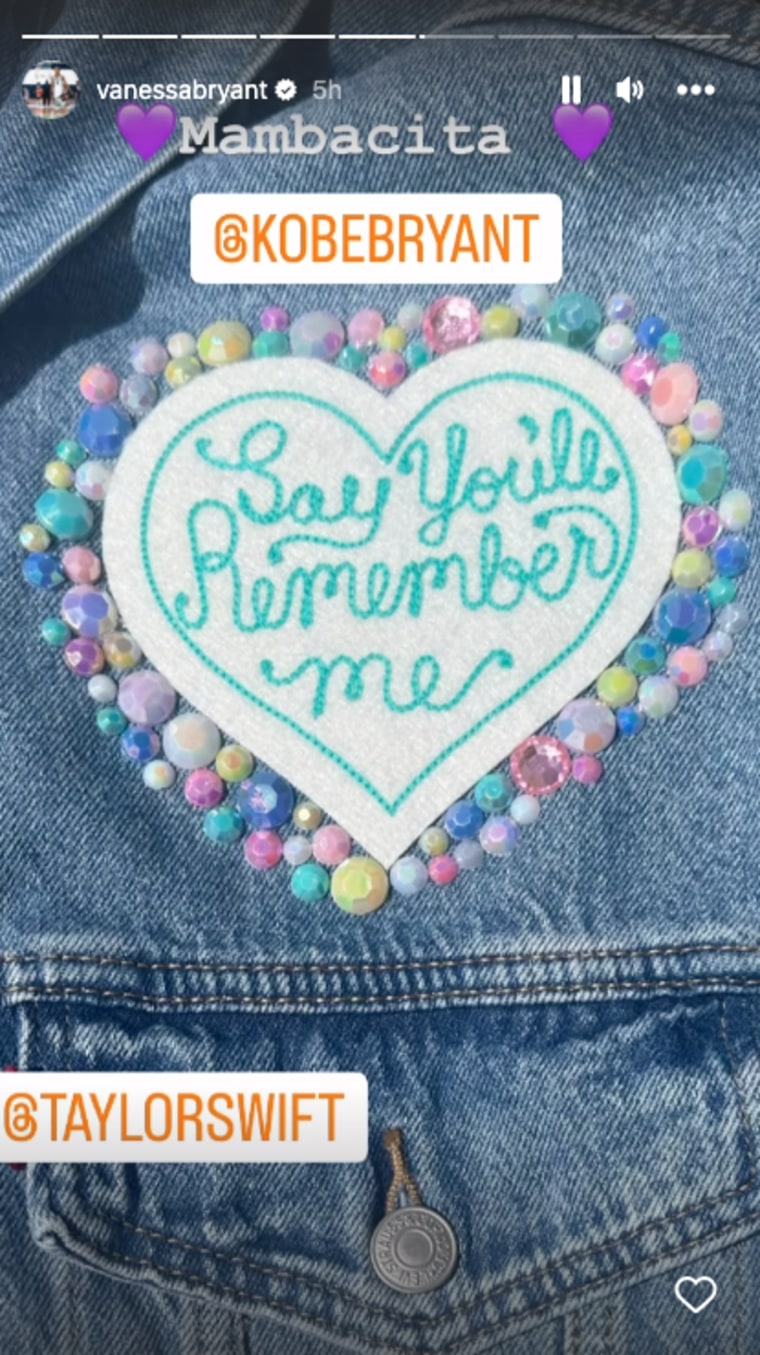 On that slide, Vanessa Bryant wrote the word "Mambacita," which was her daughter's nickname.
Natalia Bryant also shared photos and videos from the night and captioned the post, "I don't know how it gets better than this!🌟."