Some music festivals are now offering a designated space for attendees who are staying sober to enjoy the event in an alcohol-free environment.
Stagecoach Festival, held at the Empire Polo Club in Indio, California, from April 28-30, is partnering with 1 Million Strong to provide a wellness tent where attendees will have a space to relax, drink mocktails and enjoy the country music at the festival.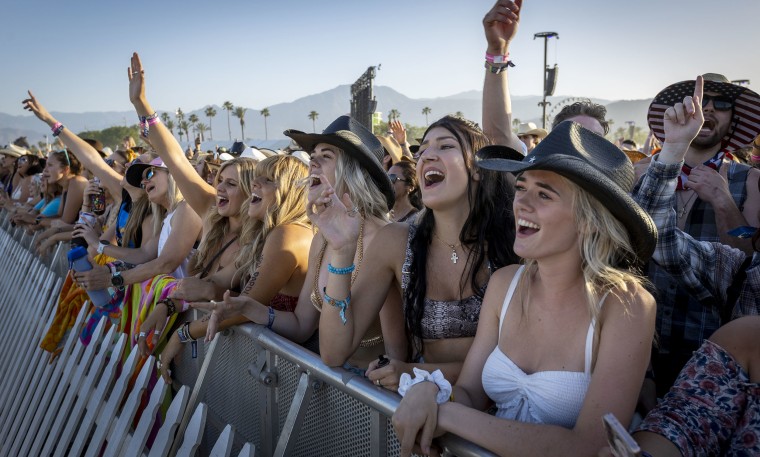 "Partnering with Stagecoach Festival is an opportunity to demonstrate how one can find a rich, full life in recovery," Scott Strode, founder and national executive director of The Phoenix, a non-profit partnering with 1 Million Strong, said in a statement.
Stagecoach did not immediately respond to a request for comment from TODAY.com.
1 Million Strong, an initiative seeking to transform the way people think about addiction, recovery and sobriety, is also partnering with Jazz Fest to host a similar wellness retreat at the iconic festival in New Orleans from April 28-30 and May 4-7.
"Having 1 Million Strong's sober-supportive wellness tent at the event demonstrates that sobriety doesn't mean that people in recovery can't be a part of events such as this, but that there is a need to expand music culture to include sobriety," Bill Taylor, director of music strategy and programs at the Phoenix, a sober community, said in a statement. "There is tremendous strength in coming together as a community to support one another, and that's what these spaces are all about."
More than 46 million people currently struggle with a substance abuse disorder, according to 1 Million Strong, which has a mission of supporting 1 million people in recovery through the strength of community.
At the designated sober space, festival attendees can connect with other people who are in recovery or who are choosing to have a substance-free festival experience. The wellness tents at both festivals will be available for attendees each day once the gates open.
Stagecoach will feature headliners Luke Bryan, Kane Brown and Chris Stapleton at the iconic home of Coachella, and Jazz Fest will have performances from Dead & Company, Ed Sheeran and Lizzo.