The Songwriters Hall of Fame has announced that Snoop Dogg, Sade, and Gloria Estefan have been among those artists selected as members of its 2023 class.
On Wednesday, Jan. 18, the organization, which recognizes songwriters in all music genres, revealed that Sade, Snoop Dogg, Estefan, Jeff Lynne, Glen Ballard, Liz Rose, and Teddy Riley will be inducted into the Songwriters Hall of Fame at the 52nd Annual Induction and Awards Gala on June 15. The ceremony will be held in New York City.
Sade has penned every original track on all six of her studio albums, including her biggest hits like "Smooth Operator" and "Cherish the Day." 
Legendary rapper Snoop Dogg's songs "Gin & Juice," "Next Episode," and "Drop It Like It's Hot," and Estefan's global anthems "Rhythm Is Gonna Get You" and "Let's Get Loud" helped land them spots in this group of inductees.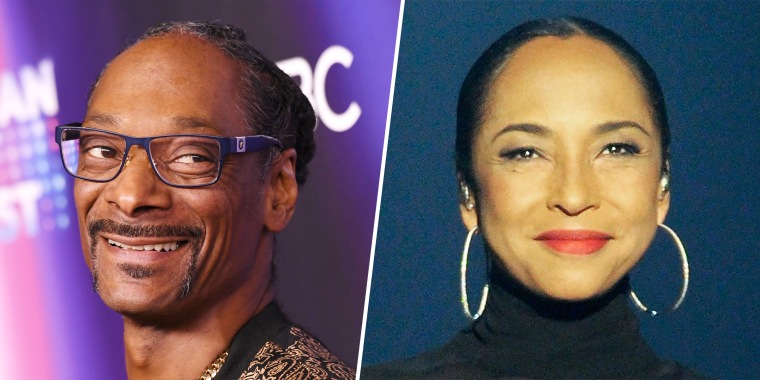 The artists all have impressive resumes. Lynne is known for founding English rock band Electric Light Orchestra; Ballard is a six-time Grammy award winner songwriter and producer behind songs like Michael Jackson's "Man in the Mirror," Alanis Morrisette's "You Oughta Know," and Christina Aguilera's "The Voice Within."
Riley, a singer, songwriter and producer, has been impacting the music industry for decades and has worked with some of the most popular R&B musicians since the 1980s. He co-wrote Bobby Brown's "My Prerogative," Hi-Five's "I Like the Way (The Kissing Game)" and Blackstreet's "No Diggity." 
Rose could add to her collection of Grammys soon. The songwriter collaborated with Taylor Swift on "You Belong with Me," "Teardrops on My Guitar," "White Horse" and more of the "Midnights" singer's early country songs. Rose and Swift are both nominated at the 2023 Grammy Awards on Feb. 5 for song of the year for "All Too Well (Taylor's Version)." 
Rose has partnered with Little Big Town and Carrie Underwood throughout her career as well. 
In a statement on the organization's website, Songwriters Hall of Fame chairman Nile Rodgers emphasized the importance of having talented songwriters in the music industry. 
"The music industry does not exist without songwriters delivering great songs first," he said. "Without them there is no recorded music, no concert business, no merch . . . nothing, it all starts with the song and the songwriter."
The 70-year-old producer and composer continued, "We are therefore very proud that we are continually recognizing some of the culturally most important songwriters of all time and that the 2023 slate represents not just iconic songs but also diversity and unity across genres, ethnicity and gender, songwriters who have enriched our lives and, in their time, literally transformed music and the lives of billions of listeners all over the world."
The organization said other honorees will be revealed soon. 
Variety reported that the Hall of Fame ceremony returned in 2022 after a three-year hiatus due to the Covid-19 pandemic. The Class of 2020 featured Mariah Carey, Annie Lennox, Steve Miller, Pharrell Williams and the Isley Brothers, all of whom were honored last year. 
The potential list of 2023 inductees was stacked with popular and celebrated musicians, but not all were picked. Vince Gill, Patti Smith, Steve Winwood, Blondie, R.E.M. and the Doobie Brothers were a few of the nominees who missed out on being added to the hall of fame this year, according to Variety.