Steve Harwell, former Smash Mouth frontman and founder, died on Sept. 4 after battling a variety of health issues including cardiomyopathy, a disease of the heart, and liver failure.
The 56-year-old had performed in the pop band for more than 27 years. He retired in 2021 following a concert in New York where he was captured slurring his speech and making threatening gestures, Variety reported.
After Harwell's retirement in 2021, Smash Mouth replaced the singer with new lead vocalist, Zach Goode.
Here's everything to know about the band's history, new frontman and what's next for Smash Mouth.
How did Smash Mouth become famous?
Smash Mouth has been around for nearly three decades, but it's the animated children's movie "Shrek" that made them a household name back in 2001.
Formed in San Jose, California, founders Paul De Lisle on bass, Kevin Coleman on drums, Greg Camp on guitar, and lead vocalist Steve Harwell began their music journey playing rock and first charted in 1997 with the single "Walkin' On The Sun," a retro, guitar-heavy tune that landed on Billboard's Hot 100.
Two years later, the band found even greater success with "All Star," a release from their second album "Astro Lounge."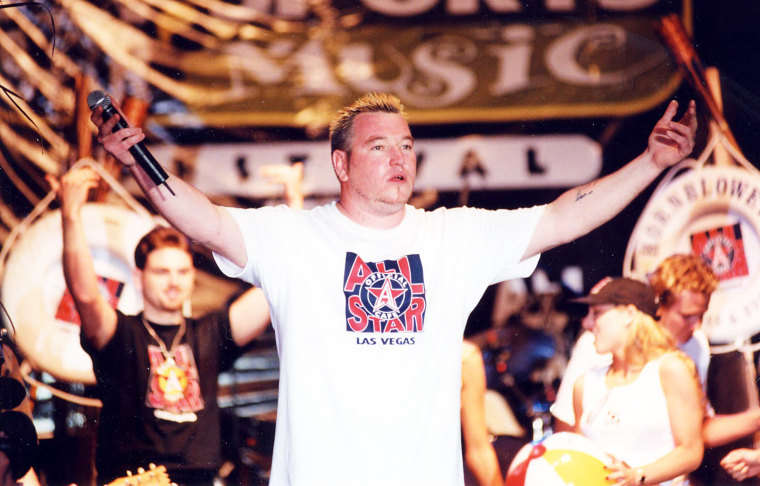 In a 1999 interview with Rolling Stone, Harwell said of the band's Double Platinum record, "A lot of people said that we weren't talented enough to do that type of s---. Well, we did it, and I want them to eat their words," before continuing on to say, "We built this team and nobody's going to take it away from us."
A popular radio tune in the summer of 1999, "All Star" earned a Grammy nomination for best pop performance for a duo or a group in 2000, but lost to Santana's "Maria Maria."
But Smash Mouth still won big when "All Star" was picked up for the soundtrack of a new Dreamworks film about an ogre and donkey.
"We had no clue how big 'Shrek' was going to be," Harwell said in a 2019 interview with Rolling Stone. "We sold millions of records off that alone."
Along with "All Star," the band also charted with their remake of the Monkees hit song "I'm a Believer."
Fame after 'Shrek'
In the years following "Shrek," Variety reports that Smash Mouth went through some changes with various members leaving, including co-founder Greg Camp, the band's guitarist and main songwriter.
Despite personnel changes, the band continued working, touring and releasing music.
However, they remained forever linked to the 2001 animated film that catapulted them into stardom, with bassist Paul De Lisle telling Newsweek in 2016 that, "Our singer, Steve, he gets addressed as Shrek a lot: 'Hey Shrek!' or 'Hey Smash Mouth!' Our fans find it funny. They come to shows wearing Shrek glasses and whatnot."
By 2013, Harwell was dealing with medical and other issues, according to Variety.
Shortly before announcing his retirement, Harwell had been in the news for other reasons, including an episode where the singer "was seen dropping a drink and swaying onstage, punctuating his slurred singing with inscrutable comments," among other, more unsavory acts, according to a Los Angeles Times article.
Upon the frontman's retirement in 2021, De Lisle told Variety of Halwall's departure, "Whatever he had to do, his health was the most important thing. Steve retired. We moved on. It was sad after so many years, but we did see it coming."
Smash Mouth starts a new chapter in 2022 by introducing a new lead singer
After Halwall left the group, Smash Mouth announced in 2022 that they'd replaced the singer with Zach Goode, a native New Yorker with a "rough-and-tumble ... yet pitch-perfect and rangy ... vocal style," according to the band's website.
An actor, writer and singer, Goode wrote on his website that he left home at the age 16 to perform in rock bands while finishing high school on his own.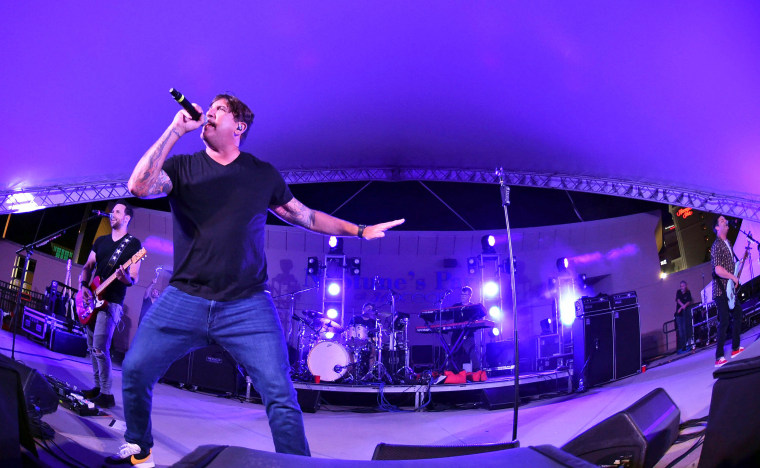 Of their newest recruit, Smash Mouth's De Lisle said, "This year welcomes a shockingly improved and utterly re-energized Smash Mouth with the proud introduction of their hugely-talented new frontman Zach Goode."
The band currently has U.S. shows scheduled throughout September and October.
How Smash Mouth honored Steve Harwell after his death
On their former frontman and bandmate, Smash Mouth posted a warm Instagram tribute writing, "Steve Harwell was a true American Original. A larger than life character who shot up into the sky like a Roman candle. Steve should be remembered for his unwavering focus and impassioned determination to reach the heights of pop stardom."