Shakira will reach another hip-shaking and ground-breaking milestone at this year's MTV Video Music Awards.
The Colombian superstar will make history as the first South American artist to receive the Video Vanguard Award since the MTV VMAs' inception in 1984, MTV announced on Aug. 28.
Previous recipients of the award include Janet Jackson, Madonna, Rihanna, Beyoncé, Jennifer Lopez, Justin Timberlake, David Bowie, and The Beatles.
Shakira, 46, also will be performing live at the VMAs for the first time since she sang her hit "Hips Don't Lie" at the 2006 VMAs with Wyclef Jean. This year's VMAs is airing live Sept. 12 at 8 p.m. ET on MTV.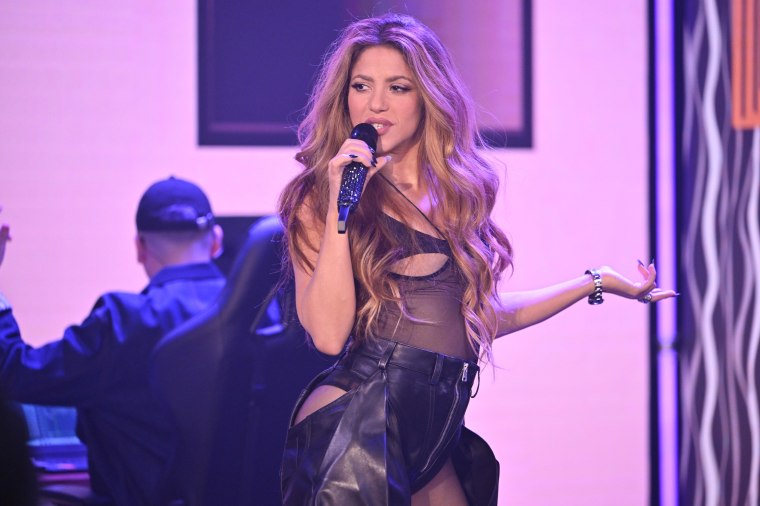 The "Whenever, Wherever" singer has won four VMAs in her career dating back to her first one in 2002. She has been nominated for 30 VMAs over the years.
Her career has carved a path for Latin artists to cross over into international stardom. She is the top-selling female Latin artist of all time with more than 95 million records sold worldwide, according to Billboard and Telemundo.
"She's a trailblazer for women around the world and one of the first artists to lead the globalization of Latin music," said Bruce Gillmer, president of music, music talent, programming and events at Paramount and chief content officer of music at Paramount+, said in a press release.
She made more history this year when she became the first female artist to debut in the Top 10 of the Billboard Hot 100 with a Spanish-language song "BZRP Music Sessions Vol. 53." A month later, she did it again with the song "TQG."
Shakira also recently had the top three spots on the Billboard Latin Pop Airplay Chart, which had never been done by any artist before, according to Billboard.
Shakira has performed three times at the VMAs, beginning with "Objection (Tango)" in 2002.
Her most recent VMA win was in 2007 for most earth shattering collaboration for her song "Beautiful Liar" with Beyoncé.
The VMAs marks Shakira's second prestigious honor this year. In May, she was distinguished by Billboard with the 2023 Woman of the Year award at the first Latin Women in Music event.