The countdown for the Super Bowl LVII is on. The showdown between the Kansas City Chiefs and the Philadelphia Eagles will air on Fox on Sunday, Feb. 12 at 6:30 p.m.
But some of us will be waiting for 8 p.m., the time Rihanna is expected to take the stage for her anticipated halftime show.
In interviews, including a press conference with Apple on Feb. 9, Rihanna has teased her upcoming live performance, without giving too much away (like a song list).
Judging by her past performances, we're expecting Rihanna to give nothing but her all when she takes center stage at one of the biggest pop culture moments of the year.
Here's everything the 34-year-old has said about her Super Bowl halftime Show so far.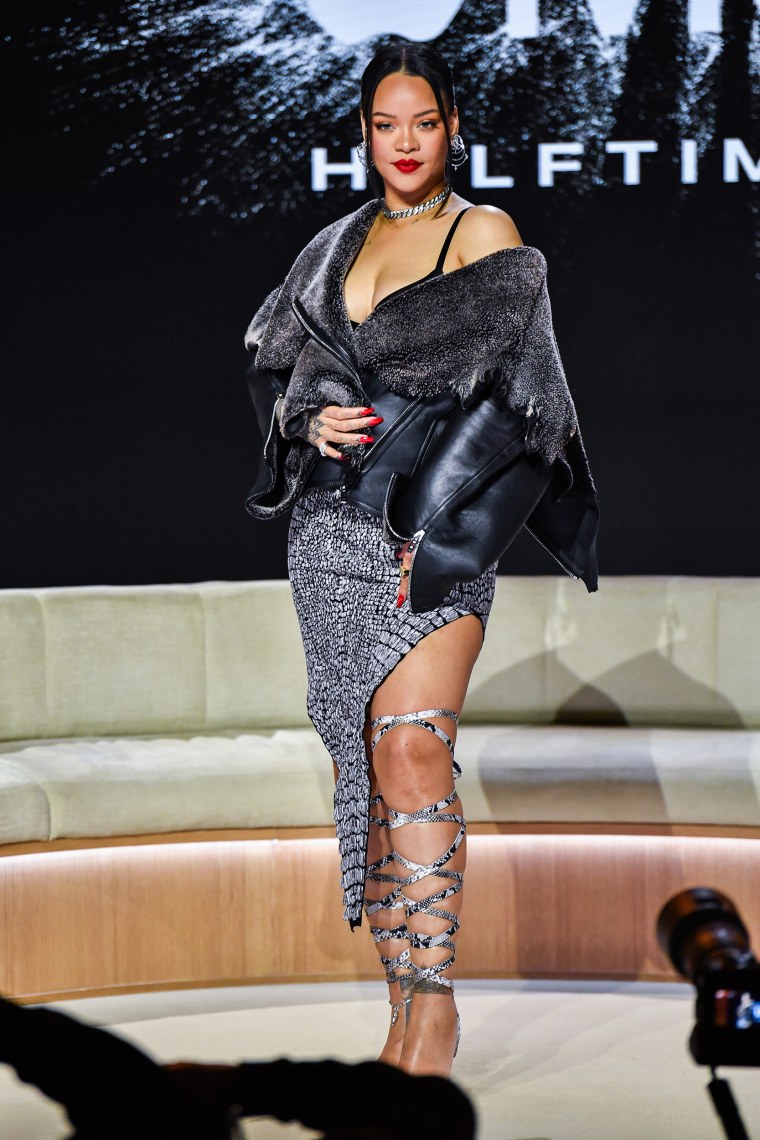 Why did Rihanna decide to do the Super Bowl?
Rihanna became a mom last May after giving birth to her first child with boyfriend A$AP Rocky. Her baby has already made his TikTok debut — but his name hasn't been revealed.
We have the little one to thank for Rihanna's Super Bowl performance. Speaking to reporters at a press conference with Apple Music, per Variety, Rihanna said motherhood is what made her say yes to the gig.
"It feels like it could have only been now," she said. "When I first got the call to do it again this year, I was like, 'You sure? I'm three months postpartum. Should I be making major decisions like this right now? I might regret this.'"
"When you become a mom, there's something that just happens where you feel like you can take on the world."
Rihanna
"But when you become a mom, there's something that just happens where you feel like you can take on the world. You can do anything, and the Super Bowl is one of the biggest stages in the world," Rihanna said. "So, as scary as that was ... there's something exhilarating about the challenge of it all, and it's important for me to do this this year. It's important for representation. It's important for my son to see that."
A$AP Rocky also encouraged her to do the show, after she previously turned it down
This will be the first time that Rihanna will take the stage at the Super Bowl. In 2018, a source told Entertainment Tonight that the "We Found Love" singer was asked to perform at the show, but ultimately turned it down to support Colin Kaepernick and NFL players who were protesting racial inequality and police violence against minorities.
During a 2019 interview with Vogue, Rihanna confirmed the rumors herself and said that she "absolutely" stood in solidarity with Kaepernick.
"I couldn't dare do that. For what? Who gains from that? Not my people," she said. "I just couldn't be a sellout. I couldn't be an enabler. There's things within that organization that I do not agree with at all, and I was not about to go and be of service to them in any way."
But now, Ri feels as ready as ever. She told Access Hollywood in a November 2022 interview that her boyfriend also influenced her to do the Super Bowl this year.
"I often get so overwhelmed and intimidated by stages like that, so Super Bowl is huge," she said "(Rocky) was one of my biggest supporters in making my decision to do the Super Bowl. He was like 'You got this. You can do this.'"
What is Rihanna's Super Bowl set list looking like?
During the Apple Music press conference, Ri said she's gone through "about 39 versions of the setlist" and that narrowing down the songs was the biggest challenge of the halftime show, per Variety.
"That was the hardest, hardest part — deciding how to maximize 13 minutes but also celebrate," she said. "That's what this show is going to be — it's going to be a celebration of my catalog in the best way that we could've put it together."
"You're trying to cram 17 years of work into 13 minutes, so it's difficult," the "Pon de Replay" singer said. "Some songs we have to lose because of that, and that's going to be OK, but I think we did a pretty good job of narrowing it down."
How is Rihanna preparing herself for the Super Bowl?
After giving birth to her son last year and taking a brief hiatus from her music career, Rihanna said she had to concentrate on getting in shape to put on the "jam-packed" and physically demanding performance.
"The physical challenge has definitely been immense for many reasons, of course. I haven't done this in a minute," she said at the press conference. "You're just running around for 13 minutes, trying to put a 2-hour set in 13 minutes."
"From the time it starts, it just never ends until it's the very last second … it's a jam-packed show, and it takes a toll on your body, it really does," she continued.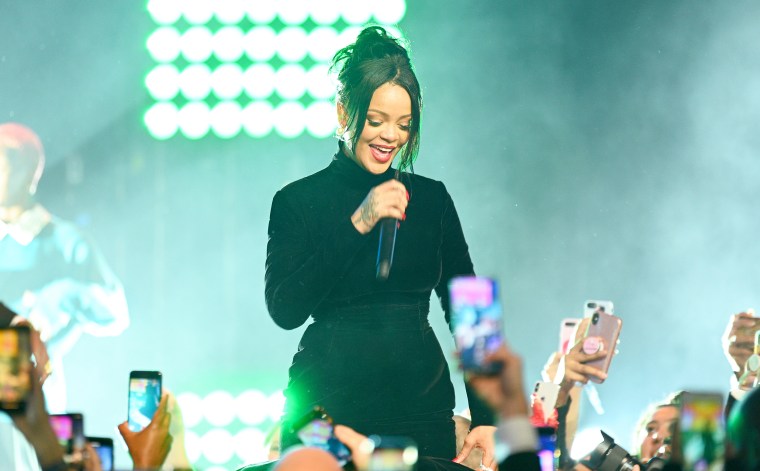 Will Rihanna add her Bajan culture into the mix?
Rihanna told reporters at the press conference that it's "important" for her to be representing Black women, immigrants, and her home country of Barbados in her performance.
"It's a long way from home. It's a beautiful journey that I'm on, and I could've never guessed that I would have made it here. So it's a celebration of that. I'm excited to do that. I'm really excited to have Barbados on the Super Bowl stage," she said.
A trailer released on Feb. 9, filmed in the neighborhood of Barbados' capital where Rihanna grew up, nods at how far she's come. Words appear at the end of the trailer, seemingly in Rihanna's voice: "I was just a little girl flying kites in a cemetery, but I had big dreams."
Will any guests join Rihanna during the halftime show?
Although it's rumored that Ri's boyfriend will join her onstage, nothing has been confirmed yet.
In fact, when Extra asked Rihanna if Rocky would be in the show, she said, "I'm not telling you anything."
However, Rocky has said that he's "glad" that Rihanna is doing music again.
"The Super Bowl is huge, and her being the creative she is, she going to bring it," he told Zane Lowe on the Zane Lowe Show. "I'm more excited than everybody else, honestly."
To make your own predictions, check out the trailer
In January, Rihanna teased the halftime show with a trailer that nodded at building anticipation aruond the performance.
A trailer released on Feb. 9