Reba McEntire opened up about what it's been like to know Kelly Clarkson for two decades.
The singer, who is the former stepmother of Clarkson's ex-husband, Brandon Blackstock, returned to "The Voice" on April 17, to give some advice to the show's contestants. But while there, she also chatted about her relationship with Clarkson, who she's known for two decades now.
"I am so proud of Kelly," McEntire said. "She has grown as an artist, as a teacher. From when we first met in 2000 - way back - 2002, so that was how long we've known each other. She was a baby!"
"Now, she's just matured into this wonderful woman that I am just so proud of and I love her with all my heart," she continued.
"Aw, that was nice," Clarkson responded, hugging the 68-year-old.
The "Breakaway" singer noted that she "loves working with Reba," adding that McEntire has helped her "tons, musically, as an artist."
The two have a long history together. When Clarkson divorced Blackstock, McEntire told Entertainment Tonight that she wasn't going to play favorites between Clarkson and her former stepson because she loves them both.
"I've been a friend of Kelly for a long time," she added.
"Brandon's been my son forever it seems," McEntire added. "Although he's my stepson, I still love him like he's my total — my blood, so I'm praying for them both because I love them both."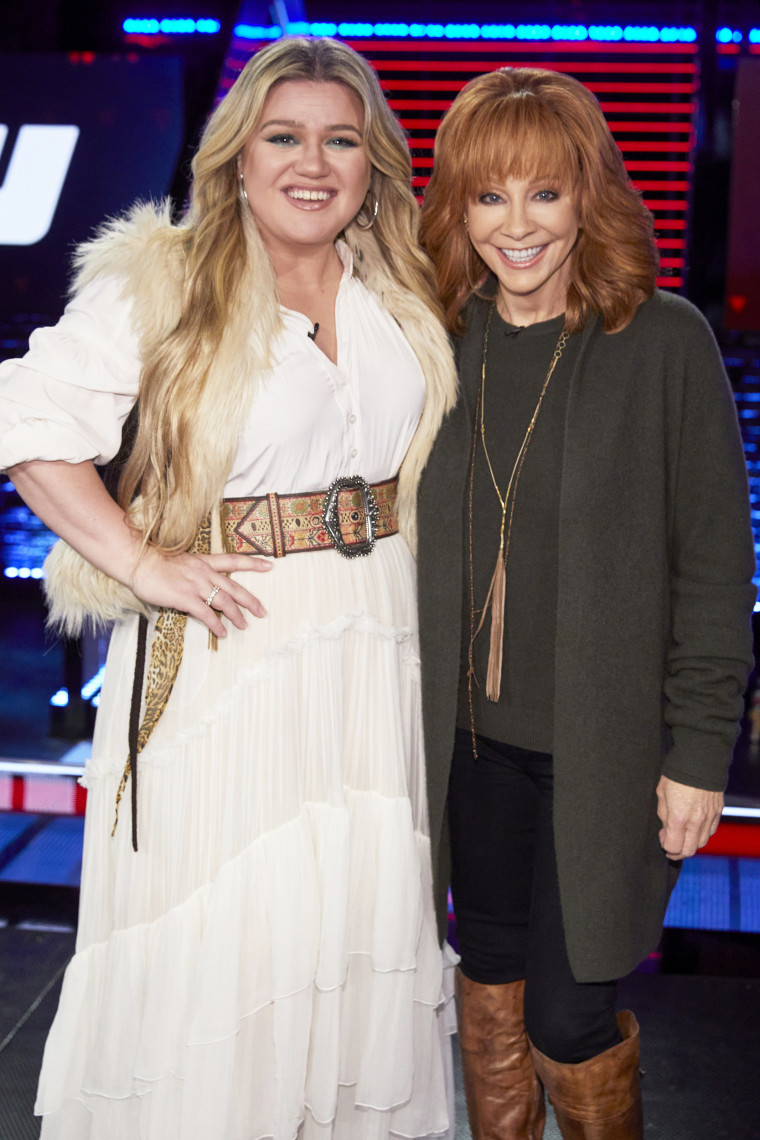 On the show, "The Voice" coaches Niall Horan, Chance the Rapper and Blake Shelton talked about their experience working with McEntire.
"It's an absolute honor to be in the presence of the absolute queen," Horan said, adding McEntire is "so fun" and "knows her stuff" about singing.
Chance agreed and said it's "amazing" getting advice from McEntire.
"She's obviously a legend. She's given me amazing advice and has helped my team so much in a short period of time," he said.
As for Shelton, he talked about his long relationship with the country icon, who was his first mentor on the show.
"Having Reba here, it's just familiar territory for me because we worked together a lot over the years," he said.
McEntire weighed in on their years of friendship, as well, saying that that every time they're back together "it's like we haven't been apart."