A new attraction this fall will allow customers to get lost inside Reba McEntire's head.
A pair of New Jersey farms are among dozens in the country that have created corn mazes in an outline of McEntire's visage, along with the name "Reba" topped by a cowboy hat with spurs and boots, for guests to wander in this month.
"While l admit being in a corn maze is one of the more unique things I've ever been invited to be a part of, I couldn't be more excited to be involved with some of the things that matter most to me — farming, family, and friends," McEntire said in a news release. "Growing up on a ranch in Oklahoma, I know how important agriculture is and I love being involved with something that brings more people out to farms across the country for good wholesome fun!"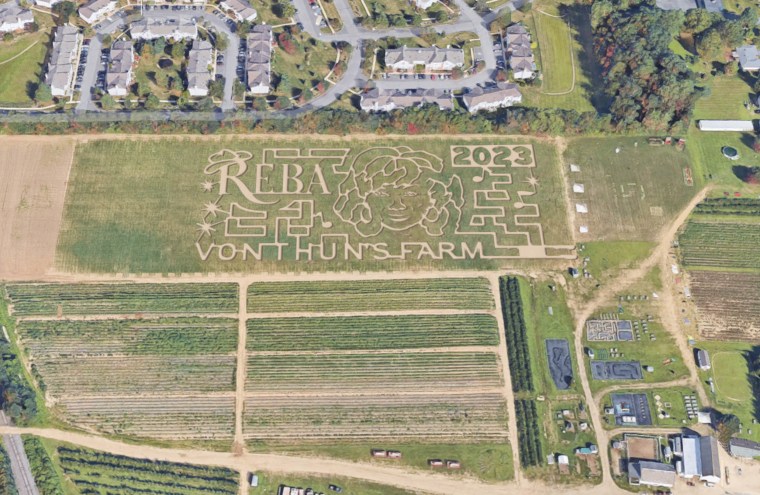 The South Brunswick and Washington locations of New Jersey-based Von Thun Farms will each feature the 5-plus-acre mazes, which will open on Sept. 16.
The mazes have been created to coincide with the October release of McEntire's new book, "Not That Fancy: Simple Lessons on Living, Loving, Eating, and Dusting Off Your Boots," as well as a companion album, "Not That Fancy."
Guests who wander the maze will also have a chance to win a grand prize trip to Nashville, Tennessee, featuring a ticket to see McEntire perform on Nov. 5 at the Ryman Auditorium and a two-night stay at a Nashville hotel.
Von Thun Farms partners with Utah-based "agritainment" company The MAiZE, Inc., which comes up with different corn maze designs each year.
The family-owned farm was excited to hear about the McEntire maze.
"It was not even a question for us to do it," Tim Von Thun, the manager of Von Thun's Country Farm Market, tells TODAY.com. "She's a pretty timeless country music star."
The McEntire mazes won't just appear in New Jersey. They are being created at 40-plus farms that have partnered with The MAiZE across 24 states, according to Von Thun.
The first phase of the McEntire mazes at Von Thun Farms is designed to be short, making it amenable for young children and those with limited mobility. The second phase features nearly 5 acres of twists and turns, with clues along the way to help people navigate their way through.
The McEntire maze is the latest corn creation for Von Thun Farms. Since 2010, they have done maze designs of Minions, the Avengers, Yankees legend Derek Jeter, Mets Hall of Famer Mike Piazza and more.