Get your red ties and blazers ready because RBD is headed on tour.
A month after teasing a possible reunion, the Mexican pop group officially announced their "Soy Rebelde Tour" on. Jan. 19. Dulce María, Christian Chávez, Anahí, Christopher von Uckermann and Maite Perroni shared the exciting news on their group's social media, along with the tour dates for their 2023 concerts.
"I am so excited, I can't believe it," Dulce María tells TODAY.com in Spanish over the phone about the upcoming tour. "I'm emotional ... and I'm just as excited as everyone, the Rebelde generation."
RBD will visit a number of cities in the U.S., Mexico and Brazil. They will kick off their stadium and arenas tour on Aug. 25 at Sun Bowl stadium in El Paso, Texas. According to the press release, "The 40,000 seat stadium symbolizes RBD's cross-cultural appeal and revolutionary impact on the culture: which has brought many cultures together."
Days after the announcement was made, several additional dates were added as fans' excitement grew.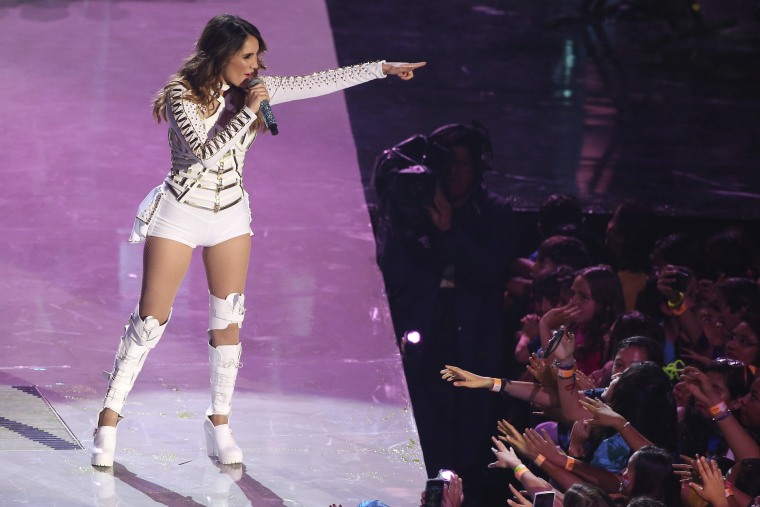 Talks about a reunion tour started when RBD's music was released on streaming platforms in 2020, followed by a virtual concert in December of that year that included Anahí, Chávez, von Uckermann and Perroni.
Dulce María had just given birth and was unable to join her former bandmates. "Ozark" actor Alfonso Herrera was also an original member of the group, but has previously expressed that he's focused on his acting career.
"Finally the stars aligned," Dulce María says, adding that everything happened at the perfect time. "The five of us got together for this great announcement, these shows that we are going to do. We've had the intention of doing this tour for years but it got difficult to get everyone together and our schedules to align."
The group will have concerts in New York City, Chicago, Las Vegas, Miami, Los Angeles, Mexico City and Rio De Janeiro, among many others.
The group is in the beginning stages of planning the tour, but Dulce María says they are putting all their love into it.
"We're going to give the best versions of ourselves," she says of what people can expect from the tour. "It's going to be filled with nostalgia, with the songs that we and our fans grew up listening to. And the rest, we're just barely starting to plan out."
"Right now, I'm filming a telenovela from Monday to Sunday, Maite is pregnant, we all have projects or life events (that are keeping us busy)," she says. "But there's still time to work everything out. Right now, we're excited about the announcement and in talks about the show, the setlist."
"But what I can say is that it will be filled with nostalgia, music, lots of love and celebration," she continues. "It's been 15 years since we did our last show, so (it will be great to) just be together with our fans who have been waiting for us to reunite since we separated."
RBD was a creation of the popular Mexican telenovela "Rebelde," which premiered in 2004. The teen show followed a group of students at the prestigious Elite Way School who formed the musical band RBD. The on-screen group would go on to become one of the best-selling Latin acts, selling over 15 million records worldwide.
During their time together, they released five studio albums. They also earned two Latin Grammy nominations. RBD disbanded in March 2009.
Dulce María, meanwhile, can't wait to sing the group's biggest hits, including "Rebelde," "Aún Hay Algo," "Tras de Mí," and "Sálvame," as well as other non-single tracks like "Otro Día Que Va" and "Qué Hay Detrás" and "Tenerte y Quererte."
Personally, she's excited to sing "No Pares" ("Don't Stop"), which is a very special song for her. "It's a song about hope," she says. "We've all been through many difficult moments, and it's about fighting for what you want and believe and to never stop dreaming."
To this day, fans have held out hope that they would one day reunite — especially after Bad Bunny name-dropped them in one of his 2022 songs and did a TikTok singing to "Sálvame" and Anahí responded. Karol G also invited Anahí to sing the hit song at one of her concerts.
Dulce María says, "It's incredible," that a new generation of fans has discovered their music and younger artists have expressed their love for RBD.
"It definitely shocked us and (made it clear) that people wanted us to reunite," she says, noting that this tour is a one-time event and they don't have plans to tour for years or release new music. "But seeing all (of the fans' messages), people sharing our music, talking about our telenovela characters, and what our group means to people has been awesome."
All the love from everyone, she says, only feeds into the nostalgia and they felt like they owed it to their fans to give them one last wild ride as a thank you.
"It's confirmed that what we're doing is important and beyond our current projects and personal lives," she says. "We just want to share this with our fans one last time."
Tickets for all dates will go on sale Jan. 27 at 10:00 a.m. Brazil, 12:00 p.m. in the United States, and at 2:00 p.m. in Mexico.