Pink and Kelly Clarkson are at it again.
Last week, fans got a sneak peek of the superstars teaming up on Pink's hit "What About Us" on the Feb. 6 episode of "The Kelly Clarkson Show." Now, we see that they also joined forces on the episode on another smash from Pink's catalog, "Who Knew," a 2006 track from her album "I'm Not Dead."
They introduced the performance by Pink explaining how the song is about how she lost several friends to overdoses.
"The thing about the song that I love now, after all these years, is that I never get tired of performing it and it's taken on so many different meanings over the years," she said. "It was about my grandmother at one point, it was about my dog. I've lost people and, so, it's always sort of fresh in my heart."
"If someone said three years from now you'd be long gone/ I'd stand up and punch them out/ 'Cause they're all wrong/ I know better 'cause you said forever, and ever/ Who knew," Pink pensively sang to kick off the song, which featured an acoustic guitar player.
She continued to sing before Clarkson then joined in.
"I wish I could touch you again/ I wish I could still call you a friend/ I'd give anything," they sang.
"When someone said count your blessings now/ 'Fore they're long gone/ I guess I just didn't know how/ I was all wrong/ But they knew better, still you said forever, and ever/ Who knew?"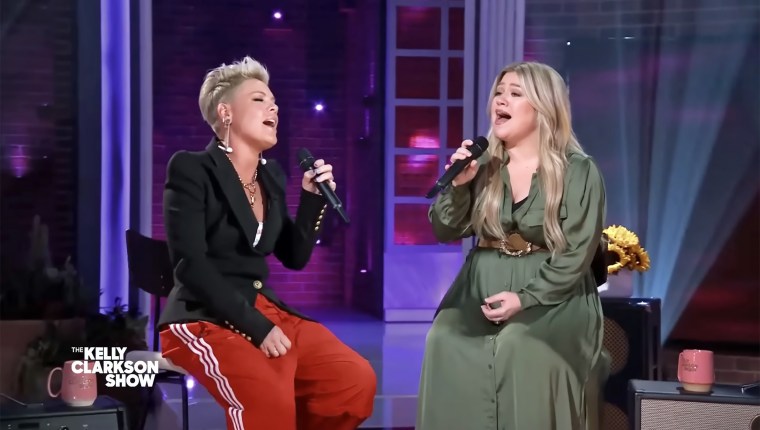 The performance earned a standing ovation from the audience, while those who watched online also couldn't get enough.
"Can we get an album of both artists dueting on each other's songs already?!" one person wrote on YouTube.
"They are both incredible in their own rights, but together, amazing," another person raved. "The thing that makes this all the more special is their mutual admiration. You don't see that as much as we should. Two classy ladies."
"Two vocal powerhouses just sitting there and killing it!" someone else commented.
Pink and Clarkson have a history of performing together. They teamed up to cover R.E.M.'s classic ballad "Everybody Hurts" at the American Music Awards in 2017.
Clarkson also performed "What About Us" on the "Kellyoke" segment of her show in 2019, and later covered "Lady Marmalade," a 1974 song that was remade in 2001 by Pink, Christina Aguilera, Mya and Lil' Kim.