Paulina Rubio is ready to put the past behind her.
The singer, known as La Chica Dorada (Golden Girl), is considered one of the biggest Mexican pop stars after starting her career at the age of 7 in the group Timbiriche.
Rubio, 51, was an original member of the group from 1982 to 1991. It also included fellow pop star Thalia, who joined in 1986, replacing Sasha Sokol until 1989. For about two years, Rubio and Thalia worked together with rumors circulating that there was a rivalry between them.
In a recent interview with Mexican talk show "Ventaneando," Rubio expressed her desire to reconcile with Thalia by collaborating on a song and going on tour together.
When talking about her desire to do a duet, Rubio told Pati Chapoy in Spanish, "I would love for it to be a woman, I would like it to be something different. But it's been a lot of work for us to make it happen."
When asked who she had in mind to collaborate with, Rubio replied: "Thalia."
"Here, I'm telling Thalia directly, let's do a tour together," she continued, mentioning other female artists that have recently worked together like Shakira and Karol G.
Rubio continued by quoting Shakira's interview with Mexican journalist Enrique Acevedo, where the "Hips Don't Lie" singer said, "There's a place in hell for women who don't help other women."
"We have to remove the (stigma of putting women against each other)," Rubio continued. "The most intense feud in (Mexican) pop has been mine and Thalia's. Let her do the tour."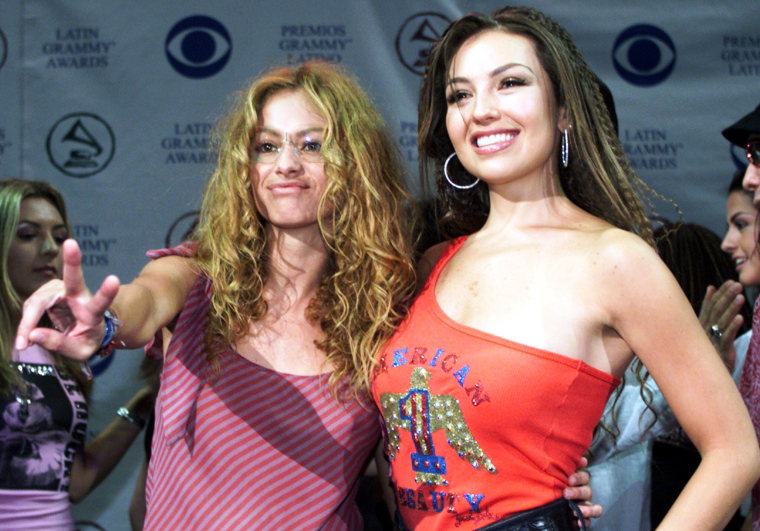 Rubio noted that she has not spoken to Thalia in about "three, two years" but a reunion should happen soon.
"The thing is, she is so different from me and I respect her so much," she said. "We are the same age, our kids are our everything. She lives in New York, we have good friends in common."
"But it would be amazing to squash whatever competition," she continued. "You know how happy the fans would be?...The two top Mexican (female) singers, we have to reunite."
The "Don't Say Goodbye" singer chalked up the rumored rivalry to the public. She said that when you're in a musical group and have a huge platform, the competition is strong.
"We are adults now, I think we can do something together," Rubio said. "We can't do it in 10 years, we're perfect now! We have to leave the ego behind."
Adding, "We have to be a team. Women, we all have to be on the same team."
The former "X Factor" judge previously touched on her relationship with Thalia in a conversation with Mario Lopez on "One on One" in 2014. 
"When you are in a teen band, everything happens," she said. "You're brothers and sisters, and you fight, and you make up, you sing together, you travel together, you basically are together all the time."
"Thalia and I were very, very close friends, and then we (would) fight, and then we were friends again," she continued.
As for Thalia, the 51-year-old singer continues to treat fans to new music. In November, she spoke with TODAY.com about her longevity in the music industry and what keeps her going.
"As a musician, you have to be loyal to who you are and we are in constant evolution. We wake up and every day is a fresh new start," Thalia said. "If I wake up and I'm feeling salsa or if I'm feeling electric dance, like with this single, then let's do it. Why not? Who is saying that you have to do the same thing all the time? Nobody but you."