After waiting for decades, pop music fans are finally getting their wish: 'N Sync is reuniting. 
The audience at the 2023 Video Music Awards on Sept. 12 erupted with screams and applause when Justin Timberlake, JC Chasez, Joey Fatone, Lance Bass and Chris Kirkpatrick strolled onto the stage to present the award for best pop video to a stunned Taylor Swift.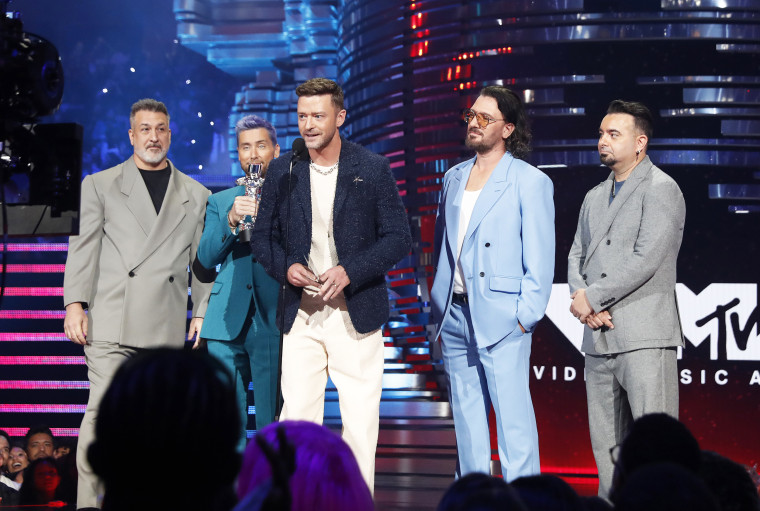 Swift suspected that the group had something more planned beside a brief appearance together — their first in 10 years, since the 2013 VMAs — and she was right.
A day after the VMAs, the "It's Gonna Be Me" singers announced that they are releasing a new song called "Better Place" on Sept. 29. The track marks their first collaboration in over 20 years and it will be featured in the new movie "Trolls Band Together," in theaters Nov. 17. 
Timberlake celebrated the group's reunion by sharing a behind-the-scenes video of them creating the song in a recording studio. The clip showed each member stepping into the recording booth as Timberlake appeared to produce the track. 
"When the stars align … got my brothers back together in the studio to work on something fun and the energy was special. Better Place is coming 9/29 🙏🏻 LOVE Y'ALL," Timberlake captioned the video.
The clip was the first time fans have seen the band sing together in over a decade. The last time the group performed was at the VMAs in 2013, where they sang their biggest hits before Timberlake was presented with the Video Vanguard Award. 
The band officially split in 2007, but their fourth and last album came out in 2001. Their last song came out in 2002.
Since then, each member has been busy making music, recording podcasts, starring in films and touring. Check out what the members of 'N Sync have been up to so far this year. 
Justin Timberlake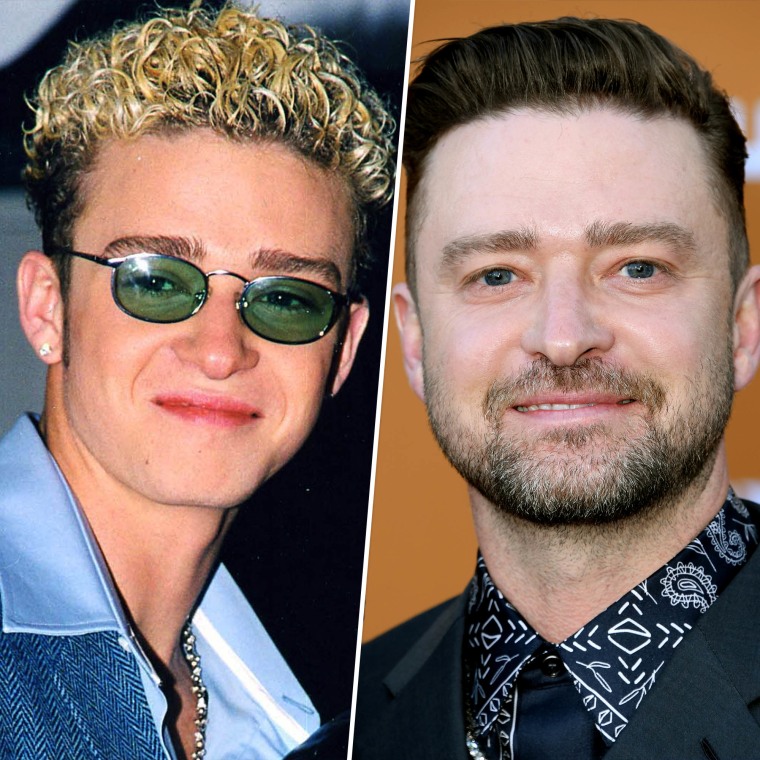 After racking up 10 Grammys over the years with his solo projects, Timberlake recently took a break from music to focus on acting. He's starred in movies like "Friends With Benefits," "The Social network" and the upcoming movie "Reptile."
His last album, "Man of the Woods," was released in 2018. However, he has continued to collaborate with artists like Coco Jones, Calvin Harris, Halsey, Pharrell and DJ Khaled.
Earlier this month, he teamed up with Grammy-winning producer and longtime collaborator Timbaland and "Promiscuous" singer Nelly Furtado for a song called "Keep Going Up."
Timberlake and Timbaland uploaded a joint Instagram post on Sept. 1 that showed them jamming out in the recording studio as they crafted the song. 
Timberlake is married to the actor Jessica Biel. They share two sons, Silas, 8, and Phineas, 2.
JC Chasez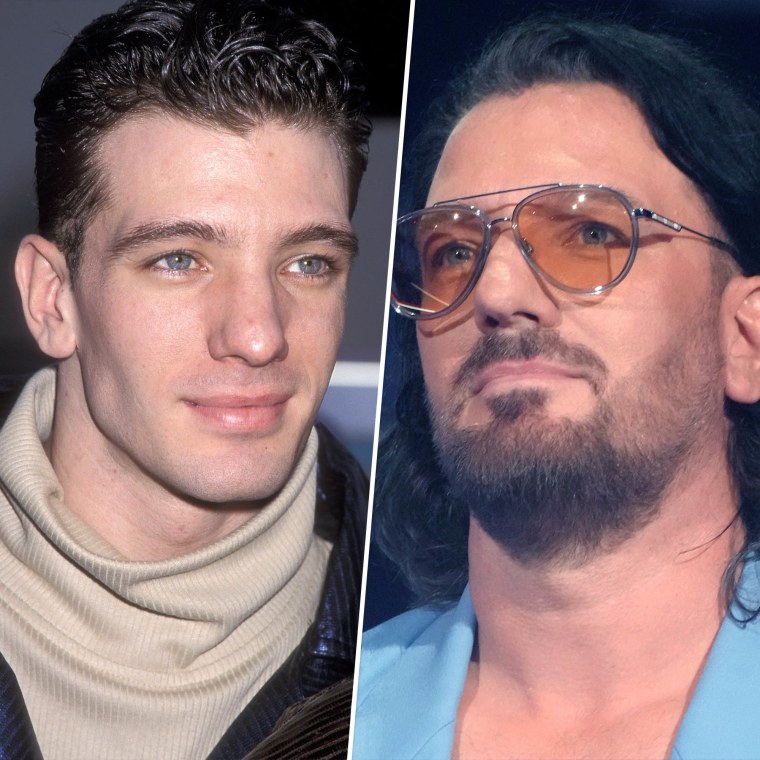 Chasez recently partnered with Meow Mix and added his impressive vocals to the pet food's recent campaign. 
He shared hilarious videos of him mastering the perfect cat impression on Instagram. 
The musician has also been busy traveling with his girlfriend, Jennifer HuYoung. The two recently took a trip to Italy and he shared a couple black-and-white snaps, including one in front of the Leaning Tower of Pisa on Instagram. 
Chasez uploaded the travel pictures on Sept. 11, which some suspected was his way of keeping 'N Sync's reunion at the VMAs a secret. 
Joey Fatone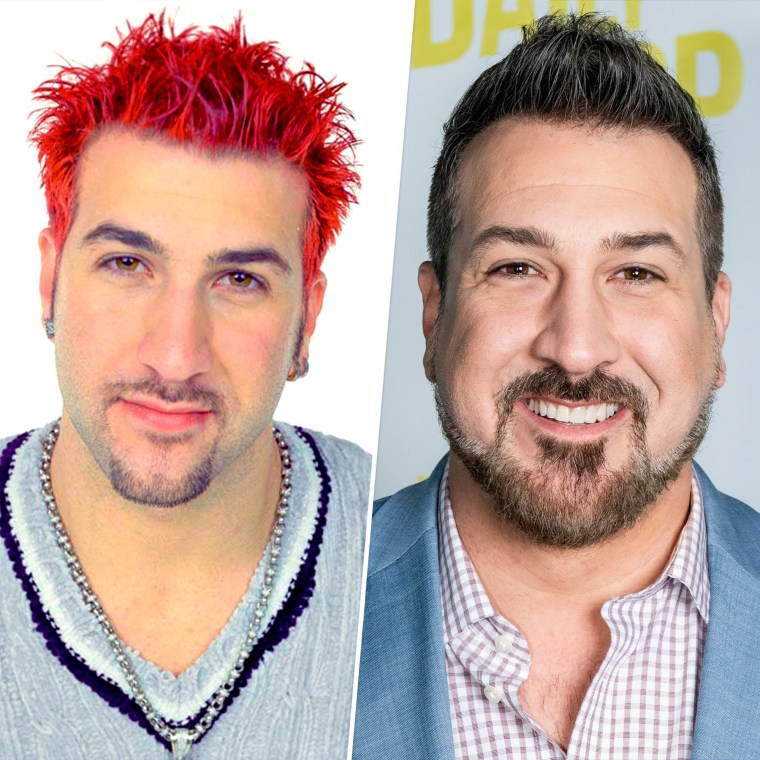 Fatone was one of the many actors who reprised his role for "My Big Fat Greek Wedding 3," which was released in theaters on Sept. 8. He plays funny Cousin Angelo in the beloved rom-com franchise. 
He also returned to "The Masked Singer" stage recently to celebrate the show's milestone 10th season. Fatone previously competed on the first season of the competition series as the Rabbit and came in fourth place. 
For a special episode on Sept. 10, Fatone took the stage with fellow "Masked Singer" alum Bow Wow to perform a duet of The Jackson 5's "ABC. 
Fatone and his ex-wife Kelly Baldwin are dads to daughters Kloey, born in 2010, and Briahna, born in 2001.
Lance Bass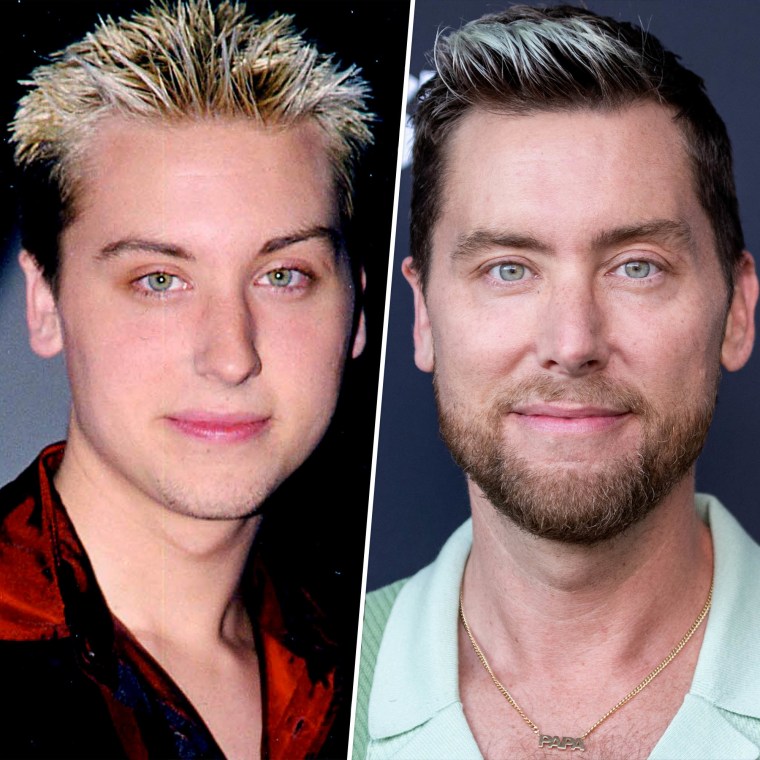 In January, Bass launched his "Frosted Tips" podcast, a nod to his iconic '90s look. Each week, he and his husband, Michael Turchin, catch up with '90s stars. His first guest was Chasez. Fatone has also stopped by along with New Kids On The Block members Jonathan Knight and Donnie Wahlberg and Backstreet Boys members AJ McLean and Howie Dorough. 
Bass seemed to hint at 'N Sync's big announcement by posting a clip of his husband rating a few of his boy band's red carpet outfits on Instagram on Sept. 4. 
Turchin was a fan of the group's all-denim ensemble, labeling it as "one of the most put together looks y'all had." But he was appalled by the boy band's leather outfits at the 1999 American Music Awards. 
Turchin and Bass are dads to twins Violet and Alexander, born in 2021.
Chris Kirkpatrick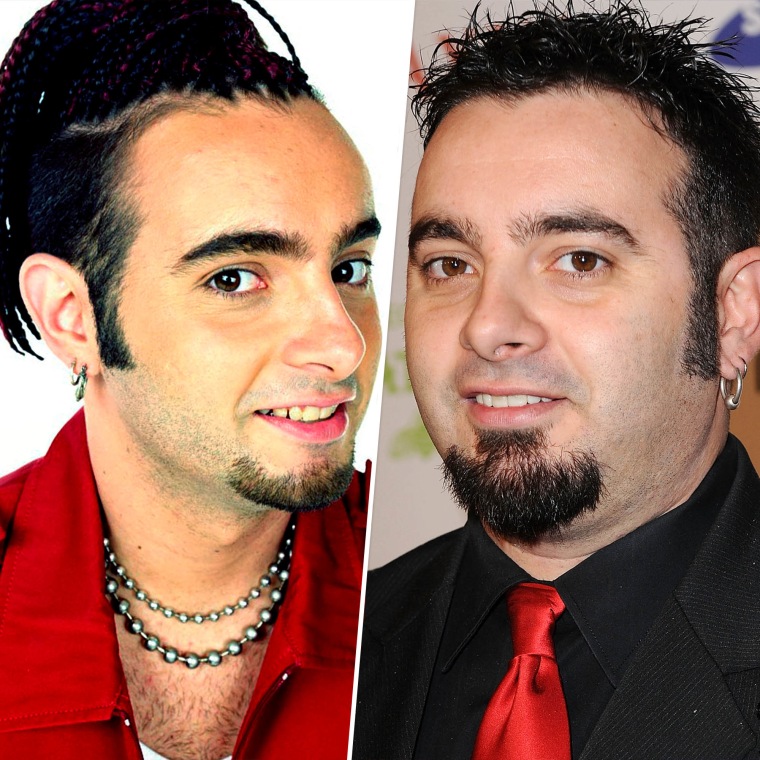 Kirkpatrick spent his summer touring with fellow '90s and early aughts pop acts like O-Town, BBMak, LFO and Ryan Cabrera for the "Pop 2000" tour. Most of the stops were on the east coast. 
Kirkpatrick also served as a judge at a Reality Lip Sync Battle event in August that brought together different reality television stars to raise money for a nonprofit called Give Kids The World Village.
He was a fitting choice for judge, he was a contestant on Season Three of "Celebrity Big Brother" in 2022. 
Chris Kirkpatrick and his wife Karly Skladany share son Nash, born in 2017.