Nick Jonas still vividly remembers the time he flubbed a guitar solo while performing with Kelsea Ballerini in 2016.
The "Jealous" singer, 30, opened up about his "tragic guitar solo debacle" during the May 22 episode of the "Armchair Expert" podcast, calling it a "really traumatic moment."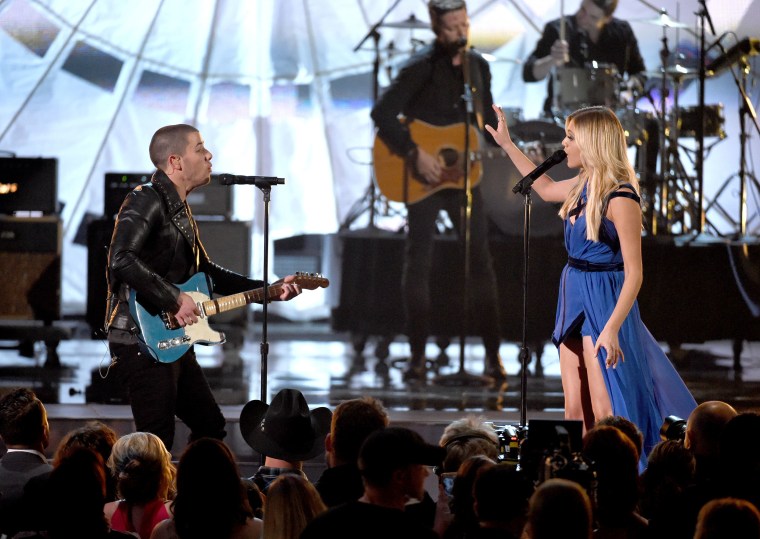 Jonas appeared with Ballerini at the 2016 Academy of Country Music Awards, playing guitar as they performed her hit song, "Peter Pan."
"I come out for my thing …I've rehearsed it a million times, I'm feeling really confident about it … I start it off, it's fine, and as I walked towards her, I just went completely blank," he told host Dax Shepard. "I hit a wrong note and blacked out, basically, and clocked that it was wrong. And I couldn't stop. 
"To this day, and hours of unpacking it, I can't really figure out exactly what happened," Jonas continued. "I was rushed right into a car and right into a plane after and I looked at my manager and I was like, 'I think that was bad.' I was, like, in shock."
The televised moment made headlines at the time, which Jonas said was hard to handle.
"In retrospect I can kind of laugh about how big I thought it was, but it did travel more than I wish it would have, and it did cause me to go into therapy," he said.
Jonas said the onstage mistake at the ACMs had long-term effects on his confidence, playing into "the pressure I put on myself to be perfect and to always be on."
The moment came in the midst of the Jonas Brothers' hiatus, which lasted from 2013 until 2019, when the band announced their comeback and released a new album, "Happiness Begins."
While the band's hiatus offered an opportunity for the brothers to explore their individual identities as artists, Nick Jonas said he felt "certain things that were missing" from his solo work. 
"There were certainly times when I would look to the left and right and be like, 'I'm not feeling the momentum in that way that I did when performing with them. I'm not feeling the magic,'" he said. 
"Because I was the one that sort of initiated the conversation of breaking things up, I was kind of like, 'I can't really say that out loud,'" he added. "But the door did open up, and I think once that conversation began, it was like baby steps. What if we just did the (documentary), and then what if we did one song? And eventually it became a full album and a full comeback."
Joe Jonas, who also appeared on the podcast episode, added that reuniting after several years apart allowed the brothers to meet "each other at the same place in our life."
"We're all fathers and married and able to relate a lot more," he said.