Niall Horan credits his days on "The X Factor" for his recent win on "The Voice." Apparently, show judge Blake Shelton is happy to take credit, too.
In a recent interview with People, Horan spoke about winning Season 23 of NBC's "The Voice" with contestant Gina Miles, how is past came in handy and what his fellow judge had to say to him right after the win.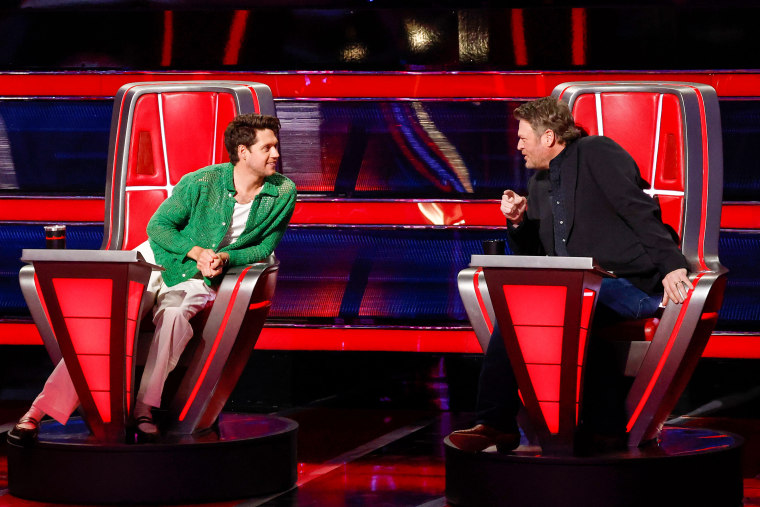 "('The X Factor') did come into play more than I thought it would, or more than I thought I would allow it to," he said. "Being there with the contestants every week, picking songs, keeping them calm — because it's crazy how talented these young kids are, and with that level of talent comes a level of seriousness, and I was always trying to get them to enjoy it."
Despite Horan's own years of experience in the music industry, he said Shelton was quick to take credit for his recent win with a witty remark.
"When we left the seat, they announced the winner, and I stood up, and then (Shelton) came for a big hug," the former One Direction member recalled. "I gave him a big hug, and he said, 'I taught you everything you know.' That's all he said, not congratulations or anything."
Shelton previously announced that this past season would be his last. Horan, on the other hand, will continue as a coach on the show for Season 24.
"I'm going to miss him. He is not one of those famous friends, in my eyes. I think if I had met him outside of 'The Voice,' I would have probably been friends with him anyway," Horan added. "Weirdly enough, we've got a lot in common. We're quite similar people. Though not in dress sense."
"I'm going to miss (Blake), but I get to work with the other half of that marriage," he explained, referring to Shelton's relationship with singer Gwen Stefani. "I met Gwen at the after-party for this season's 'Voice.' She came and surprised Blake on the last night, and she was so funny and so cool, so I'm excited."
Season 24 of "The Voice" will see Horan return to coach alongside John Legend and Stefani. In May, it was announced that Reba McEntire would also join the show as a coach.