One day before she was to be inducted into the Country Music Hall of Fame, Naomi Judd has died. She was 76 years old.
Her daughters, Wynonna Judd and Ashley Judd, shared a statement with TODAY confirming her death.
"Today we sisters experienced a tragedy. We lost our beautiful mother to the disease of mental illness," the statement said. "We are shattered. We are navigating profound grief and know that as we loved her, she was loved by her public. We are in unknown territory."
An exact cause of death was not shared.
​"Entertainment icon Naomi Judd passed away April 30, 2022 outside of Nashville," her rep, Adkins Publicity, told TODAY in a statement. "Her husband, Larry Strickland, of 32 years will not be making any further statements. Naomi Judd's family request privacy during this heartbreaking time. No additional information will be released at this time."
Selling more than 20 million album, The Judds — comprised of mother-daughter duo Naomi and Wynonna — are often celebrated for a rarely-interrupted stretch of 14 number one hits when every single of theirs released by RCA landed in the Billboard Top 10 over three decades.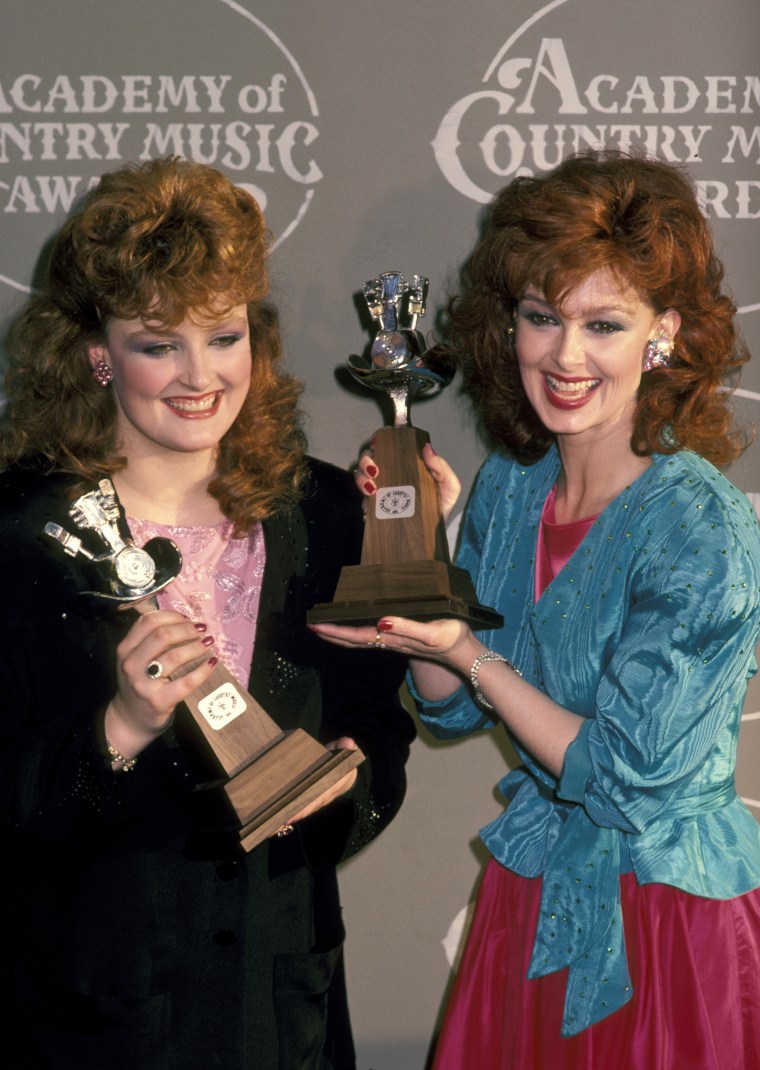 Ahead of her official induction on Sunday, the Country Hall of Fame released a statement on her passing, explaining the ceremony will continue as planned per the family's wishes.
"We are shocked and saddened to learn of the death of Naomi Judd, who enters the Country Music Hall of Fame tomorrow as a member of mother-daughter duo The Judds," Kyle Young, CEO of the Country Music Hall of Fame and Museum, told TODAY in a statement on Saturday. "Naomi overcame incredible adversity on her way to a significant place in music history. Her triumphant life story overshadows today's tragic news. Her family has asked that we continue with The Judds' official Hall of Fame induction on Sunday. We will do so, with heavy hearts and weighted minds. Naomi and daughter Wynonna's music will endure." 
The induction ceremony did go on as scheduled, with Ashley joining her sister Wynonna on stage to honor their mother.
"I'm sorry that she couldn't hang on until today," said an emotional Ashley, according to the Associated Press. The 54-year-old actor was described as holding onto her sister, together reciting Psalm 23.
"I didn't prepare anything tonight because I knew mom would probably talk the most," Wynonna, 57, told the audience, according to Taste of Country. "I'm gonna make this fast, because my heart's broken, and I feel so blessed. It's a very strange dynamic, to be this broken and this blessed. … Though my heart's broken, I will continue to sing, because that's what we do."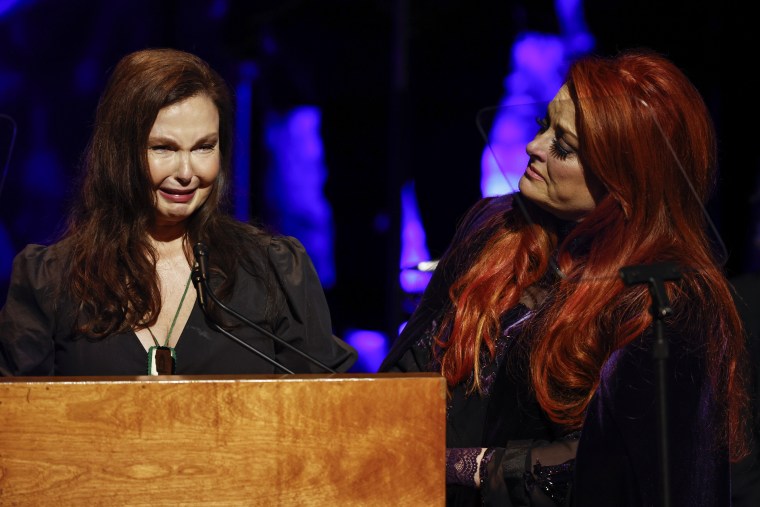 Born Diana Ellen Judd on January 11, 1946 in Ashland, Kentucky, Naomi's father owned a successful gas station and car service repair shop.
After having two daughters herself, she teamed up with her oldest, Wynonna, to become The Judds, getting discovered by RCA​ ​label​ ​head​ ​Joe​ ​Galante​ ​in​ ​1983 ​after landing a spot on​ ​WSM-TV's​ "​The​ ​Ralph​ ​Emery Show."
Together, The Judds have 16 gold, platinum, and multi-platinum albums and long form videos, led by two time platinum albums "Why Not Me" and "The Judds Greatest Hits."
Some of The Judds' greatest hits include "Love Can Build a Bridge" in 1990, "Mama He's Crazy" in 1984, "Why Not Me" in 1984,"Turn It Loose" in 1988, and "Girls Night Out" in 1985.
Just a few weeks ago, The Judds announced a 10-date arena tour that was to kick off on Friday, Sept. 30, 2022 in Grand Rapids, Michigan. Martina McBride was to join as a special guest on select dates.
"The fans have always been my family of choice. I love them dearly, so I'm chompin' at the bit to belt out our hits and reconnect with them once again. The cherry on top is singing with my beloved, wild and extremely talented daughter… the best singer of any genre, Wynonna! She asked me if I was still going to twist, twirl and crack jokes. I answered, 'Heck yeah! I'm too old to grow up now!'" Naomi said in a statement.
On TODAY in 2017, Naomi opened up about her struggle with depression.
"I didn't get off my couch for two years," she revealed. "I was so depressed that I couldn't move ... My husband (Larry Strickland) and my girlfriends and Ashley would come over and I would just go upstairs and lock the door to my bedroom ... You become immobilized."
"That's how bad it can get," she added. "It's hard to describe. You go down in this deep, dark hole of depression and you don't think that there's another minute.'"