Miley Cyrus is clearing up for fans why she doesn't have plans to embark on a concert tour any time soon.
In an interview with British Vogue published May 18, the "Flowers" singer said that in 2014 she took a step back and reevaluated whether or not she wanted to continue touring.
"After the last [headline arena] show I did [in 2014], I kind of looked at it as more of a question. And I can't," she said. "Not only 'can't,' because can't is your capability, but my desire. Do I want to live my life for anyone else's pleasure or fulfillment other than my own?"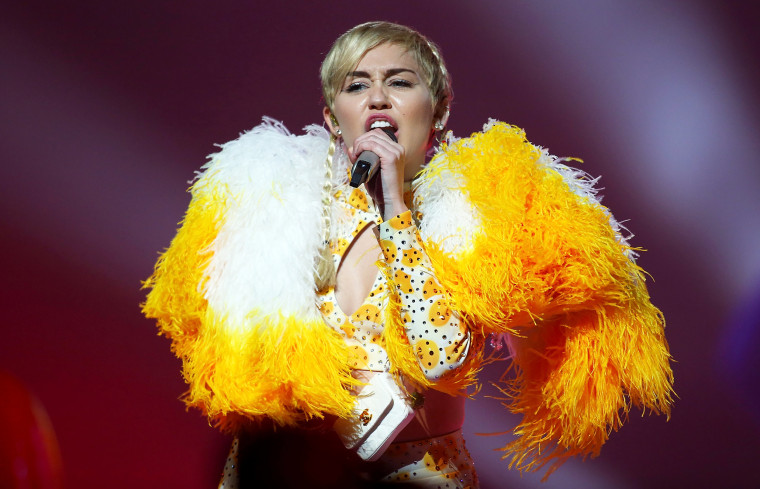 She added that performing for tons of people "isn't really the thing that I love. There's no connection. There's no safety."
On May 24, the 30-year-old took to Instagram to share a message stating that she feels "connected" to her fans "NOW more than ever."
"When I win, WE win," she began, adding a red heart emoji. "Even if I don't see them face to face every night at a concert, my fans are felt deeply in my heart."
Cyrus said she's still coming up with new ways to stay connected to her audience "without sacrificing my own essentials."
"Performing for YOU has been some of the best days of my life & we will continue this journey together as we have for the last almost two decades. This has nothing to do with a lack of appreciation for the fans & everything to do with I simply don't want to get ready in a locker room. Which is the reality of life on the road," she wrote.
"These looks I've been turning don't travel well. The archival looks don't fold. I just don't want to sleep on a moving bus. It isn't what's best for me right NOW, & if you've been following my career you know that I always change and the way I feel about that could too," she concluded, before signing off that she's just on her "Endless Summer Vacation," referencing her new album.
Most comments on the singer's post were full of support, with some even assuming she'll be back on stage one day.
One person wrote, "ill be there FRONT AND CENTRE the second you're ready."
Others expressed their hopes for a different kind of Cyrus concert, with one person commenting, "It's giving Vegas residency, queen! Set those boundaries! Do you!"
In the same interview, Cyrus opened up about her early 20s, when she moved from her Disney Channel persona associated with "Hannah Montana" and into a more controversial and edgy performance genre.
"I'm actually not an attention-seeking person, sitting here as a 30-year-old grown woman," Cyrus said, explaining that she was "creating attention" to distance herself from the character she played for four seasons.
"I carried some guilt and shame around myself for years because of how much controversy and upset I really caused," she said. "Now that I'm an adult, I realize how harshly I was judged. I was harshly judged as a child by adults and now, as an adult, I realize that I would never harshly judge a child."