Miley Cyrus is sharing the story of how she met her musician boyfriend, Maxx Morando, drummer of the band Liily, a few years ago.
"We got put on a blind date," the "Flowers" singer, 30, told British Vogue. "Well, it was blind for me and not really for him. I thought, 'The worst that can happen is I leave.'"
The magazine noted that Morando called Cyrus during the interview. Her ringtone for him? Erykah Badu's "Tyrone." Cyrus joked, "I call that 'boyfriend sexy ringtone.'"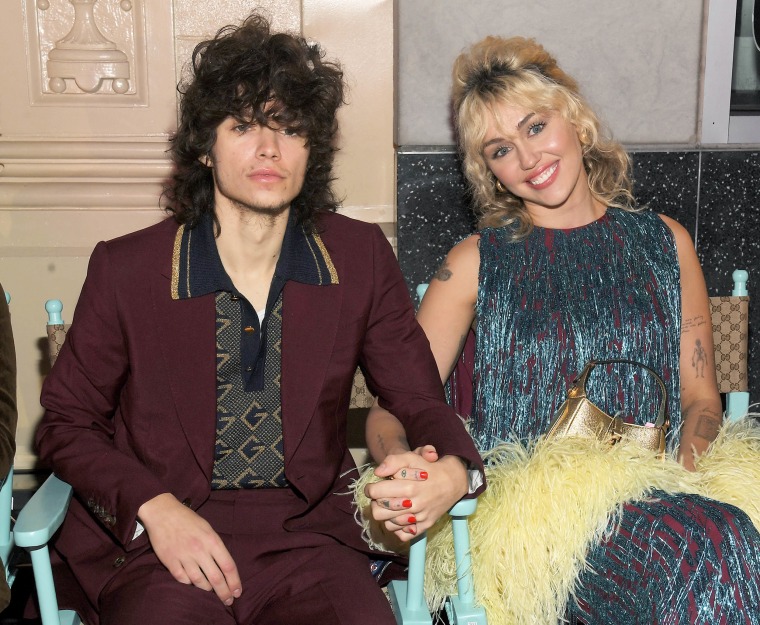 Cyrus hinted to British Vogue that she doesn't regret her marriage to her ex-husband, Australian actor Liam Hemsworth.
The singer and the "Hunger Games" franchise star, 33, tied the knot in 2018 after dating on and off for nearly a decade. Eight months after the pair's wedding, a rep for Cyrus confirmed the couple's split.
"I wouldn't erase my story or want it to be erased," Cyrus told the magazine without mentioning Hemsworth by name. She added, "Having an interesting life makes for interesting storytelling."
Cyrus released "Flowers" on Jan. 13, Hemsworth's birthday, prompting some fans to wonder if the song's message of self-empowerment after a breakup was a kiss-off to Hemsworth.
"I can buy myself flowers/ Write my name in the sand/ Talk to myself for hours/ Say things you don't understand," Cyrus sings on the song.
Those fan theories about the song apparently don't interest the singer. "I never need to be a master at the craft of tricking an audience," she said.
Cyrus revealed that the song's original lyrics were darker, about someone who buys herself flowers but would rather still be with her ex-lover.
The new, finished version that fans know appeals much more to Cyrus. "The song is a little fake it till you make it," she said. "Which I'm a big fan of."
During the interview, Cyrus also addressed the backlash she suffered after she ditched her squeaky-clean "Hannah Montana" image.
The singer found fame as an adolescent playing the title character of the Disney Channel series. She later went on to make headlines by dressing provocatively in her 2013 video for "Wrecking Ball" and twerking onstage with Robin Thicke at the MTV Video Music Awards the same year.
The angry response to her racy behavior caused the "Malibu" singer to struggle with "guilt and shame" for years, she revealed.
"I was creating attention for myself because I was dividing myself from a character I had played," she explained. "Anyone, when you're 20 or 21, you have more to prove. 'I'm not my parents.' 'I am who I am.'" 
"Now that I'm an adult, I realize how harshly I was judged," she added. "I was harshly judged as a child by adults and now, as an adult, I realize that I would never harshly judge a child."