Mariska Hargitay has been solving crimes for over 20 years as "Law & Order: Special Victims Unit" character Olivia Benson. But it turns out some Swifties only recognize the name Olivia Benson as that of Taylor Swift's cat. 
Swift, a proud cat lover, named her three cats after some of her favorite television and film characters: a Scottish fold named Meredith Grey in honor of Ellen Pompeo's "Grey's Anatomy" character, a Ragdoll called Benjamin Button as a tribute to Brad Pitt's character from his 2008 fantasy film and Olivia Benson, another Scottish fold.
Olivia Benson (the cat) might be one of the most popular pets on the planet. So some Swifties were shocked to recently learn that the "Anti-Hero" singer didn't create the unique name herself when Hargitay attended one of Swift's recent Nashville concerts.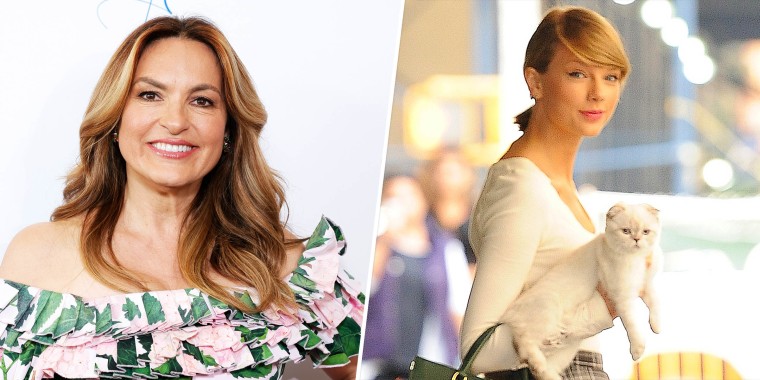 The "SVU" star walked through the crowd at Swift's "Eras Tour" and one hilarious TikTok video captured fans realizing that Olivia Benson isn't just a cat. 
In the clip, one fan repeatedly shouts "It's Olivia Benson! I love you Olivia Benson" at Hargitay as she waves to a bunch of concertgoers. Before the video ends, another fan jumps into the frame and asks "Who's Olivia Benson?"
She wasn't the only one who had never heard of the fictional character before. A few other fans expressed their confusion in the comments as well.
"I thought Olivia Benson was the cat?" one TikTok user said. 
Another person replied and wrote, "Sameeee" with a few crying-face emoji. 
When a few fans said they could not believe some people are not familiar with the iconic "SVU" character, one chimed in and said, "Idk where i've (been) but who's olivia benson…"
The confusion continued on Twitter after one social media user posted a screenshot of the TikTok video with the "I thought Olivia Benson was the cat?" comment. 
Multiple Twitter users were not ashamed to reveal they also think of Swift's Scottish fold when they hear the name Olivia Benson.
"Ngl when i saw someone tweet that olivia benson was at the show, i was truly looking for a cat in the photo," one person tweeted. 
One fan was in complete disbelief. "Wait is there a person named olivia benson?" they asked. 
Another person mixed up the character with Swift's other favorite drama series. "Wait isnt olivia benson the character name from greys anatomy not the actor?" one fan asked.
There were plenty of "SVU" viewers who made it clear everyone should know Hargitay and her beloved onscreen counterpart. 
"Cant believe anyone would disrespect mommy benson like that," one Twitter user said. 
One TikTok user made sure to show respect for Olivia Benson by including her full title. 
"That's CAPTAIN Olivia Benson of the Manhattan Special Victims Unit, 16th precinct," one comment said and included a crown emoji. 
Hargitay has made a surprise appearance at one of Swift's show's before. The 59-year-old actor and the "Love Story" singer became friends after Swift, 33, shared she is a longtime fan of the NBC series. The actor even appeared in Swift's "Bad Blood" music video. 
In 2015, Swift introduced Olivia Benson to Olivia Benson for the first time backstage at her Philadelphia show for the "1989" tour. 
The musician captured the special moment on camera and uploaded the meeting to Instagram.
In the clip, which has since been deleted, Swift narrated Hargitay's interaction with the adorable cat. 
"This is Olivia Benson meeting Olivia Benson," Swift said as she filmed them. "Things are going well so far." 
Hargitay also joined Swift on stage and the two strutted in front of the crowd during her performance of "Style."
After the show, Swift wrote in a now-deleted tweet, "Everyone screamed so loud when @Mariska came out during Style, I'm considering just taking her on tour with me. #QueenMariska #Justice." 
Hargitay responded and thanked Swift for an unforgettable night.
".@taylorswift13 So honored to share the catwalk with you! And so tempted to hop on the tour bus... #UntilNextTime," she said at the time.