Lizzo is bringing out her inner superhero with her new music video, "Special."
The video, which Lizzo shared on Feb. 1, shows her doing regular tasks like waking up in the morning, eating cereal and working at a diner before she suddenly turns into a purple-masked superhero and saves a little girl from a speeding car.
But that's not all. Throughout the video, Lizzo saves more people from dangerous situations, like a baby from a burning building and a woman from robbers attempting to steal a purse. And Lizzo does it all without breaking a nail in her purple spandex outfit, complete with a cape.
The song, which is a part of Lizzo's fourth studio album "Special," teaches fans that no matter how they feel about themselves, they should always know that they're special — no matter what.
For some of her heroic rescues, she sings the song lyrics to the people she saves: "You're special / I'm so glad that you're still with us / Broken, but damn, you're still perfect (perfect)."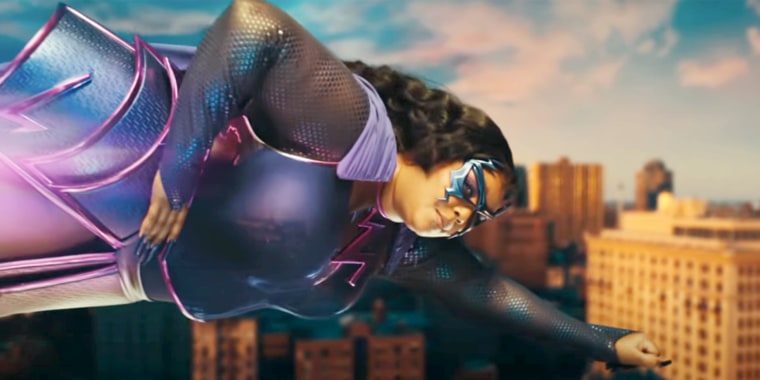 Lizzo's album "Special" came out in July 2022. In an interview with Zane Lowe on Apple Music 1, she explained how she came up with her album title.
"The album was called 'In Case Nobody Told You' for a while, and then Max Martin came on and he helped me change the hook a little bit and restructured it," she said. "He was like, 'Special, Special. The song is Special.' I was like, 'OK.' Then one day, I had this aha moment where I'm like, 'Oh s***, the album is Special. Literally, the album is special, and I'm special.'"
"I want the person [who hears] this to feel special," Lizzo added. "Everything now has this special feel to it, and this glow, this sparkle. Ever since that's the era I'm moving into. It's out of the darkness and into the light."
"Special" was nominated for album of the year at the 2023 Grammy Awards, set for Feb. 5. Lizzo is nominated for five awards in total this year, including song of the year for her hit "About Damn Time."