Kourtney Kardashian Barker got the chance to see her husband in action April 14 at his Coachella performance, marking her "first" Blink-182 show, she said on Instagram.
Kardashian Barker attended the first night of Coachella to support her husband during the band's set at the festival.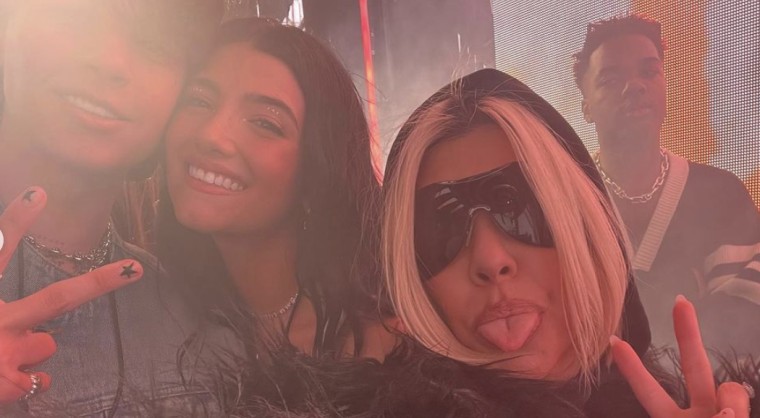 On Instagram, the reality TV star shared a carousel post that included several videos and photos from the evening. She began with a sweet clip of Barker walking backstage before she jumped onto him, enveloping her husband in a hug. 
The Poosh founder went on to share several short clips from the show, capturing moments from their performance including their hits "All the Small Things" and "Anthem Part Two."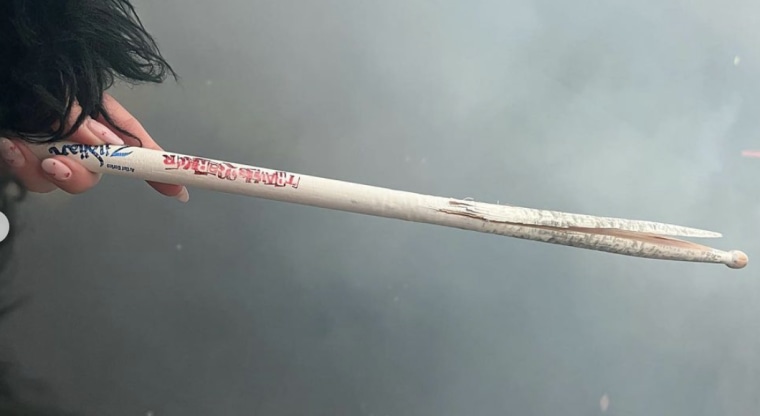 She also shared a selfie posing with Barker's son, Landon, and his girlfriend, TikTok star Charli D'Amelio, as well as a picture of one of Barker's broken drumsticks.
"My first @blink182 show!" Kardashian Barker captioned the post.
Blink-182's Coachella performance was somewhat of a surprise to festival attendees.
The group was not originally billed to be performing at the festival per the schedule shared in January. Coachella quietly announced the rock group would be playing at the Sahara stage in an Instagram post April 13 containing the schedule for the weekend.
"Take off your pants and jacket," the caption read, referring to the band's 2001 album by the same name.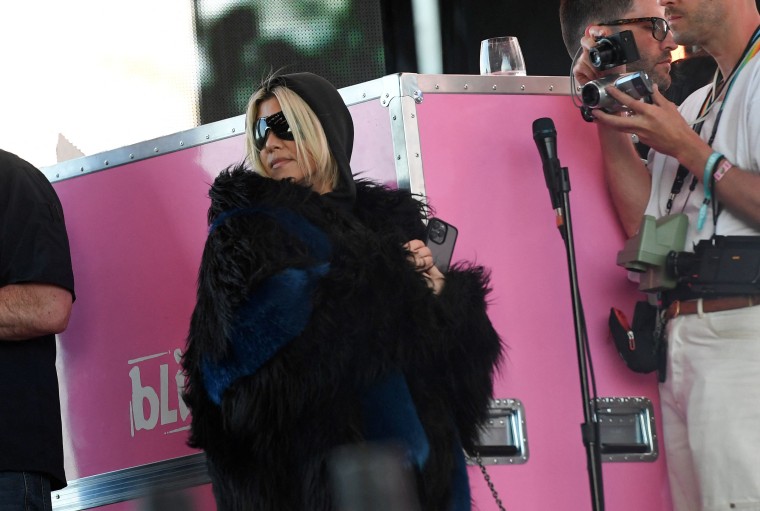 Two of the band's members, Mark Hoppus and Tom DeLonge confirmed the news in Instagram posts on their respective pages.
Ahead of the band's performance, Hoppus also reflected on the big moment amid his recent health battle in an Instagram post.
The group's bassist and vocalist announced in June 2021 that he had been diagnosed with cancer and had been undergoing chemotherapy. However, the musician shared in September of the same year that he was officially "cancer free" after six months of treatment.
On Instagram, Hoppus posted a photo April 14 posing on an empty stage with no crowd. In the caption, he wrote, "Chemo to Coachella."
"Very much in my feelings today," he said. "Grateful to be here and excited to play a rock show with my friends tonight."
The band's Coachella performance marked the first time the group played with DeLonge, the group's guitarist and singer, in nearly 10 years. DeLonge left the group in 2015 and was subsequently replaced by Alkaline Trio's vocalist, Matt Skiba. The group released two albums after his departure, including 2016's "California" and 2019's "NINE."
Blink-182 announced a reunion tour in October 2022, which was set to run from March 2023 through February 2024. The group had to ultimately delay the start of the tour due to Barker requiring surgery for a torn ligament in his finger. The band pushed back their Latin American dates to 2024.