Kourtney Kardashian Barker might be having the time of her life while on tour with her husband, Travis Barker, but she's also missing her babies.
In a recent post to her Instagram story, the reality television personality shared a post about missing her children as she spends time on the road with her husband for his latest tour with Blink-182.
"Haven't seen my babies in 10 days, the longest I haven't seen them ever. Cried for the past 2 days," she wrote over the post, which showed a photo of her with two of her children, 10-year-old Penelope and 8-year-old Reign. "Finally, get to squeeze them tomorrow!"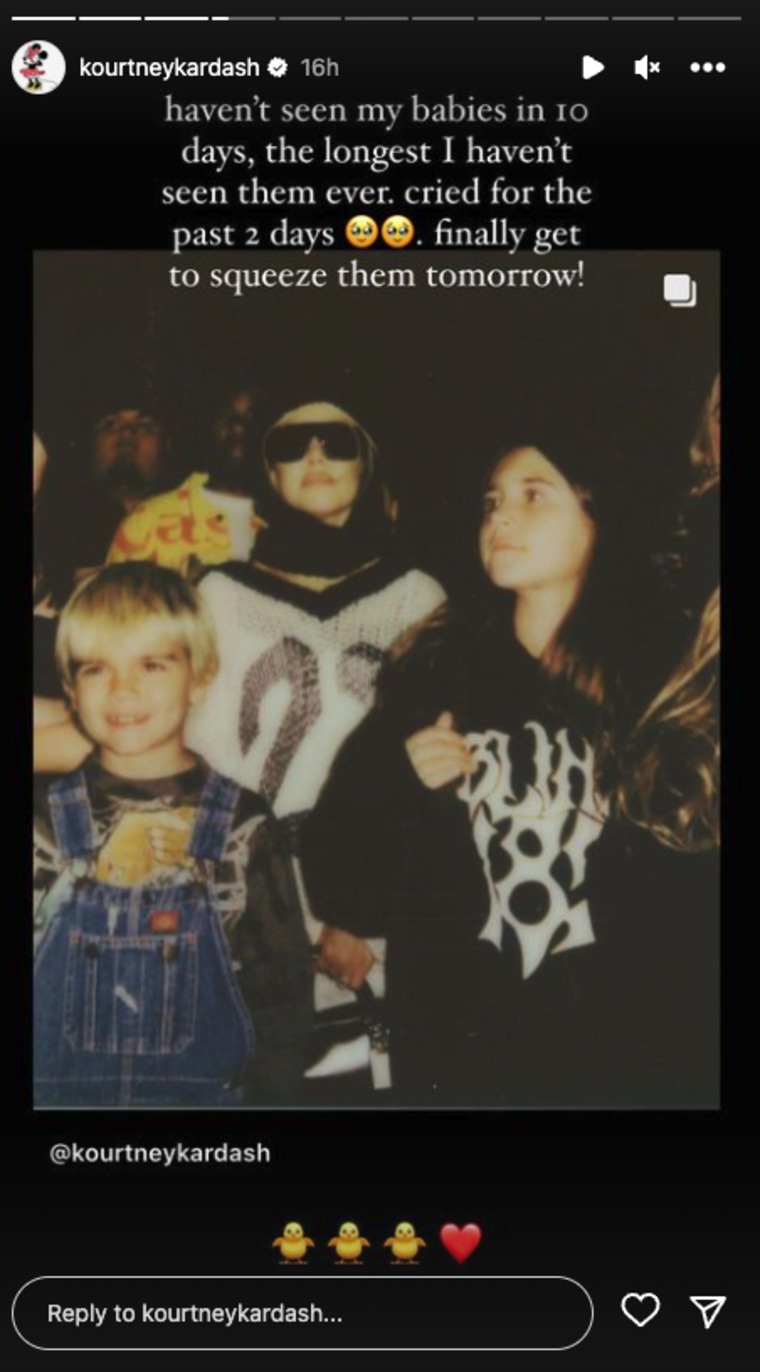 Kardashian Barker shares 13-year-old Mason, Penelope and Reign with her ex-boyfriend, Scott Disick.
The photo from her story comes from a post that Kardashian Barker shared on Instagram May 28, full of throwback pics from Blink-182's performance at Coachella April 14. The concert marked Kardashian Barker's first Blink-182 show, she revealed on Instagram.
"Remember Coachella? I've had some time on the tour bus," she captioned the post.
Since then, the eldest Kardashian sibling has been sharing moments while on the road with Barker.
After her sweet tribute to her children, Kardashian Barker shared videos of her husband performing for a lively crowd on the beach at Atlantic City Boardwalk.
Blink-182's tour kicked off earlier in May and is set to continue in the U.S. until July 16. The world tour will last into 2024 with performances in Europe, Australia and Latin America.
Kardashian Barker and her husband have been trying to grow their family through in vitro fertilization since Season One of "The Kardashians," which premiered in April 2022.
In the most recent episode, which aired May 25, she shared that she and Barker are "officially done" with IVF.
Barker has two children from his previous marriage to model Shanna Moakler: 19-year-old Landon and 17-year-old Alabama.
Kardashian Barker previously opened up to TODAY about her marriage and their blended family.
"I think (it's about) working together and like keeping the communication open," she said of maintaining a healthy family. "I came from a blended family, I feel like... We have experience... We've known each other, and I've had my own relationship with his kids for like 10 years.
"We just all know each other and each other's intentions, and it makes it easy," she added.