Kim Petras is channeling her inner Fergie!
Petras paid homage to Fergie when she performed live June 23 on the TODAY Plaza as part of the 2023 Citi Concert Series.
The "Heart to Break" singer wore a shirt with an image of Fergie doing cartwheels, a reproduction of the feat the former Black Eyed Peas singer actually did when she was on the show back in 2008 that still lives on in infamy.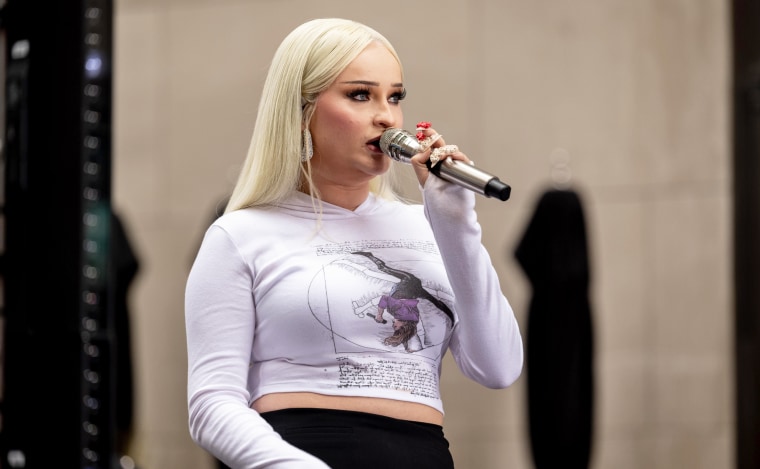 Fergie herself commented on the moment June 23.
"Just got to relive performing on the TODAY Show thru @kimpetras," the singer wrote on Twitter. "I'm so honored. You killed those high notes babe!!! Keep shining."
During her performance in 2008, Fergie was decked out in black leather pants, a blue shirt and purple jacket when she did multiple one-handed cartwheels while holding her microphone, mesmerizing the crowd in the process.
Throughout the acrobatic feat, the Grammy winner continued to sing a chorus of "whoas" in her rendition of "Barracuda."
Fifteen years later, for Petras' own TODAY performance, she sported a long sleeve white shirt with the image of Fergie upside down, capturing the agile moment.
In an interview after the performance, Petras said she was grateful for the fans who woke up early to see her.
"I always wanted to perform here," she said, while shrugging aside her jacket to show off the shirt. "Fergie did the cartwheels here. Never forget."
Even before Petras confirmed the inspiration behind her shirt, eagle-eyed fans immediately spotted the reference.
"obsessed w kim petras on the today show wearing a tshirt of fergie doing cartwheels on the today show," one Twitter user wrote.
"Kim Petras performing on the today show with Fergie's iconic today show cartwheels on her shirt…I'm crying," another tweeted.
After Fergie reacted to Petras' shirt on Twitter, fans immediately gushed about the crossover.
"OMFG icons recognizing icons. Fergie will always be famous *cartwheels*," one user wrote.
Petras is the first openly transgender woman to win a Grammy for best pop duo/group performance, notching the hardware for "Unholy," her collaboration with Sam Smith.
Petras may have been inspired by Fergie and her gymnast-like abilities, but she is certainly not the only artist to influence her.
Petras, who is from Germany, told TODAY she learned English by watching YouTube videos, with one musical superstar in particular appearing in many of the clips.
"I watched a lot of Britney Spears," she told TODAY.