Kesha is back onstage with her own rendition of the 2007 classic "Umbrella" by Rihanna.
On the April 24 episode of "That's My Jam," Jimmy Fallon's new celebrity game show, the 36-year-old is paired with Renée Elise Goldsberry to take on Kenan Thompson and Big Boi.
As part of the "Musical Genre Challenge," Kesha randomly selects a glam rock version of "Umbrella."
Dressed in all-black attire with black boots and sheer black tights, the "Tik Tok" singer adapts the song to fit the rocking style with an upbeat tempo and some slides at the end of notes.
Fans seemed to love her new spin on the song, which was posted on YouTube, with several people taking to the comment section in awe of her rendition and her new look.
"Fact: Kesha's vocals aren't jokes. They are masterpiece," one person commented.
"Kesha with black hair is chef's kiss," another commented. "It's actually so nice seeing her on tv shows like this."
"Kesha needs a rock album!" another person wrote.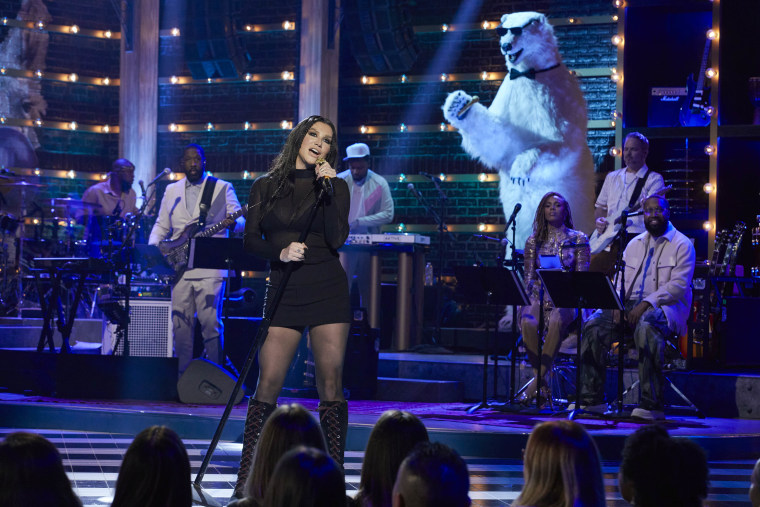 One YouTube user even compared Kesha's version to Rihanna's, which earned a Grammy Award in 2008 for best rap/sung collaboration and is listed among Rolling Stone's "500 Greatest Songs of All Time."
"She completely created a whole new version of this song and made it her own! I prefer Kesha's version way more," the user wrote.
Kesha released her fourth and most recent studio album, "High Road," in 2020, though she has been teasing new music in recent weeks.
In late March, Kesha previewed a new song, "Fine Line," in a snippet on her Instagram story, according to Billboard.
"There's a fine line I've been walking/ I'm trying to balance, it's exhausting/ This is where you f------ pushed me," she sang.
The chorus includes the lyrics, "There's a fine line between genius and crazy/ There's a fine line between broken and breaking/ Whole life trying to change what they're saying about me/ Sick of walking that fine line."
Kesha has also been teasing the new music in short clips posted to her Instagram page, accompanied by quick videos of herself.