Kelsea Ballerini introduced a new verse in her song "Blindsided" on "Saturday Night Live" that has her fans talking.
For her first performance of the evening March 4, the 29-year-old country star sang the fifth track from her new EP, "Rolling Up the Welcome Mat," adding new lyrics that seem to reference her ex-husband's song "Over For You"
"Over For You" was released in October, a few months after Ballerini announced her divorce from Morgan Evans. In the track, Evans sings, "I would have searched the whole world over for you / Took a flight, through the night / To be that shoulder for you."
At the end of Ballerini's performance Saturday, she sang, "Now you're singing it loud on the radio / You couldn't say it to my face / You would have searched the whole world over? / Yeah, sure, okay."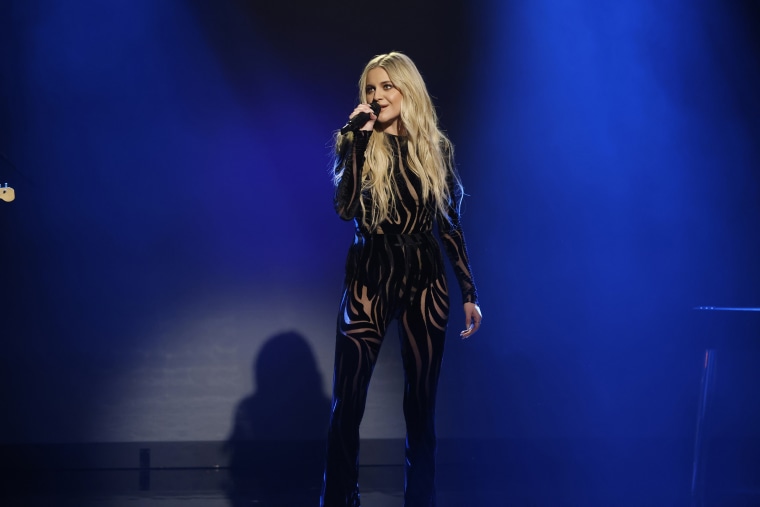 "Love the live performance of my favorite song," one person commented on YouTube. "Love how she addressed the first line in Morgan's chorus about 'searching the whole world over for you,' with that extra bit at the end."
TODAY.com has reached out to representatives for Ballerini and Evans for comment.
Fans also celebrated the new lyrics on social media following her performance, hyping up the "Miss Me More" singer.
"The way my jaw DROPPED when @KelseaBallerini added the extra line at the end of "Blindsided" during her SNL performance tonight," one fan tweeted.
"not Kelsea adding an additional verse to the end of Blindsided on SNL," another Twitter user wrote.
After nearly five years of marriage, Ballerini announced in August that the couple were getting divorced. At the time, she said it was a "deeply difficult decision," adding, "It's hard to find the words here…but I feel extremely grateful for the years of marriage to Morgan and hopeful for the next seasons."
In the months following their divorce, Evans released "Over For You" which seemingly addressed the couple's relationship. In an Instagram post, he said that writing the song "helped me process a lot of what I was going through."
Earlier this year, Evans told American Songwriter that "Over For You" came from the "pretty dark time" that followed his divorce. Then on Feb. 28, he released a five-part docuseries about the song.
Ballerini also explored her divorce from the Australian singer in a project of her own, releasing her six-song EP on Valentine's Day, which was accompanied by a 20 minute-long film.
A few days later, Ballerini appeared on the Feb. 22 episode of the "Call Her Daddy" podcast and discussed her marriage and divorce with host Alex Cooper.
Evans released a statement Feb. 21 on social media in response to the interview, writing in part on Instagram, "It's really sad for me to see this person, who I spent so much of my life with, and loved with all my heart, saying things that aren't reality and that leave out what really happened. She knows I'm not the type of guy to speak on those things publicly."
He continued, "She knows I'm not the type of guy to speak on those things publicly. If this is what she needs to heal, I hope it helps. All I ask is that if you're on my pages, please don't be mean. Don't be mean to Kelsea, don't be mean to each other. Life's too short."
In the candid interview on the podcast, Ballerini, who has been recently linked to "Outer Banks" star Chase Stokes, opened up about the ups and downs of her marriage to Evans.
"There were separations, there was years of couples therapy," she told Cooper. "There was, like, many a night of sleeping on the couch. This was just a relationship that took work for a long time."
Some of the original lyrics to "Blindsided" seem to reference this situation: "Like that one time in 2019, before that big show, we had a big fight / I slept on the couch and then the next night you put on your suit / I put on a smile and sang about how it's okay to cry, dying inside."
Ballerini also told Cooper, "I don't pin the whole downfall on him at all. I was not perfect, he was not perfect, it was not perfect."