Kelly Clarkson has been delighting her fans every week with covers on "The Kelly Clarkson Show," but now she is ready to release new original music. 
After teasing an exciting announcement on social media March 25, the 40-year-old returned the next day to reveal the name of her 10th studio album, which she started working on in the wake of her divorce from Brandon Blackstock.
"Alright y'all, so it is officially time to tell you that I've been working on this project for, well, close to three years now. And I wasn't sure I was going to release it, but I am," Clarkson shared in a video uploaded to Twitter on Sunday, March 26.
"The album is called 'Chemistry,'" she said, before adding that it might also be the name of a track on the new album. 
"I was trying to find a word that really described the whole thing because I didn't want everybody to think I was just coming out with some just like, 'I'm angry. I'm sad' (music)," she explained. 
She said the album cannot be described with only one or two emotions.
"This album is definitely the arc of an entire relationship," she continued. "And a whole relationship shouldn't be just brought down to one thing. So there's the good, the bad and the ugly kind of thing going on in it." 
"The Voice" coach pointed out that chemistry can have a multitude of meanings.
"Chemistry can be a really amazing, sexy, cool, fun thing, but it can also be very bad for you. So, that's why I named it 'Chemistry.' I thought it was kind of the perfect title to describe the entire album that is coming out soon," Clarkson said. 
She then teased that a single from the upcoming record will be available "even sooner." 
"I'm very excited about it. I hope you dig it," she said. "And when I say soon, I mean really soon. So I'm so happy."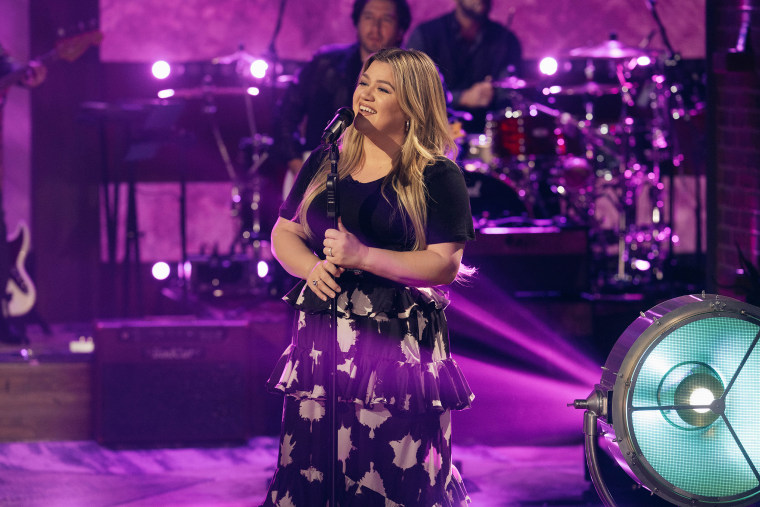 Before the clip ended, she said she was both nervous and excited about releasing new music. But her devoted fanbase celebrated Clarkson's news in the comments below her post. 
"Suddenly chemistry is my favorite subject!!!" one person tweeted.
Another cheered, "THE DROUGHT IS OVER."
Many assured the musician that they will support her no matter what.
"Don't be nervous Queen! We all LOVE YOU and we have your back ALWAYS!!!" one Twitter user said, adding multiple red heart emoji. 
In the caption for the Twitter post, Clarkson included emoji of a wine glass, broken heart and sun. She previously uploaded the same three to her Instagram page as clues for what fans can expect from the album — her first since 2021.
The powerful vocalist's last record was a holiday album called "When Christmas Comes Around…" Her most recent pop album, "Meaning of Life," was released in 2017. "Meaning of Life" included the hit lead single "Love So Soft." 
Clarkson has been dropping hints about the upcoming album for months. In September, she spoke to Variety and revealed that she started working on new music when she separated from Blackstock in June 2020. The two finalized their divorce in March 2022.
"When my ex and I first separated, there were many emotions," she told the publication at the time. "It was hard. My producer and I were laughing yesterday because I was like, 'Remember that time we wrote, like, 25 songs in a week?' A lot of those are the ones that are on the album. I literally wrote most of these almost two years ago." 
But with other commitments like her talk show, "The Voice" and "American Song Contest," Clarkson did not have time to focus on completing the album. 
The "Breakaway" singer said, "I like to be busy in general. But especially when all the feelings are happening, I'm like, 'Oh, let's be as busy a bee as we can, so I don't have to feel this for a minute!' I do that, which is not healthy." 
She also said she was unsure if she wanted to release the album at all "because you can be very angry in that state of mind."
Clarkson added, "Some of the songs, they definitely cover the gamut of emotions; there's everything on the album. It's almost like the arc of a relationship, because the beginning is so beautiful and so sweet, and then it evolves. And sometimes it doesn't evolve how you want." 
It looks like fans should anticipate Clarkson announcing concert dates down the line, too.   
"I definitely am going to do shows," Clarkson told Variety. "When you write an album that's so personal, it's just therapeutic to be able to get up there."