Sign language interpreter Justina Miles took the phrase "say it with your chest" to a whole new level at the 2023 Super Bowl.
It's slang for saying something with unflinching confidence. Mills did just that, times 100, while interpreting Rihanna's halftime performance, during which she literally said things with her chest.
Miles' performance is going viral on social media, with this TikTok video of her interpreting "B---h Better Have My Money" already at more than 11 million views.
As the "Anti" singer belted out some of her hits such as "Rude Boy," "Work" and "Umbrella," Miles matched her energy by signing lyrics on beat. Since ASL is comprised of movements, signing songs often looks like a choreographed dance routine — and fans were really into Miles'.
"Ate and left no crumbs," someone commented on the TikTok video.
"Sis should've performed on stage," another said.
"She was giving life," someone else wrote in all caps.
On Twitter, someone called Miles the "true star" of the halftime show.
Miles also interpreted Sheryl Lee Ralph's rendition of the Black national anthem, "Lift Every Voice," with the same vigor. This marked the first time the Black national anthem was sung within the Super Bowl stadium. Miles told CNBC ahead of the game that this moment was not just about her.
"(It's) not only for me to share this experience with the whole world," she said, "but to really bring that empowerment to millions and millions of Black deaf people all over the country who've never really seen that before. I feel that is truly lifting every voice, even my voice."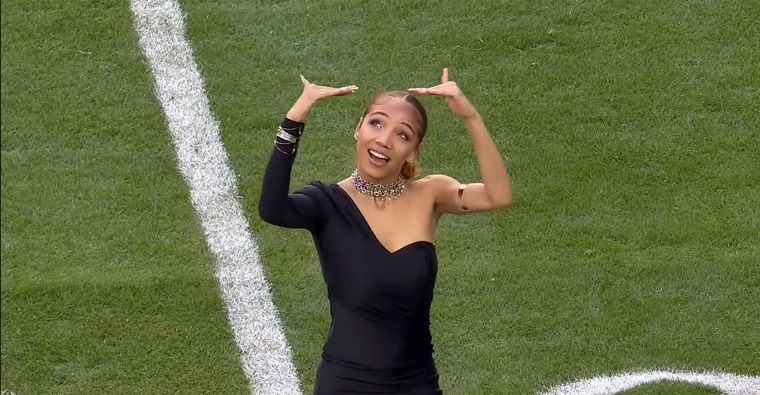 As the first female deaf performer for the Super Bowl's halftime show, Miles said she didn't take the role lightly.
"I value the opportunity to make it possible for all deaf people to enjoy these songs, and not have them miss out on the full Super Bowl experience," Miles said.
Miles is a 20-year-old nursing student at historically Black college Bowie State University in Maryland, but is originally from Philadelphia. She is hard of hearing, according to reporting from Philadelphia news site Billy Penn. Her mother is completely deaf and her family members have different levels of hearing abilities.
Before performing at the 2023 Super Bowl, Miles went viral in 2020 for her rendition of the "Crush On You" challenge, in which she interpreted a song of the same title by rapper Lil' Kim.
Miles was also part of the USA team that went to the 2021-22 Deaflympics in Brazil and won a silver medal as part of the 4x100 women's track relay team. She was the valedictorian at the Model Secondary School for the Deaf in Washington D.C., according to the National Association of the Deaf.