Jason Aldean found himself squarely in the center of controversy earlier this year for his song, "Try That In a Small Town." Now, he's reflecting on the debate incited by the track.
"Try That In a Small Town" generated headlines for its lyrical content, as well as an accompanying video that shows news footage from protests and robberies, while Aldean sings about gun ownership and how people in a small town "take care of our own."
The song had been out for about two months before the controversy erupted. The polarizing song divided people: Is it un-American, like Sheryl Crow had said? Or is it "simply expressing a point of view," like country star Travis Tritt wrote? 
Aldean, who identifies as a conservative, has created another chapter in the culture wars. Read on.
The controversy was spurred by the music video
When "Try That In a Small Town" was released as a single in May 2023, it didn't generate too many headlines, but its accompanying video thrust it into the spotlight.
Aldean said he thought "Try That In a Small Town" would start a dialogue.
"It was a little surprising," he told The Los Angeles Times. "I mean, I felt like the song would probably start a conversation about the state of the country."
"It's just wild stuff that happens, and as blue-collar, hardworking people, you're watching these things and you're like, 'What is going on?'" he also said.
"So I thought the conversation would be: 'All right, this is crazy. We need to figure this out.' Then you had people that wanted to make it something else and try to find whatever they wanted to find wrong with the song or video. I made it a point in the video to show people of all races and colors doing things that in my opinion were not cool.
Aldean wrote a statement accompanying its release: "To me, this song summarizes the way a lot of people feel about the world right now. It seems like there are bad things happening on a daily basis, and that feels unfamiliar to a lot of us. This song sheds some light on that."
The video features footage of protests and robberies projected onto a courthouse in Columbia, Tennessee, where 18-year-old Black man Henry Choate was lynched in 1927.
CMT yanked the video from its rotation, while the lyrical content of the song got people talking.
Chaz Molder, mayor of the Tennessee town where the video was filmed, said on FOX 17 News, "I respect the artist's freedom of his own lyrics and the fans who support him, but I'm hopeful that the next music video that uses our historic downtown as a backdrop will seek a more positive message."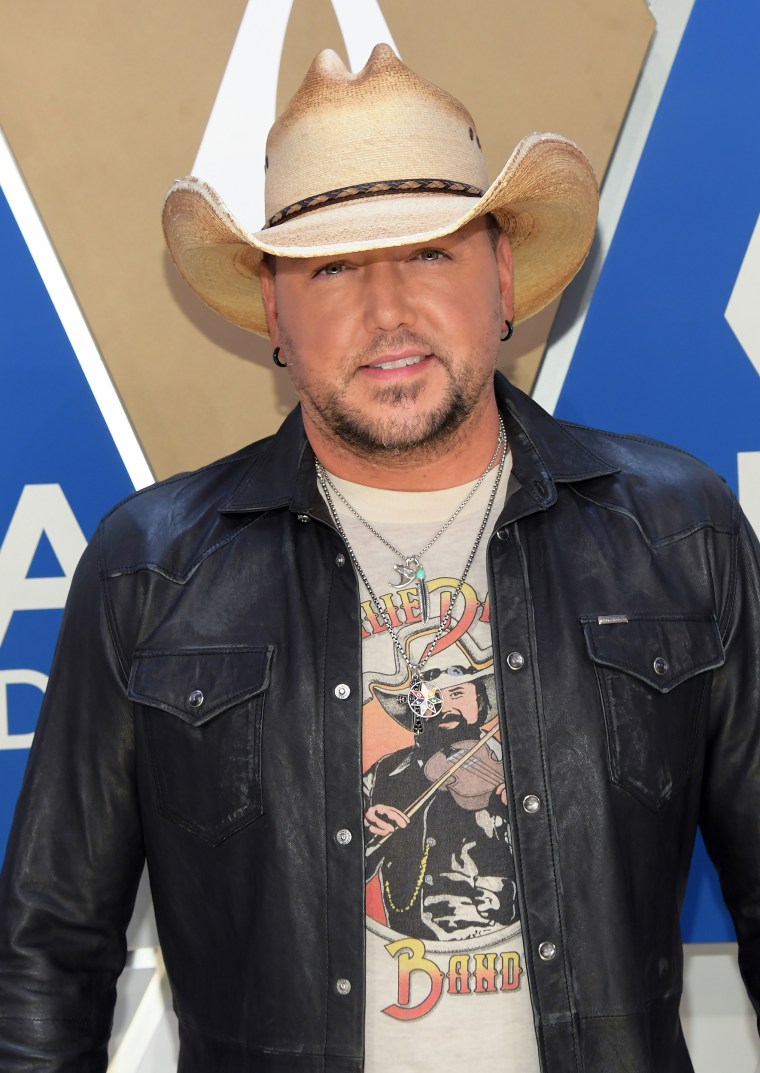 What are the controversial lyrics to 'Try That in a Small Town'?
Critics say the song promotes violence. Its lyrics center on the divide between people in cities and rural areas (or "small towns") where, according to Aldean, people aren't as tolerant of certain behavior, like "(cussing) out a cop" or "(stomping) on the flag" and setting iron fire: "Try that in a small town / See how far you make it down the road / Around here we take care of our own."
The lyrics point to gun ownership, which some say add to its threatening undertone: "Got a gun that my grandad gave me / They say one day they're going to round up / Well that s---might fly in the city, good luck."
The country, Aldean says, is full of "good ol' boys" who were "raised up right." Critics say the unsung message of the song is "racist." In response to the song's perceived subtext, country musician Adeem the Artist wrote a biting parody called "Sundown Town," a word for towns that were historically dangerous for Black people to be in after dark.
What has Aldean said about the controversy?
Aldean's song became a huge hit, which may have had a strange impact.
"Saying that an opinion is unpopular — unpopular to who? That's the thing," he told The Los Angeles Times. "Us putting that song out and it doing what it's done just shows me there's a lot of people out there that feel the same way I feel.
"It's a subject matter that over the years has been sort of taught when you're in the entertainment industry, you stay away from those things. Which I did for a while for no other reason than I was younger and I wasn't this tapped into politics.
Aldean previously denied writing a song that was "pro-lynching."
"In the past 24 hours I have been accused of releasing a pro-lynching song (a song that has been out since May) and was subject to the comparison that I (direct quote) was not too pleased with the nationwide BLM protests," he tweeted July 18.
"These references are not only meritless, but dangerous. There is not a single lyric in the song that references race or points to it- and there isn't a single video clip that isn't real news footage -and while I can try and respect others to have their own interpretation of a song with music- this one goes too far."
Aldean, who is from Macon, Georgia, was onstage when 59 people died and hundreds more were injured in a mass shooting at the Las Vegas Route 91 Harvest Festival in 2017, which has further muddied this scandal.
"NO ONE, including me, wants to continue to see senseless headlines or families ripped apart," he continued.
"Try That In A Small Town, for me, refers to the feeling of a community that I had growing up, where we took care of our neighbors, regardless of differences of background or belief."
Aldean did not write "Try That In a Small Town." It was penned by Kurt Allison, Tully Kennedy, Kelley Lovelace and Neil Thrasher.
At a concert on July 21 in Cincinnati, Aldean thanked his supporters in the crowd.
He opened with, "It's been a long-ass week," in clips shared on social media.
"I've seen a lot of stuff suggesting I'm this, suggesting I'm that," Aldean said. "I feel everybody's entitled to their opinion. You can think something all you want to, it doesn't mean it's true."
"What I am, is a proud American. I'm proud to be from here. I love our country," he continued. "I want to see it restored to what it once was before all this bulls---started happening to us. I love my country. I love my family. And I will do anything to protect that."
What are critics saying about the song?
Backlash to the song was immediate. Variety called it the "most contemptible country song of the decade," with a video that was "even worse."
Fellow country singer Sheryl Crow, who said she herself is from a small town, denounced the song in a tweet: "There's nothing small-town or American about promoting violence. You should know that better than anyone having survived a mass shooting. This is not American or small town-like. It's just lame." 
Karlos K. Hill, a professor of African and African American Studies at the University of Oklahoma, said the song was a narrative of "white nationalism" in Rolling Stone.
Tennessee state Rep. Justin Jones condemned the song on Twitter, writing, "As Tennessee lawmakers, we have an obligation to condemn Jason Aldean's heinous song calling for racist violence. What a shameful vision of gun extremism and vigilantism. We will continue to call for common sense gun laws, that protect ALL our children and communities."
"Jason Aldean's song and video "Try That in a Small Town" perpetuates long-held tropes of whiteness. It will quickly become an anthem for those Americans who believe their country is being stolen from them. For shame," one person wrote July 20 on Twitter.
What are supporters of the song saying?
The polarizing song has supporters as well as detractors. 
"It is simply expressing a point of view that many American people share which is against the obvious violence that we have seen from the likes of so many 'activists groups' in this country in recent years and the belief shared by millions that this behavior would not be tolerated by many people in many places across the USA," singer Travis Tritt tweeted, in part, July 19. 
Republican presidential candidate Nikki Haley tweeted, "You all know I love music... tonight in Greenville we added a new song to the playlist: Jason Aldean's 'Try That in a Small Town.'"
The comment section on the music video on Aldean's YouTube page  — over 85,000 posts — has spirited supporters. 
"I'm a Black veteran of the United States Army. As long as we are speaking and standing up for all people in a "Small Town." Another wrote, "Love the song and the message. I love living in a small town." In a similar vein, someone wrote, "I live in a small town and that's exactly what we do. Stand up for each other."
Aldean's wife, Brittany, thanked supporters on her Instagram.
What is the fallout from the controversy?
CMT dropped the video, but that did not tamp down interest around "Try That In a Small Town." Billboard also reported July 18 the song had reached No. 1 on iTunes. The song's success kept building: On July 25, the track debuted at No. 2 on the Billboard Hot 100 before moving into the stop spot one week later.