Iam Tongi endured a very emotional journey on his way to winning the latest season of "American Idol."
The 18-year-old Hawaii native was crowned the winner of the show's 21st season during a finale in which he fought back tears while performing James Blunt's "Monsters" with Blunt.
About 45 seconds in, Tongi can be seen wiping his face, as the emotions of the song got to him. He continued to wipe his teary eyes and struggled to get through the lines, "Don't be afraid, it's my turn / To chase the monsters away," before Blunt carried on with the song, looking directly at Tongi.
Tongi eventually collected himself and proceed with the emotionally charged performance.
As the duet wrapped up, Tongi brushed his eyes and hugged Blunt, while the audience exploded in applause.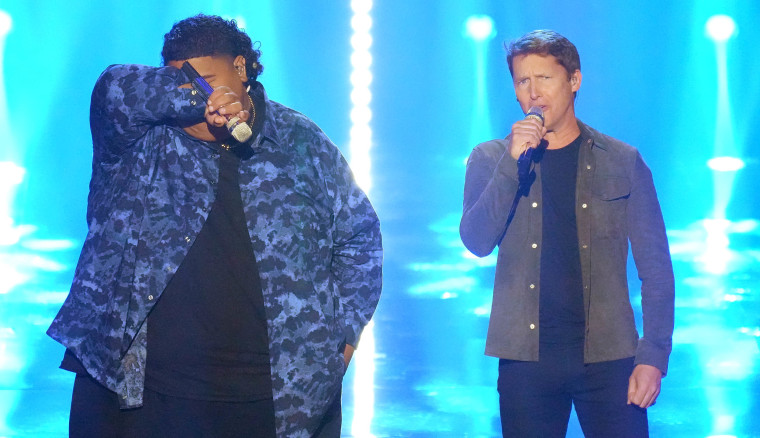 The performance marked a full circle moment for Tongi. During his audition, he performed "Monsters," a ballad about a father and son, after telling the judges about his father's death. Tongi said his dad was responsible for getting him into music.
He dedicated his moving performance to his father during the audition, which earned him a standing ovation from judges Katy Perry, Lionel Richie and Luke Bryan.
The finale also featured Tongi belting out another song for his dad, the original track "I'll Be Seeing You."
Tongi is no stranger to bringing out emotions. In April, his take on Simon & Garfunkel's classic "The Sound of Silence" blew away fans and judges alike.
"This is what this show is all about," Perry told Richie and Bryan while he sang.
Before Tongi made the final three on "American Idol," Perry also pegged him as the man to beat during the show's "Disney Night."
"I believe it's written in the stars," she told him on the May 14 episode. "I don't believe in coincidences. I know that you're Iam, but when I see your name, I see 'I am the next American Idol.'"
With Tongi's win on Sunday, Perry's comments proved prophetic. Megan Danielle finished as the runner-up, while Colin Stough placed third.