When Ukrainian tennis star Elina Svitolina had to miss a Harry Styles concert because she was busy competing at Wimbledon, the "Watermelon Sugar" singer himself came to the rescue.
Svitolina, 28, who just advanced to the Wimbledon quarterfinals, recently shared on Instagram that she would sadly have to give up her tickets to Styles' July 8 show in Vienna, Austria. 
After her victory, she wrote on Instagram that she would be "missing" Harry Styles' concert, "but well ... it's OK I guess."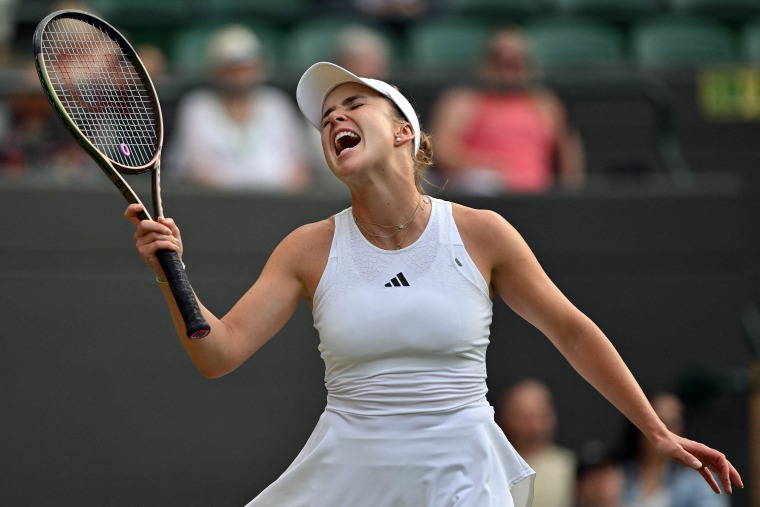 "Hey guys!! I was supposed to go see my fav @harrystyles concert in Vienna tomorrow….But Wimbledon changed my plans," she wrote in a post shared by the official Wimbledon Instagram account. "Someone want to go? I have two tickets."
Not long after that, Styles himself jumped into the comments.
"Congratulations! We have four shows to go, you're welcome at any of them," he wrote. "Good luck with the rest of the tournament. H."
Svitolina shared the singer's personal invitation in her Instagram story, adding a grateful teary-eyed and heart-hands emoji. 
She later gave her July 8 tickets to a fellow Ukrainian, social media counselor Anna Tilniak, and her son, according to Britain's Evening Standard newspaper.
Tilniak shared footage from the show on Instagram, thanking Svitolina for "these unexpected tickets" and showing her little boy rocking out to Styles' performance.
Styles has four dates left in his Love on Tour concert tour, which kicked off in September 2021: two shows in Spain, one in Portugal, and a final concert on July 22 in Italy.
His recent show in Vienna included some unexpected hubbub, when the singer was hit in the face by an object thrown from the crowd.
Maddison Ford, who attended the Vienna show and captured video of the moment, told TODAY.com in an email that the thrown object appeared to be a rose.
"I feel like throwing items at our favorite artists is going way (too) far now," she said.