Harry Styles won album of the year for "Harry's House" at the 2023 Grammy Awards on Feb. 5, a victory that surprised many who felt Beyoncé should've taken home the biggest prize of the night for "Renaissance."
As Styles took the stage, people attending the ceremony inside Los Angeles' Crypto.com Arena could be heard shouting Beyoncé's name.
Backstage, Styles was asked about whether he thought Beyoncé would win.
"You never know with this stuff," he said. "I don't think you can look at any of the nominees and not feel like they're deserving. I feel like when you look, when I look at this category, it's all people who have inspired me at different times. It's not like you'd understand anyone winning and, yeah, I'm really grateful that they chose us. Thank you."
Other nominees in the category included ABBA's "Voyage," Bad Bunny's "Un Verano Sin Ti," Adele's "30," Mary J. Blige's "Good Morning Gorgeous (Deluxe)," Brandi Carlile's "In These Silent Days," Lizzo's "Special," Coldplay's "Music Of The Spheres" and Kendrick Lamar's "Mr. Morale & The Big Steppers."
"There's no such thing as best in music," Styles said while accepting the award. "I don't think any of us sit in studios thinking about what is going to get us one of these. This is so, so kind. This doesn't happen to people like me very often. This is so, so nice. Thank you very, very much."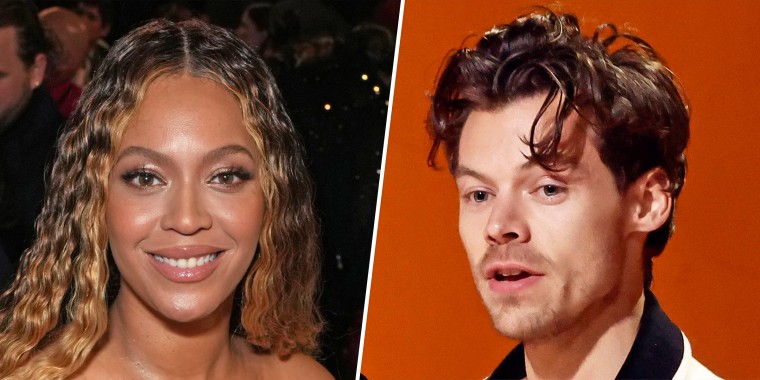 The night was hardly a loss for Beyoncé, though, who, when she won best dance/electronic music album, set the record for most Grammy wins, with 32. Despite her history-making evening, Beyoncé has still never won an album of the year award.
In the month leading up to the Grammy Awards, many speculated the album of the year race would be between "Renaissance" and "30" by Adele
In 2017, Adele won album of the year for "25," with Beyoncé's "Lemonade" one of the nominees she beat. During her acceptance speech, Adele showed her love for Beyoncé and "Lemonade," saying the recording was "so monumental."