Jurors in a New York City courtroom became the audience for an impromptu Ed Sheeran performance during his trial involving allegations that he took part of the melody of a Marvin Gaye classic when he created one of his own hits, which Sheeran has denied.
The singer-songwriter lightened the mood in a Manhattan federal courtroom on April 27 when he picked up a Lowden guitar while on the stand and sang a few words of his 2016 hit song "Thinking Out Loud" to demonstrate how the song was put together.
"I'm singing out loud," he sang in the courtroom.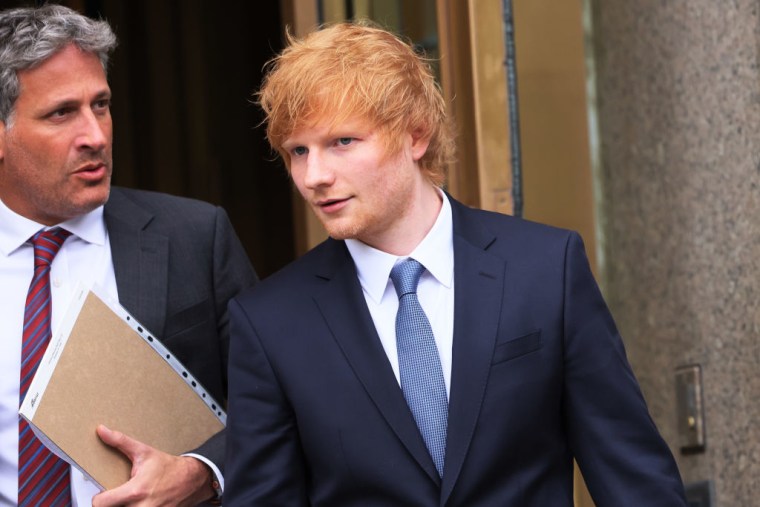 Sheeran is facing allegations by the heirs of the late Ed Townsend that he took part of the melody of Marvin Gaye's "Let's Get It On" and used it in "Thinking Out Loud." Townsend, who died in 2003, was a co-writer with Gaye on the 1973 classic.
Sheeran, 32, also used the guitar to walk jurors through the chord progression on his hit single, which won a Grammy for song of the year in 2016. He said co-writer Amy Wadge came up with the chord progression, which he says is played differently than the progression on "Let's Get It On."
The civil suit claims Sheeran's song has "striking similarities" to Gaye's hit and shares "overt common elements" that are protected by copyright.
The singer testified to the genesis of "Thinking Out Loud" by saying he was in the shower one night and heard Wadge playing guitar chords. He then yelled down to her that they needed to do something with the chord progression, and they finished the song after dinner that night and recorded it on an iPhone voice memo.
Sheeran said during his testimony that he wrote "Thinking Out Loud" near the end of making his 2014 album "Multiply." The lyrics were inspired by his grandparents' love for one another, plus a relationship Sheeran was in at the time and one of Wadge's family members who was suffering from an illness, according to Sheeran.
The four-time Grammy winner also said there's "no set rules to songwriting" and that he normally writes eight or nine songs in a day.
Sheeran previously took the stand on April 25, answering questions about how he once played a mash-up of "Let's Get It On" and "Thinking Out Loud" during a live show. Attorney Benjamin Crump argued for Townsend's estate that the mash-up amounted to "a confession."
Sheeran countered that it would've been a bad idea to do that during a concert if he actually copied a portion of the classic song.
"If I did what you're accusing me of, I'd be an idiot to stand in front of people," he said.
The trial is expected to resume on May 1.