Dan + Shay are opening up about a bumpy time in their musical partnership that nearly made them call it quits.
The country music duo, which consists of musicians Dan Smyers and Shay Mooney, recalled in a YouTube video that the rough times happened in 2021 when their career was skyrocketing.
The "10,000 Hours" singers, who join "The Voice" next season, had just finished their successful "(Arena) Tour" and both were feeling burned out.
"I was in the lowest low of my entire life," Smyers recalled. "Came off the road and I was like, 'Man, I f------ hate music. I'm ready to quit.'"
Mooney agreed, recalling that he was feeling frustrated, too.
"I could feel the separation, and I think there was little things between you and I that we never talked about," Mooney said. "It was affecting everything. Not just our band. Like, my marriage, everything. I was in a really dark place."
The musicians had been touring non-stop at the time. Both were working so hard toward the band's success that they say they were neglecting their friendship — and their loved ones.
"You live life, things happen, life gets in the way, and I had no balance before. It was completely one-sided," Smyers said. "I was ignoring my marriage, I was ignoring all my friends. I completely burnt myself out, entirely burnt myself out."
Mooney recalled both he and Smyers getting "mad" over "stupid" issues while on tour.
"It was because we put so much weight on that moment that when it was over, what a downer," said the father of three. "Especially at that point. I was drinking a lot, so those highs became really high and the lows became really, really low."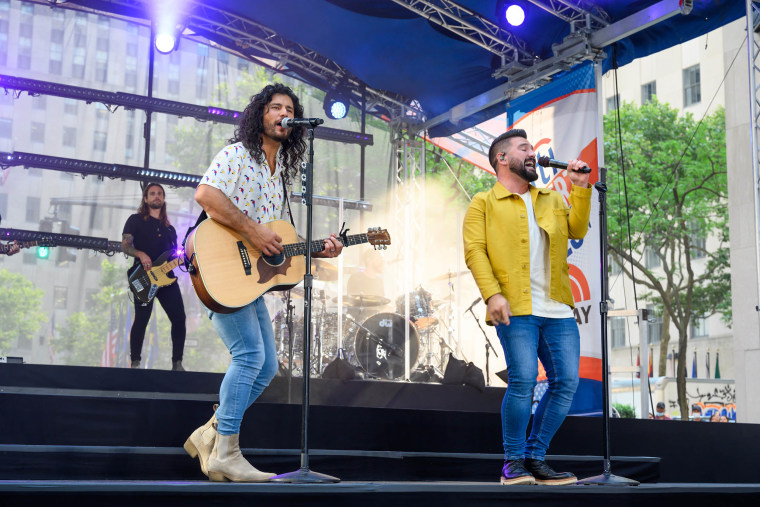 "We just weren't working on it. We let things get in the way. We let things fly out the window," Smyers said.
Smyers and Mooney revealed that they didn't speak for four months in an effort to figure out what they both wanted. They finally reunited in March 2022 to hash out their issues, both aware that the end of Dan + Shay was a possibility.
Instead, their candid conversation helped bring them closer together.
"That moment when we sat down and just talked it out, I feel like was so healthy. That night changed it all," Smyers recalled.
"Changed everything," Mooney agreed. "I feel like that was such a big turning point. It was us saying to each other, 'Look, I'm willing to fight for this.'"
While pouring their hearts out to each other, the duo realized once again how much they loved Dan + Shay. They decided to preserve the band and vowed to practice healthier communication.
"The thing that filled my cup the most was being in a room with you, making music together. One of the most important things that's ever happened in my life was Dan + Shay," Smyers said.
These days, Smyers and Mooney are more in sync than ever. "I can feel the closeness of our relationship and our friendship when I listen back to the music," Smyers noted.
"We are by far, a million times, the closest we've ever been. For so many reasons," he added. "But because we worked at it. That makes what we're doing now infinitely sustainable. I could do this the rest of my life with you."