Chris Martin knows musical talent when he sees it.
On Thursday, his band, Coldplay, retweeted a sweet video that singer Victoria Canal posted of herself on Twitter. The clip featured her and her mentor, Martin, singing her latest song, "Swan Song," while she played the tune on the piano.
In the video, Martin leaned against the piano and looked at Canal, who only has one hand due to Amniotic Band Syndrome, as they sang the duet in perfect harmony.
"Who knows how long we've got?/ As long as I am breathing/ Know it's not too late to love," they both sang before Martin interjected.
"One of the best songs ever written," he said.
"What!" Canal laughed.
"And you're nervous and the piano's louder than you!" he said.
Canal told the rock star that she "always sings too quiet," noting in the video's subtitles that she was "dying on the inside" at the feedback.
"I literally dissolved and went to songwriter heaven when this happened. i love you chris martin," she wrote on Twitter.
In an interview with TODAY, Canal said that she's known Martin for about a year and she feels "lucky" to have him as her mentor and role model.
"He's been doing music for a long time. He's doing what I want to be doing. I've never had the stadium's scale ambition, but it's definitely the way that he and Coldplay sort of just philosophically move through the world is so admirable," she said.
Canal has been a longtime fan of Coldplay's. She met Martin for the first time in 2021 when she reshared an old April's Fools post that she made in college that featured herself photoshopped onto a Rolling Stone poster with a faux headline about her performing for Chris Martin. The poster came to Martin's attention and he later reached out to Canal's management.
"My manager was calling me, like, flipping out because Chris had essentially reached out to him and been like, 'Hey, I'm trying to get in touch with Victoria. I really love her music, can you help me out?'" Canal recalled. "So over the course of the next few months, he just became this awesome mentor and helper and listened to a lot of my demos that still hadn't come out yet, and was giving me advice."
Martin put Canal in touch with his contacts at Parlophone and thanks to his help, she scored a contract with the major record label.
But when she sent Martin her song "Swan Song," she felt like she "messed up forever" with the "Paradise" singer because she acted really "awkward" on the phone.
"I'm such a shy person sometimes," Canal said.
However, her fears were misplaced because Martin ended up loving the song and by the time they met in person, he knew every single word.
Canal currently works as an independent artist and has released three EPs, such as 2016's "Into the Pull," 2020's "Victoria" and 2021's "Victoria (without the drama)," which is an acoustic version of her previous EP, in her career.
This fall, Victoria will be going on her first headlining tour, known as The Elegy Tour, where she doesn't have to open for anyone, and she's excited to have her fans see her perform live.
"A lot of my dreams are kind of coming true," she said.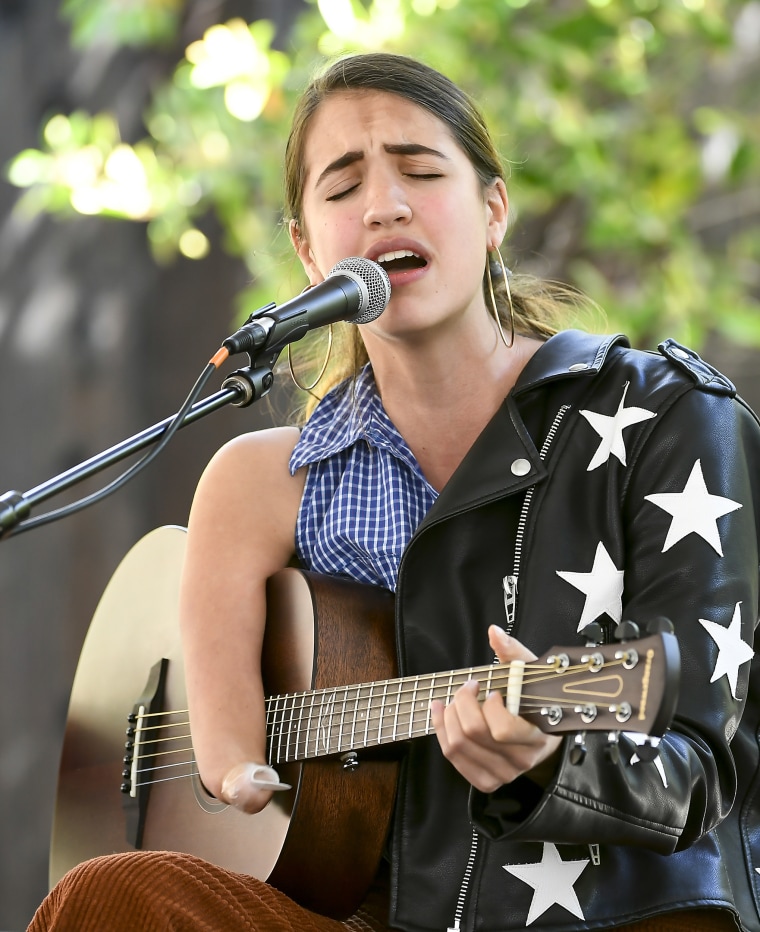 This isn't the first time that Martin has performed an amazing duet with someone. Earlier this week, he teamed up with Natalie Imbruglia to pay homage to the late Olivia Newton-John.
The duo performed "Summer Nights," which was one of Newton-John's most popular songs from the hit 1975 musical "Grease." Newton-John starred in the film as Sandy Olsson.
In late June, Martin surprised an engaged couple in an English pub by serenading them with "A Sky Full of Stars," the band's 2014 Grammy-nominated hit.
Canal also isn't the only performer that Martin has encouraged. In July, when pop star Lizzo revealed that the Coldplay song "Yellow" had been part of an intimate moment in her life which later inspired a song of her own, he FaceTimed her during an interview to express his adoration.
"I love you, and you're wonderful. If someone had told me, 22 years ago, one day Lizzo's going to make out to this song, I'd be like, 'OK, great!'" Martin said. "It's become Lizzo's hookup song, and that's good." 
Related: