Blake Shelton is loving married life with Gwen Stefani.
During a Nov. 10 appearance on TODAY, Shelton opened up about his love life with Stefani and revealed "the best part" about having her in his life.
"I mean, the best part is lying down with her at night and then waking up and she's there in the morning," he said. "I just didn't know that that was out there, that that was possible."
In 2021, Shelton married Stefani in a beautiful wedding at his Oklahoma ranch. Over the years, Shelton has gotten very close with Stefani's three kids, Kingston, Zuma and Apollo, whom she shares with her ex-husband, Gavin Rossdale.
"I've had stepparents. I think, in some ways, it's more difficult," Shelton told TODAY. "I try to be careful about when to step in and be smart about when to step back, but no matter what, always be there if I'm needed."
Read on to learn more about Shelton and Stefani's love story.
Blake Shelton and Gwen Stefani meet on 'The Voice'
In 2014, Shelton and Stefani met while filming "The Voice." At the time, Stefani was married to her first husband, Gavin Rossdale, whom she divorced in 2016, and Shelton was with his second wife, Miranda Lambert, whom he divorced in 2015.
In November 2014, they shared a selfie together while on the show.
Stefani captioned it, "💓Him @blakeshelton @nbcthevoice gx."
Blake Shelton and Gwen Stefani spark dating rumrs
In 2015, rumors started to swirl that Stefani and Shelton were seeing each other.
During a 2016 appearance on "The Howard Stern Show," Stefani recalled the moment when Shelton told their co-workers on "The Voice" that he and Lambert were over.
"I was in shock because I felt like he was exposing me," she said of how it related to her failing marriage. "And I just couldn't even wrap my head around it."
Stefani, who filed for divorce from Rossdale in 2015, said she related so much to what Shelton had said that she decided to tell him about her marital problems with Rossdale.
"I didn't want anyone to know what was going on with me," she said.
"I had this huge weight on me and nobody but my parents and obviously everybody involved knew," Stefani added.
Once Stefani told Shelton about issues in her own relationship, she said they started to relate to each other on a deeper level.
"We started this friendship, which was just unbelievable that God would put us in a position to have each other at that moment, in the same exact moment," she said, noting that she "wasn't trying to start a relationship" with Shelton.
Gwen Stefani and Blake Shelton made their red-carpet debut
In February 2016, Stefani and Shelton made their red-carpet debut when they walked hand in hand at the Vanity Fair Oscar Party in Los Angeles together.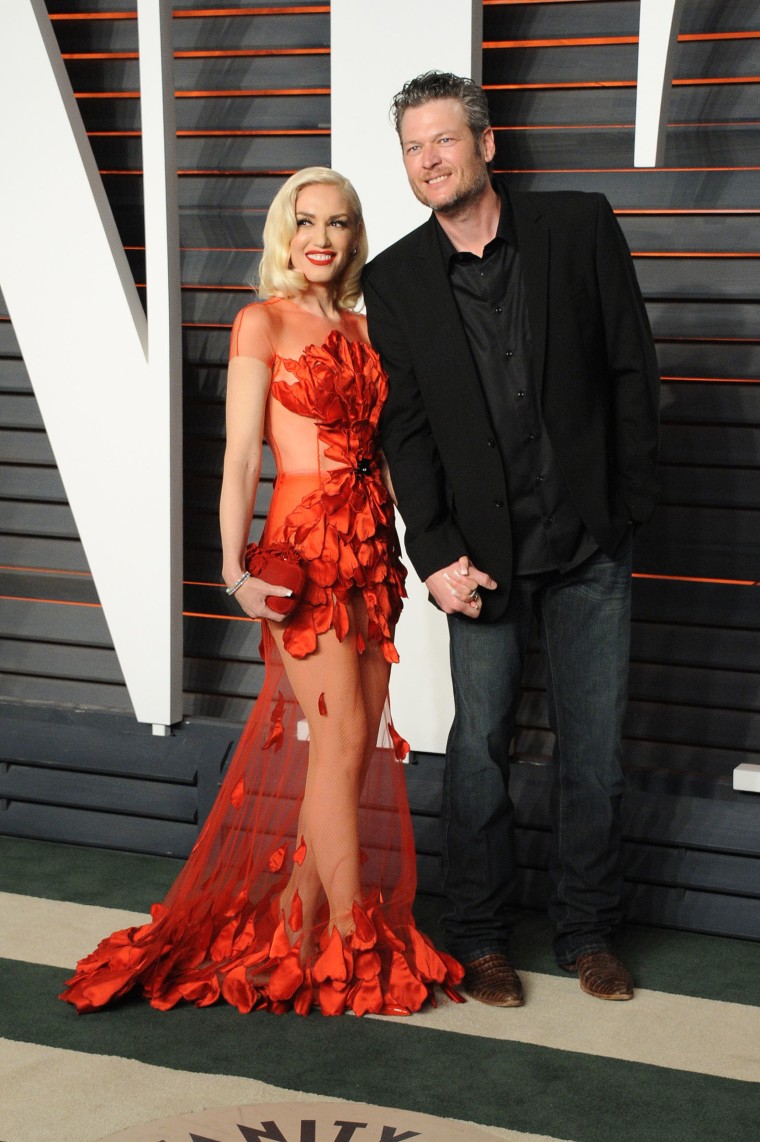 Blake Shelton opens up about spending time with Gwen Stefani's kids
In July 2020, Shelton appeared on TODAY and opened up about learning to be a stepdad to Stefani's three kids, admitting that at times it can be "scary" trying to be a role model for them.
"That's a scary moment for me because it's one thing for me to be with the kids all the time and be their buddy, but you do have to consider after awhile that they start to listen to things that you say and there's a lot of responsibility that comes with that," he said.
Blake Shelton and Gwen Stefani get engaged
In October 2020, Shelton and Stefani announced they were engaged when they both shared a photo kissing each other on Instagram. In the snap, Stefani also showed off her new ring.
She captioned it, "@blakeshelton yes please! 💍🙏🏻 gx."
In Shelton's post, he wrote, "Hey @gwenstefani thanks for saving my 2020... And the rest of my life.. I love you. I heard a YES!"
Gwen Stefani and Blake Shelton get married
In July 2021, Shelton and Stefani got married at Shelton's Oklahoma ranch. For the ceremony, TODAY's own Carson Daly served as the officiant.
Stefani, who shared the news on Instagram, posted a video of herself showing off her veil and wearing a white robe.
"July 3rd 2021 ❤️gx," she captioned the clip, tagging Shelton.
Blake Shelton and Gwen Stefani celebrate their anniversary
In July 2022, Shelton and Stefani celebrated their first wedding anniversary when they both shared photos of their wedding on Instagram.
"Happy anniversary to the woman that makes my world go round.. @gwenstefani, because of you, this year has been the best year of my life. I love you!!!! Thank you for saying yes!" Shelton captioned his post.
Stefani wrote, "1 year down, forever to go @blakeshelton ❤️."
In July 2023, Shelton commemorated two years of marriage to the "Rich Girl" singer with another picture from their wedding, this time the two sharing a kiss in front of their multi-tiered cake. Meanwhile, Stefani celebrated their 2-year wedding anniversary with a video montage of various memories with Shelton that she shared on Instagram.