Beyoncé fans have been getting in formation with cowboy hats, silver ensembles and glittery bedazzled outfits when it's their "Renaissance" concert date.
Concertgoers' festive attire has been taking over social media to the point that the unique, intricate costumes people wear to Beyoncé's "Renaissance Tour" has become as big of news as Bey's mute challenge, Blue Ivy performing on stage and the celebrity attendees at her shows. It also cements the cultural impact that the tour has had.
In August, Beyoncé asked attendees to wear silver in celebration of her Sept. 4 birthday and Virgo season, the time from August 23 to September 22. "My birthday wish is to celebrate with you wearing your silver fashions," the message on her website read in part.
Now, ahead of the last five "Renaissance Tour" dates, fans are expected to go all out with their creative silver fits — especially at her hometown state of Texas, where Bey will stop at Dallas on Sept. 21 and then do back-to-back nights in Houston on Sept. 23 and 24. From there, she'll be in New Orleans on Sept. 27 and then, Kansas City, Missouri on Oct. 1, the last stop of her tour which kicked off in May. Forbes predicted in May that ticket sales alone would gross $2.4 billion by the time the tour ends.
TODAY.com chatted with four Beyoncé fans from across the country ahead of the last five tour stop dates to discuss how their "Renaissance" outfits came to be and how the Queen Bey has stirred up a personal renaissance in them with her tour.
'She's not a real person'
Mariam Conde, who lives in Atlanta, went to Beyoncé's first Las Vegas show on Aug. 26. She went with her cousin, who's mom surprised them with tickets.
"Instantly, once (my cousin) said we were going to Beyoncé, my first thought was my outfit," Conde says. "What am I wearing? What am I going to do? I crochet and knit so I'm like I have to make myself an outfit. It's got to be different. It's got to be something special for Queen Bey."
She went to Pinterest and Instagram for design inspirations, put some different looks together and decided on one, she says. She then spent weeks trying to find "the perfect silver yarn" before settling on a goldilocks yarn.
"I just need to find the time to do it now," she recalls saying to herself after confirming the yarn and design details. "Funny enough, I literally didn't make my outfit until the day of."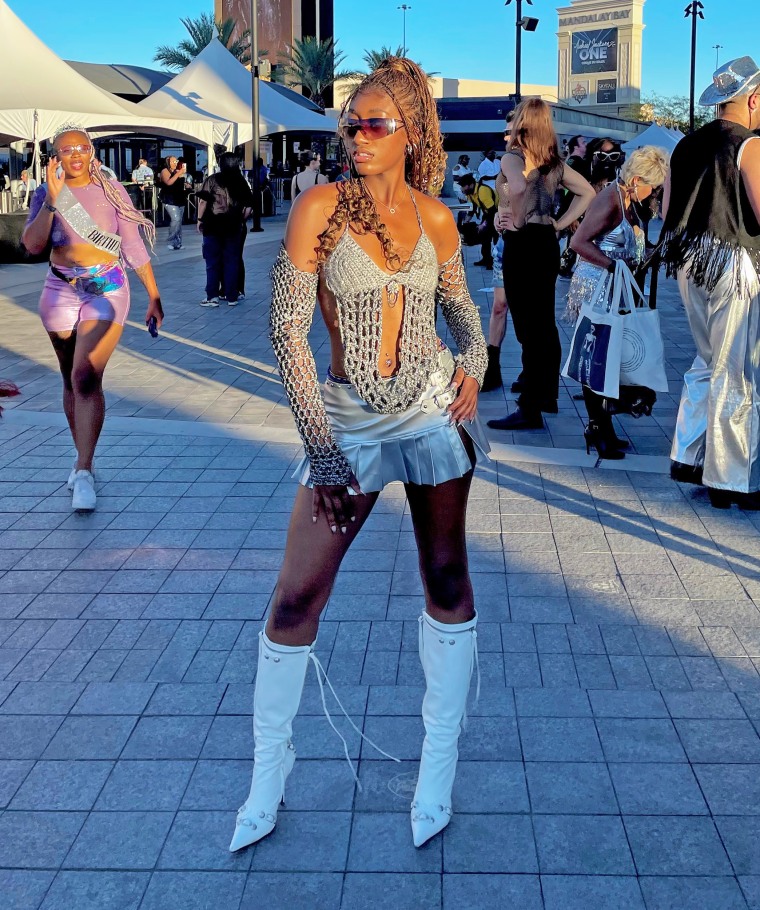 The bikini top and matching sleeves took six hours to make, she says. As for the rest of her look, she previously purchased the boots from Amazon for her graduation in December and ordered the skirt from Solado.
"The most expensive item I had on me were my boots because those were about $67. And the skirt was $30. And then the yarn was about $20," she says. "We were balling on a budget and we made it work."
Conde says hustling to finish her outfit just before the concert was completely worth it. Her aunt, unbeknownst to Conde, had got her and her cousin floor seats, so they felt extra special going through closed off areas, in sort of a scavenger hunt, to find their seats.
"It was honestly amazing," she says. "Just going through that whole experience, and of course she put on an amazing show. And I, to this day, truly believe she's not a real person. I'm like Beyoncé! She's not real. I don't know what we just witnessed but this is not a human being."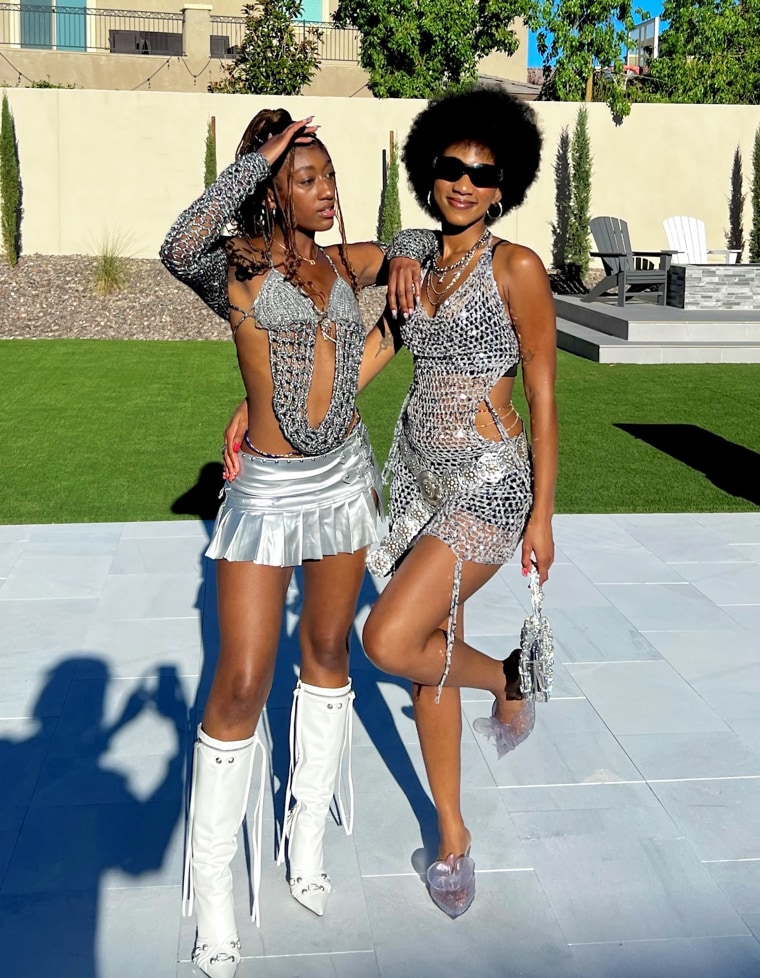 'I automatically started redoing my goals. It's that type of concert.'
Akilah Divine lives in Baltimore and attended the first Washington, D.C. concert on Aug. 6, before Beyoncé asked fans to wear their "most fabulous silver fashions."
But she was already headed that way and used "Renaissance" songs and the album cover to build her outfit.
"I had to really just tap into everything, like everything that I needed: My inner 'Alien Superstar,' 'I'm That Girl,' 'Thique,' 'All Up In Your Mind,' which are my favorite songs from her album," Divine explains. "And what stuck out to me the most was the cowboy hat. Beyoncé in her photoshoot that promoted the tour had on a hat known as the disco ball hat and it's made out of these tiny little mirror pieces."
Divine says she looked around for the hat and found it at a local Baltimore store called Akira. While there, she saw the shirt and shorts she wore, already accessorized with silver, and got them too. She later picked up the boots from Aldo.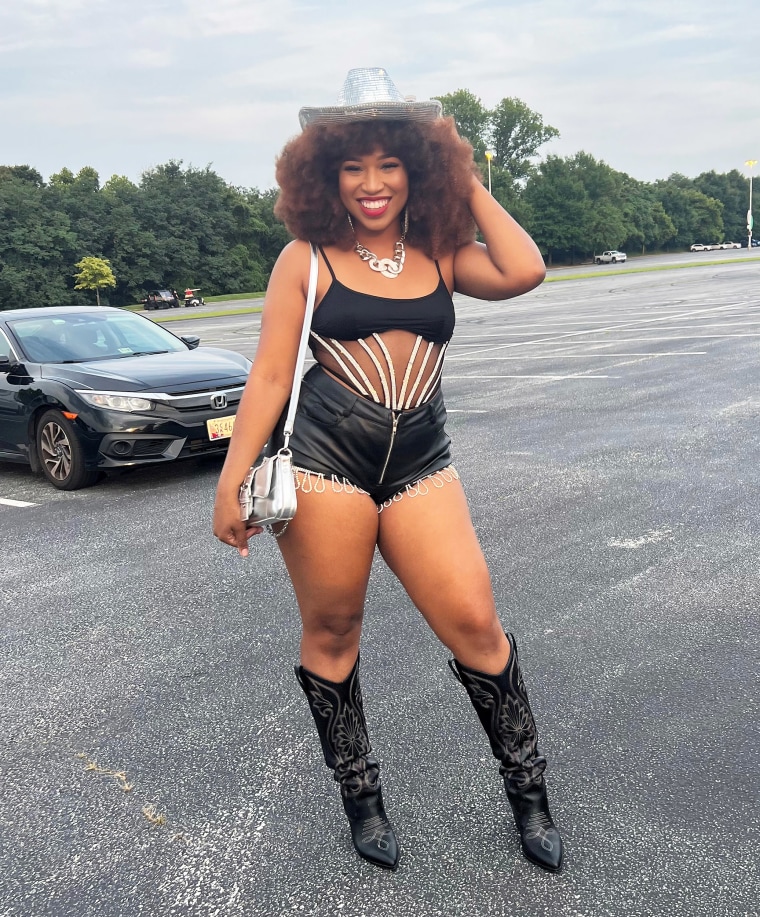 "I've never spent as much money on an outfit, tickets," she says. "Everything total was very expensive but I was like OK I'm going to do this for Beyoncé." She says her outfit alone was $700.
"I had to swipe that credit card but it was worth it," Divine says.
"I felt a part of the theme," she describes. "Everybody was so nice to me. It felt like a big family reunion. I've never been at a concert where it's felt like that. Everybody was so nice. Everybody was so happy. It wasn't any negative energy. Everybody was like, 'Oh hey girl, I like your outfit. Oh, hey girl...' and I started doing it too because that's my natural personality anyway."
She says the experience made her have her own personal renaissance, leading her to set goals and work on her inner self.
"I went to work the next day, my boss was like, 'What's this energy about yourself?' I went into work every day for the next two weeks with my face beat," Divine says, nothing that she doesn't often wear make up to work.
"I'm still on a Beyoncé high," she says. "I automatically started redoing my goals. It's that type of concert. I know it might sound crazy, but it was literally life changing and life altering for me."
Divine says as an artist herself, seeing Beyoncé motivated her to set the bar higher and to be more selective in the gigs she accepts, among other life adjustments she said that happened post-concert.
"That's where I was because the Beyoncé concert hit me in a space of like, you know what, I want it," she says. "I'm going to get it. I deserve this.... So let me start saving more. Let me start setting these different goals. Let me start right now who I want to tour for and get back into my album and creative space and doing things that make me happy. It was fulfilling to see another Black woman who's doing her thing from where she started to where she is now."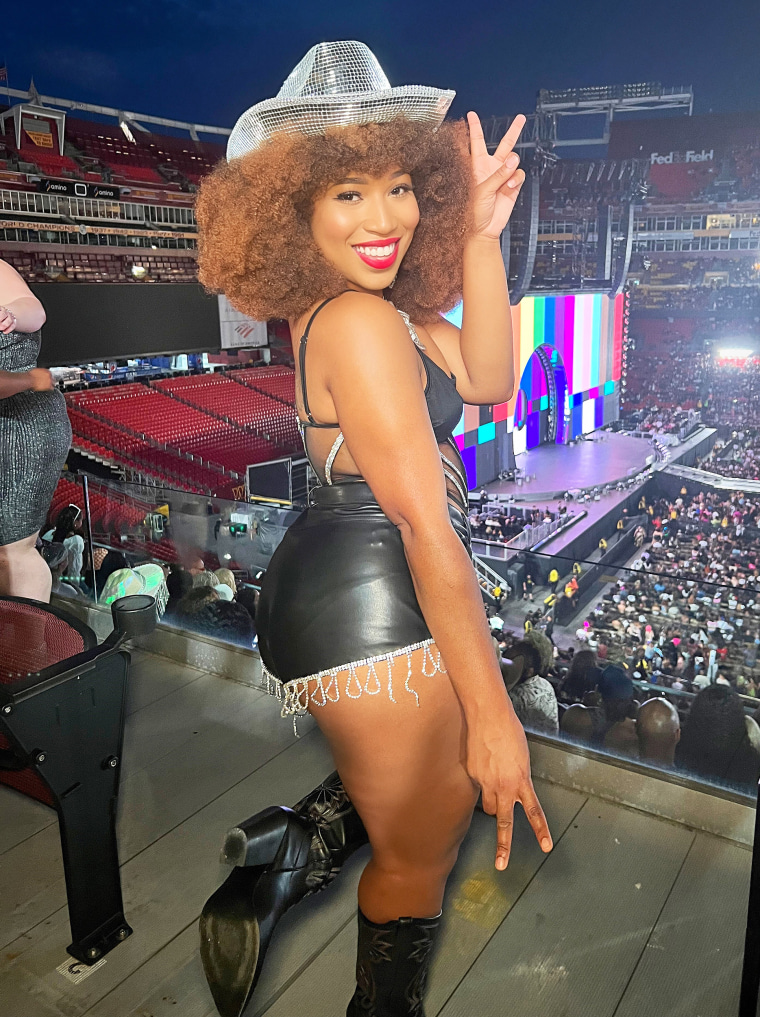 'She's elevated herself to that diva status'
David Taylor is based in Los Angeles and attended the opening two nights of a total of three concerts in the city.
He hand-made a bedazzled top and a matching, cape-like jacket. He's made costumes as a side hobby for the past 20 years and welcomed the adventure of making his "Renaissance" look.
As celebratory as his outfit is, Taylor says that initially, he and his friends were just going to wear cowboy hats and call it a day.
"And then we saw Europe starting up and people kind of wearing some things," he said of the extravagant outfits. "And so I texted my friend who's like a sister. I said, 'Maybe we should do more than just hats."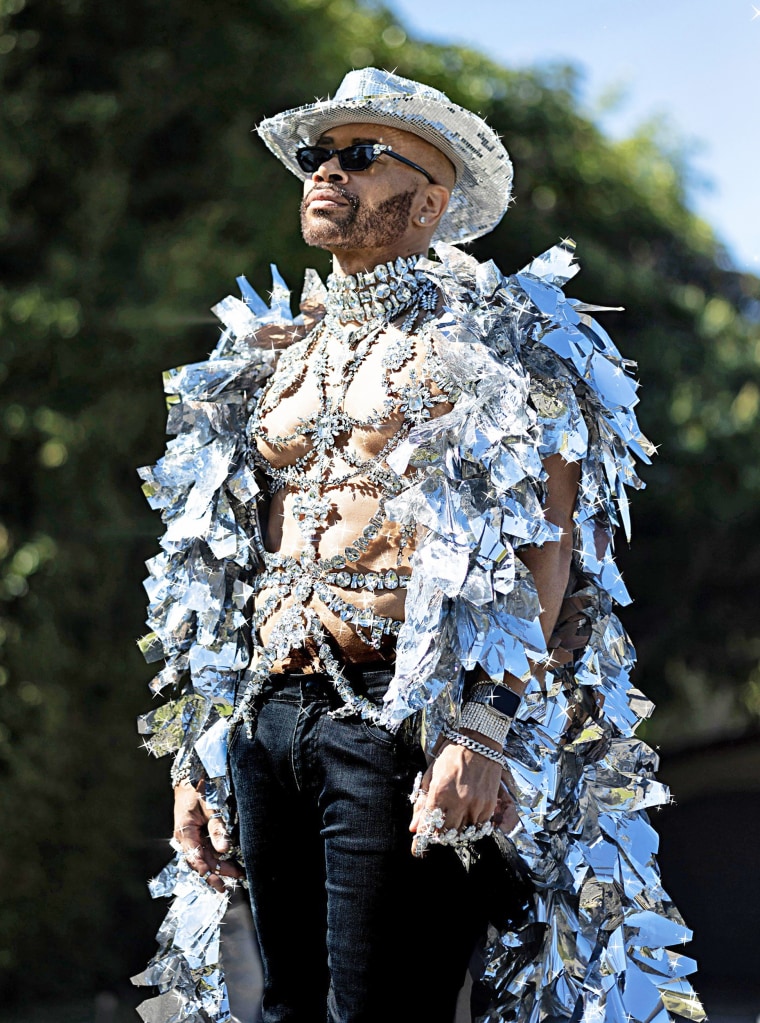 He set off making the top first and used a similar look from model Alton Mason and the album cover to design himself a version he liked. He was just going to put on a pair of pants with the top and go. But then several months later, he saw someone online with the same outfit and wanted to wear something more distinct.
"So what can I do?" he recalls asking himself. "I was just flipping through pictures, and I saw that cape."
Taylor ordered silver mylar balloon sheets, cut them up into the pieces he needed, hand stitched them one-by-one with some fabric he got from Joanne's, and then "glue gunned that thing to death" so it would stay.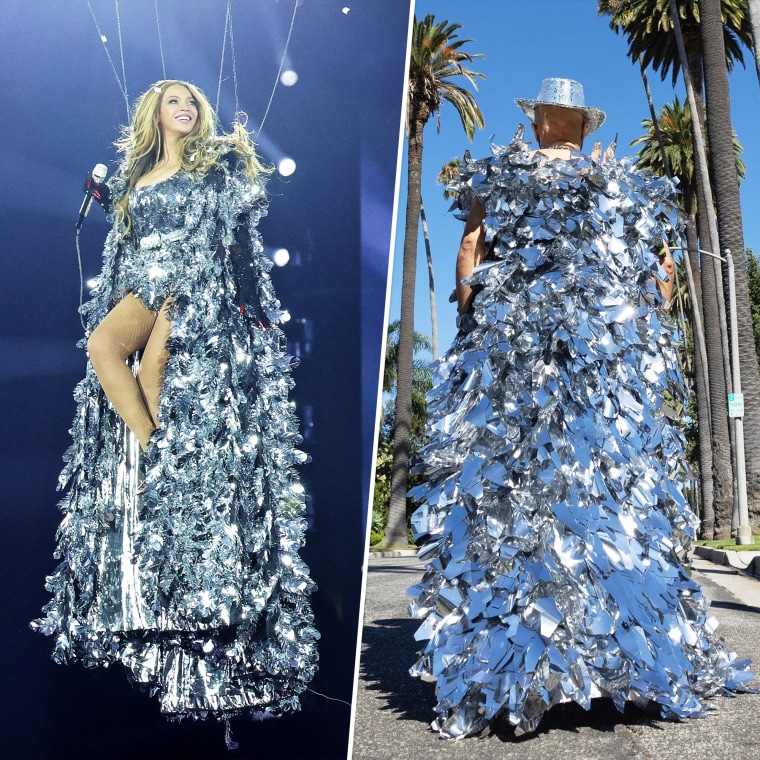 His whole ensemble cost about $500 and took approximately 33 hours of work from start to finish. He said both concerts he attended were "wonderful."
"She just put on an amazing show," he says. "She's elevated herself too, because she is a certain age now. She's elevated herself to that diva status. That's like the first half of the show ... is the diva part. I stand behind a microphone and I show you what my real talent is. And then I go into the "Renaissance," which is just, Afrofuturism, ballroom."
'This show is coming to an end. I cannot miss it.'
Danesha Anglin lives in Atlanta and is planning to attend the New Orleans show later this month. The sheer, shimmery pants she makes, though, have already made their "Renaissance" debut.
"I just wasn't expecting to sell them," she says. "It was just literally... going to a party, so I made the pants. After the high demand, I was like, 'You know what? Cool, I'll sell a few.' A few turned into a lot more than a few."
Ahead of the Atlanta dates, she launched on a silver edition of the pants, which also come in gold and sheer pink.
"So I made the silver pair," she says. "And then she, literally I think like maybe a week later, was like Virgo season's coming up. Everybody wear silver."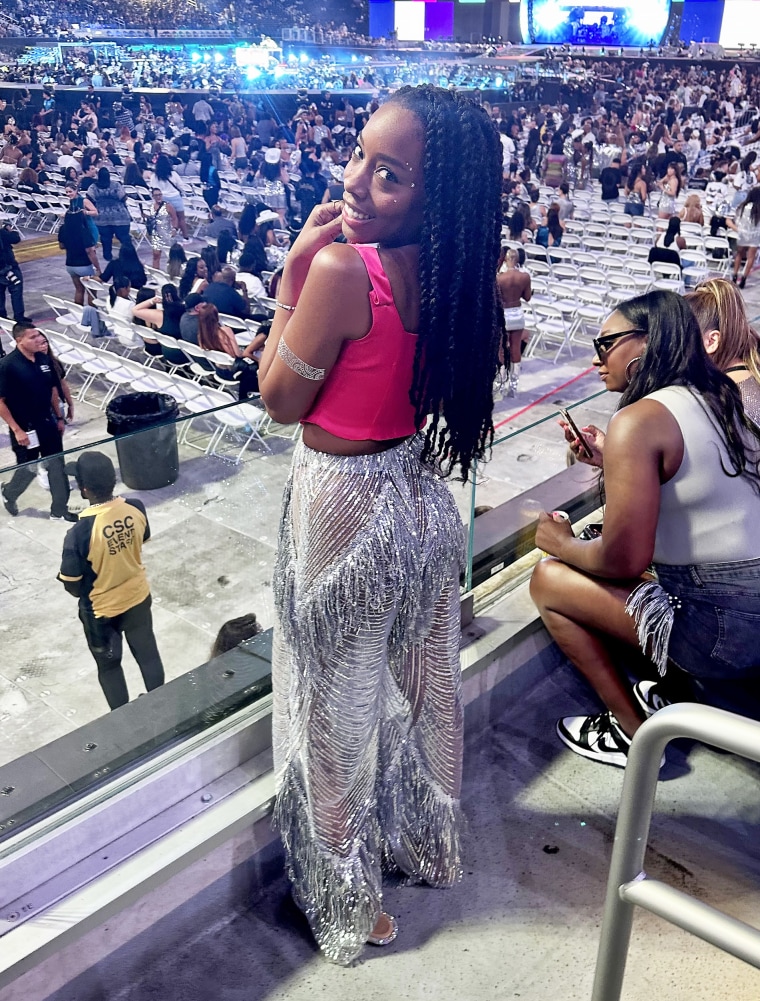 To date, Anglin's made $10,000 selling the custom pants that she started making as just a one-off for a friend's party. She says her customers could not be more happy with the pants.
"I have a lot of DMs (from customers)," she says, nothing that they share compliments that other concert attendees gave them about the pants.
"'Everyone kept stopping me," Anglin says of what her customers DM her. "'And every time they stopped me, I did a quick shimmy.'"