Evan Koris' dream wedding has always included a performance by Adele. On March 3, not only did he fulfill that dream, his bride also left with the singer's autograph on her wedding dress.
Gaby Koris posted a video of the moment on Instagram, which featured her and her new husband excitedly cheering in a white gown and tuxedo at Adele's concert in Las Vegas.
While singing her 2015 hit "When We Were Young," Adele comes directly up to the couple.
"When she was walking down, there were just three letters going through my head — OMG," Evan Koris tells TODAY.com in an interview. "So we're fangirling, we're flipping out. I got the clammy hands and everything. And she finally turns around and we just started screaming."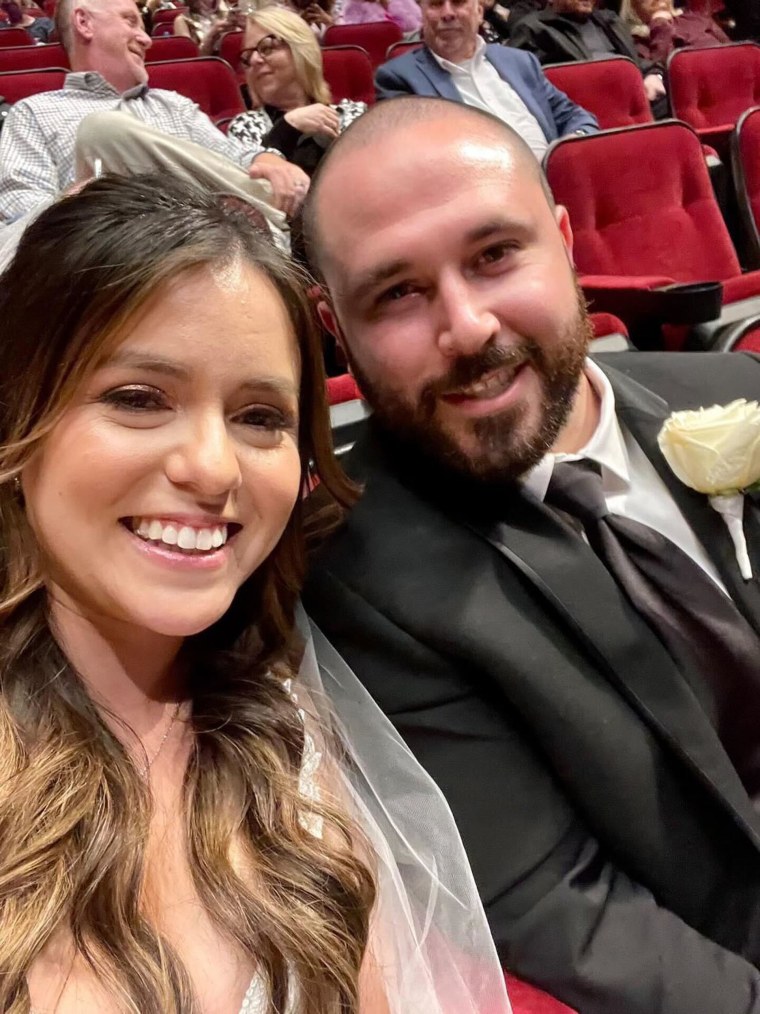 Adele exchanged a few words with the couple before grabbing their hands and signing the bottom of Gaby Koris' wedding dress.
"It was a huge build up because it's towards the end of the concert," Gaby Koris tells TODAY.com. "So the whole time we've just been in complete shock and awe of what she's capable of and just to actually sing at us at the same time ... that was just incredible. We were beyond feeling, beyond everything."
Even while signing the wedding dress, Adele didn't miss a note, Evan Koris said.
"What can't she do at this point?" he says.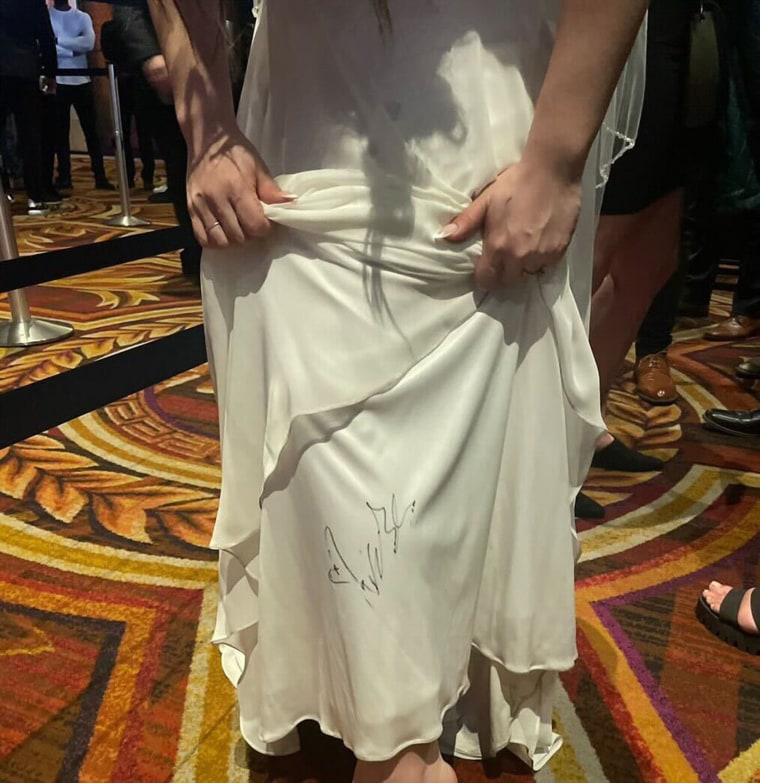 The "Rolling in the Deep" singer even shared the moment on her own Instagram page, posting a photo of the happy couple smiling at her while the groom holds Adele's hand.
In turn, Gaby Koris re-shared the image on her social media page, writing that she's on "cloud one million."
'Once in a lifetime'
The couple met online and have been together for seven years, during which Evan Koris made it clear that he wanted Adele to one day sing at their wedding.
"Ever since we have thought about getting married, knowing that we were in that place, the biggest thing that Evan would always say is...'I want Adele to sing at our wedding,'" Gaby Koris tells TODAY.com.
At first she had cried about the situation to her mom, saying, "Mom, I'm never getting married. He's literally saying he wants Adele to sing at our wedding."
As to why Adele is his dream wedding performer, Evan Koris says that the 34-year-old is "the voice of a generation."
"I think she's so special," he says. "I don't think people really understand how special she is and her voice. I think it's something where people will look back in 50 years and think, 'Wow, she's spectacular.'"
The couple got engaged at the Grand Canyon in November 2021, and just a few months later, Adele delayed her Las Vegas residency. With the "Rolling in the Deep" singer's concert series now starting in November 2022, their dream became a reality, and they planned their wedding around the concert to make it possible.
The couple wed on the afternoon of March 3 at Caesars in Las Vegas. The Koris' celebrated saying 'I do' at a dinner reception with family and friends before heading to the concert held at The Colosseum. There, the newlyweds got their "most precious moment on the best day of our lives," Gaby Koris shared on Instagram.
Although some people might be hesitant to "ruin" their wedding dress with an autograph, Gaby Koris says Adele signing the dress was a "once in a lifetime" opportunity, comparable to how wearing a wedding gown may only happen once.
"When I would go into my dress fitting, I would tell them, 'I'm literally going to try and get her to sign this dress,'" she says. "And they'd tell me, 'OK, just make sure you bring a fabric marker.'"
As of this week, the dress has been kept at the salon that the couple co-owns in Sacramento, California. They plan to put it in a special spot in their home, though, where they can walk by it every day.
"We are truly grateful to have this moment with Adele, she made our dream come true!" they said in a message to TODAY.com. "Mr. & Mrs. Koris blessed by Adele, we can't thank her enough."