The 2016 MTV Video Music Awards kicked off in high-gear with an energetic performance from Rihanna. The 28-year-old singer sang and danced through the first of several medleys throughout the night of her career-spanning hits including "Don't Stop The Music" and "Diamonds."
By night's end, Rihanna was presented with the prestigious Michael Jackson Video Vanguard Award, which honors artistry and edginess in music videos — something that was celebrated all night long.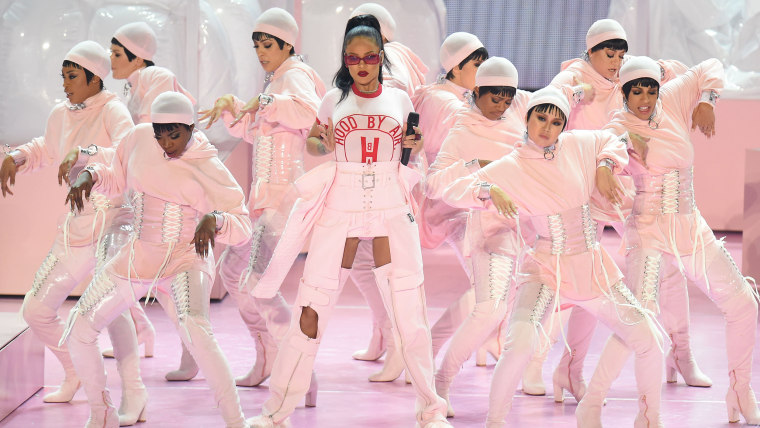 Since their 1984 debut, the VMAs have been heralded as the Grammys' hipper, younger sibling, bringing together the biggest names in pop music for a rollicking night of cutting-edge fashion, wild performances, and buzzworthy moments.
This year's ceremony was broadcast live from Madison Square Garden with a rotating cast of emcees including comedians Keegan-Michael Key and Jordan Peele.
RELATED: Jimmy Fallon steals show with Ryan Lochte impression at VMAs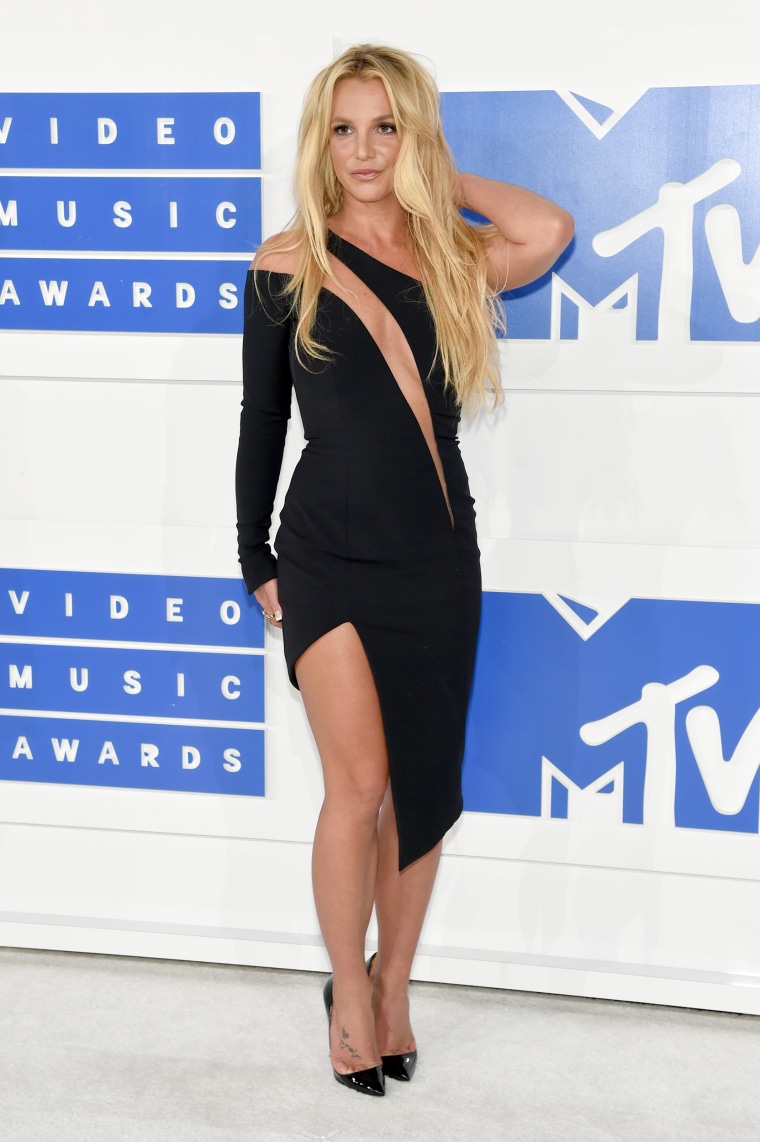 Britney's back
One of the night's most anticipated events was the return of Britney Spears to the VMAs stage after a nearly decade-long wait. The iconic hitmaker, who was introduced by Kim Kardashian, wore a glittery yellow bodysuit to perform "Make Me…," the lead single off her brand new album "Glory," along with guest rapper G-Eazy.
The Princess of Pop, of course, has a long history with the VMAs. Over the years, she's treated fans to risqué costume changes, an enchanting snake dance and a steamy lip lock with Madonna. Sunday night's performance, while more tame, was a triumphant return for the 34-year-old superstar.
A surprise Beyonce performance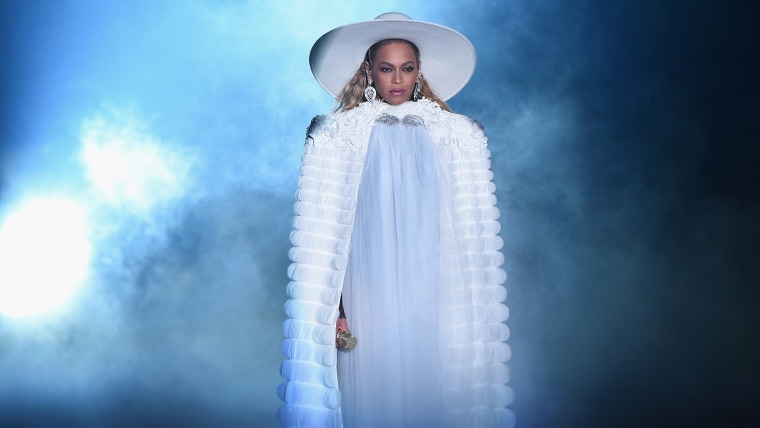 Late Sunday, MTV announced in an ecstatic tweet that Queen Bey herself would perform live at the ceremony.
After an equally ecstatic introduction from tennis great Serena Williams, Beyonce, wearing a long white ruffled frock — at least at first — took to the stage to perform a riveting medley from her now-iconic video album "Lemonade," winner of the newly resurrected Breakout Long Form Video category. Beyonce led the pack with 11 nominations and left the ceremony with an armful of Moonman trophies.
Ariana Grande and Nicki Minaj perform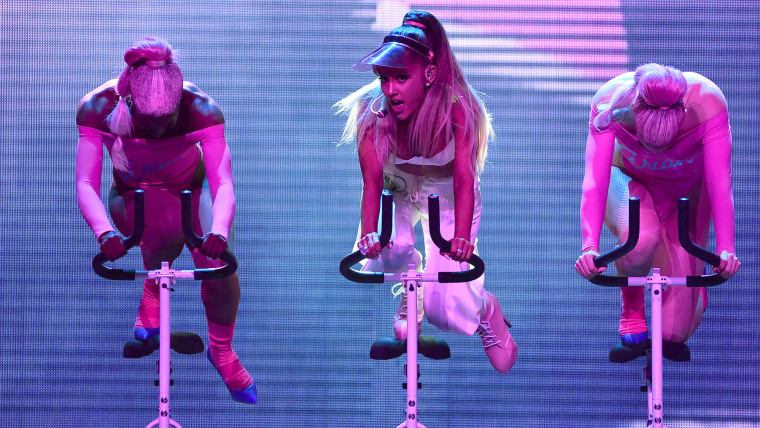 Early into Sunday's female-centric ceremony, Ariana Grande and Nicki Minaj, decked out in pink, opted for a gym motif to perform Grande's reggae-inflected "Side By Side." Their backing dancers spun on exercise bikes and curled weights.
Alicia Keys and Michael Phelps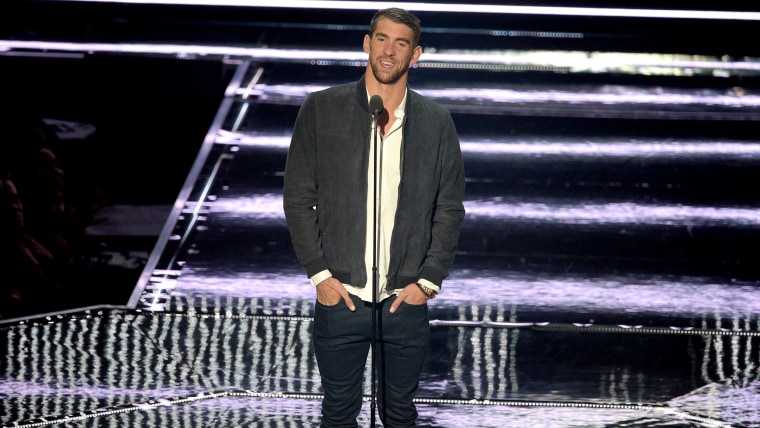 The night's presenters included a who's who of entertainment, fashion and sports.
A makeup-free Alicia Keys took to the stage to call for an end to violence before presenting the Best Male Video award to Calvin Harris. "Today marks the 53rd anniversary of Dr. Martin Luther King's 'I Had A Dream' speech," Keys told the audience before reciting an anti-violence poem that morphed into a powerful a cappella anthem of peace.
RELATED: MTV VMA winners 2016: See who made the list!
"I still believe in that dream that one day our nation is going to rise up and finally, finally be completely about the true meaning of this creed: all women and men are created equal," said the musician.
Keys was followed by Olympic gold medalist Michael Phelps, who introduced a performance by rapper Future. The swimmer revealed that it was Future's fierce music he was listening to at the Summer Olympics in Rio de Janeiro when photogs snapped a pic of him leering at an opponent.
The Final Five —minus one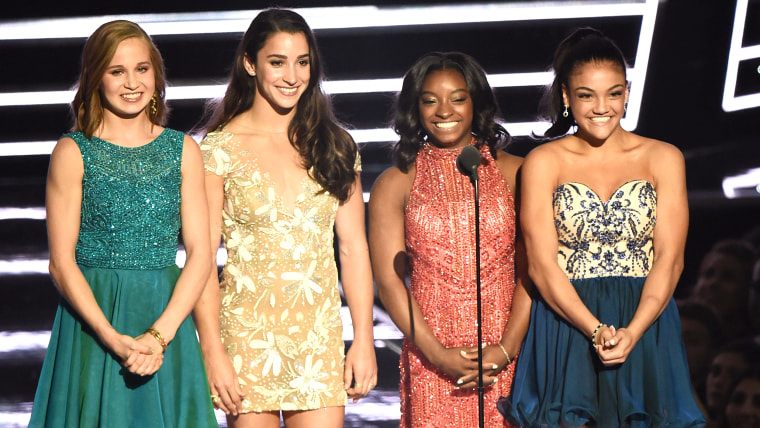 Phelps wasn't the only Olympian at the VMAs. Four of the Final Five gymnasts — Simone Biles, Aly Raisman, Laurie Hernandez and Madison Kocian — were on hand to present Beyonce with the Best Female Video award for her "Hold Up" video. (Fifth member Gabby Douglas was recovering from a recent hospital visit.)
The four gold medal winners walked out to a standing ovation and thunderous applause.
"Together with our teammate Gabby, we accomplished something bigger than ourselves that was a clear product of our years of hard work and training," said Kocian, introducing the category..
"The five women nominated for Best Female Video work hard to be at the top of their game. They're role models to us and we hope to be the same to the younger generation of women," added Raisman.
"And we love them all!" concluded Hernandez.
Beyonce, who beat out peers Adele, Sia, Ariana Grande and Rihanna, accepted the award in a long sequined jumpsuit and cape.
RELATED: Best celebrity tweets, Instagrams at 2016 VMAs: Stars share behind-the-scenes pics
And one fake Olympian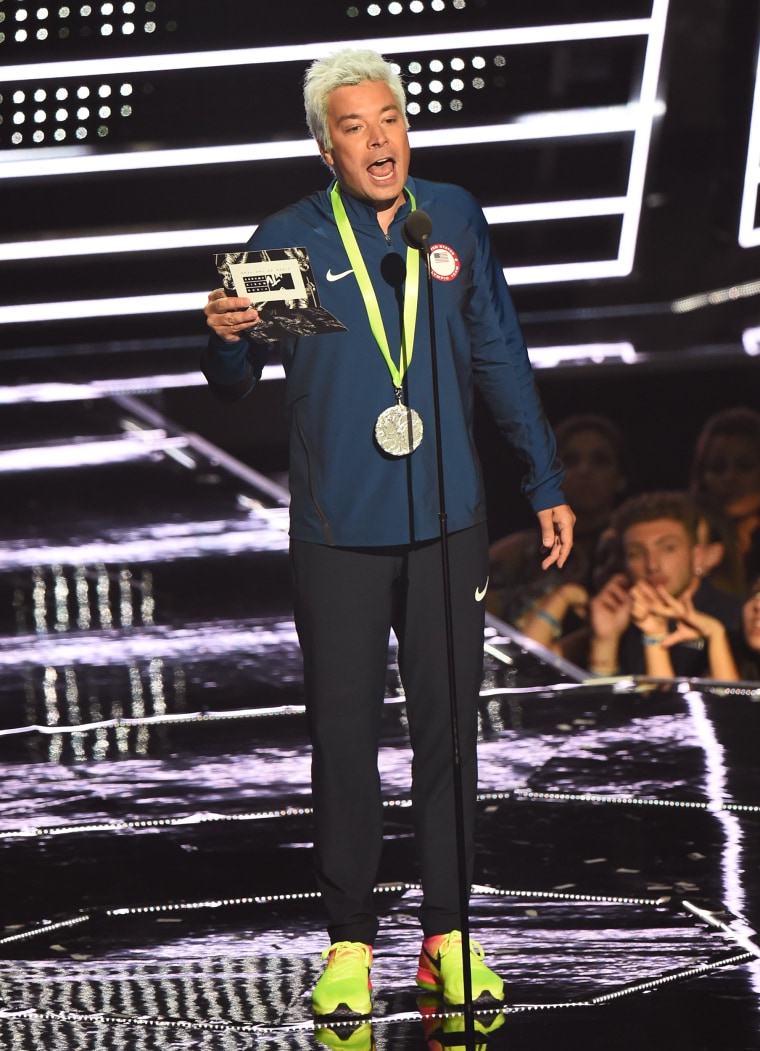 One fake Olympian caused buzz, too. "Tonight Show" host Jimmy Fallon walked onstage dressed as disgraced Olympic swimmer Ryan Lochte to present Video of the Year. Fallon's Lochte fibbed about his connections to pop stars.
"I directed all five nominees for Video of the Year," he boasted. "I'm the one who gave Adele that flip phone."
"I made 'Lemonade' with Queen Bey," he continued before calling himself "Reezy with the good hair."
The category's winner? Beyonce's "Formation." The artist thanked her husband Jay Z and daughter Blue Ivy, 4, among others, in a brief speech.
Kanye West defends himself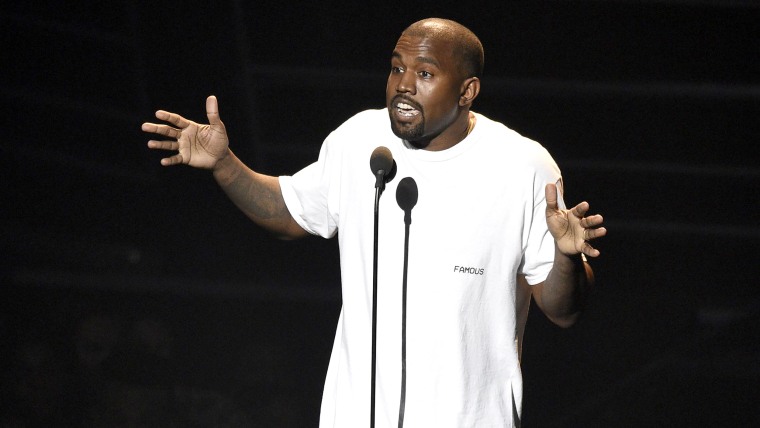 Kanye West was allowed several minutes of solo time to simply talk onstage. The rapper used the opportunity to introduce his steamy new video "Fade," and defend his controversial video "Famous," which features wax figures resembling celebrities and depicts a Taylor Swift figure lying in bed next to a West figure.
The rapper cracked a joke about the 2009 VMAs when he famously crashed the stage as Swift accepted an award for Best Female Video — besting Beyonce.
RELATED: MTV VMAs red carpet 2016: See the best and craziest outfits
"Later tonight, 'Famous' might lose to Beyonce," West said. "I can't be mad. I'm always wishing for Beyonce to win."