Next month marks the 25th anniversary of "Mrs. Doubtfire," and to celebrate the beloved big-screen comedy, TODAY invited a few of the stars to reunite on the small screen.
Fans of the flick will have to wait until next month to see that celebration on the show, but we've got a treat to tide them over.
On this Throwback Thursday, here's a sneak peek of the fun to come with the cast of the classic film.
NBC News correspondent Gadi Schwartz, who brought us an epic reunion with the all-grown-up kids from "The Sandlot" back in April, sat down with Pierce Brosnan (aka stepdad Stu), Lisa Jakub (Lydia), Matthew Lawrence (Chris) and Mara Wilson (Natalie) this week, and he shared a few pics on Instagram.
"Oh HELLOOOO! MRS. DOUBTFIRE REUNION ALERT," he wrote alongside a collection of photos from the get-together. "Look how the kids from #MrsDoubtfire have grown... and their movie stepdad @PierceBrosnan couldn't be more proud!"
And he really means that.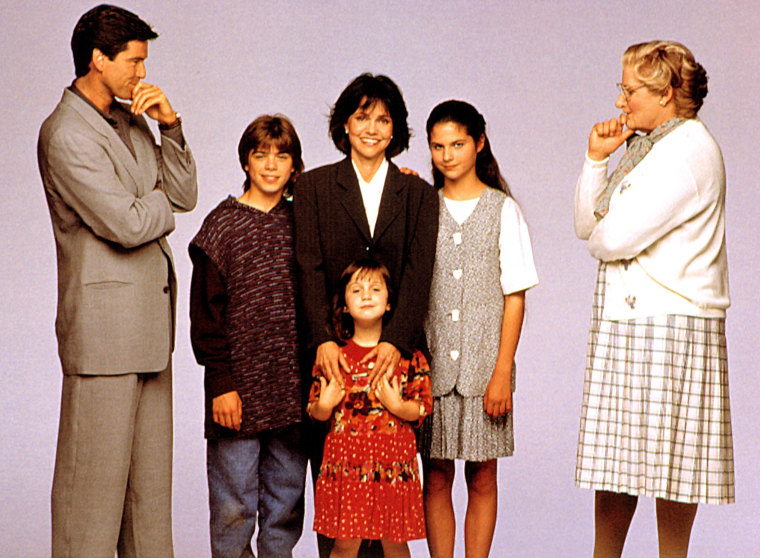 In fact, that was clear to see as Brosnan beamed at his younger co-stars in a clip shot on his phone.
"Love you, all, so much," the 65-year-old actor said in the video he shared on Instagram.
The warm reunion lacked a couple of familiar faces from the 1993 film — Sally Field, who played mom to the gang, was absent, as was, of course, the late leading man whose performance made the movie so memorable, dad and title star Robin Williams.
Earlier this month, TODAY had a chance to catch up with Jakub, who shared her memories of working with the amazing star.
"I learned so much from Robin," she said. "I learned how to be in the moment. One of the things that made Robin so brilliant at what he did was as an actor, as a performer, he was present. He was reacting to what was going on around him. And I think that that's a really valuable thing, just to learn about life; to be in that moment so you can really experience it and react in an authentic way."
And he took his role of on-screen father off screen, as he shared some life lessons based on his own personal struggles.
"Something that Robin taught me that was really, really important is that he was very open with me about his issues with addiction and depression," Jakub said. "And I really appreciated that. I was 14 at the time that we shot 'Mrs. Doubtfire,' and I think he thought that was, you know, a prime time to really be open with me and honest. And I have dealt with depression, and I have anxiety, and the fact that he was that open, that honest, that willing to talk to me about it was something that was really special."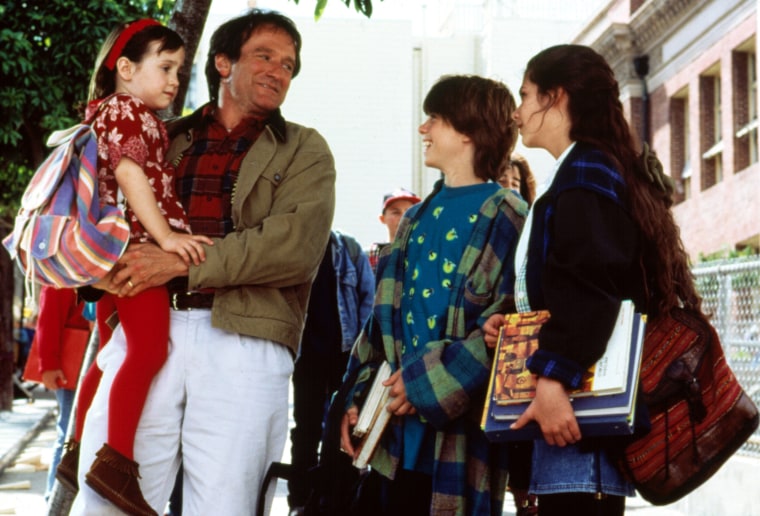 See more from Jakub and the rest of the cast when we air the reunion on TODAY next month.