He's known for sweeping leading ladies off their feet in dramas and rom-coms, but in the action-comedy "Kingsman," Colin Firth is kicking the feet right out from under a bunch of bad guys.
Yes, the man who brought more than one version of Mr. Darcy to the big screen (both in "Pride and Prejudice" and the "Bridget Jones" movies) has transformed into a real action hero.
On Tuesday, TODAY's Savannah Guthrie called the "Kingsman" part a "very un-Colin-Firthy role."
"Unless you think 'Bridget Jones's Diary' was the first hint of my deadly skills," Firth shot back.
Indeed, his for-laughs battle opposite Hugh Grant was fun, but it's nothing compared to the no-holds-barred, highly choreographed physical feats he mastered for his new film. In fact, Firth trained for six months just to make all that hard work look easy.
"It was not a comfortable experience," he explained. "The beginning was a nightmare of intimidation and a sense of inadequacy, because there were a team of 10 guys, who could do this stuff in their sleep, trying to just get me to achieve one squat."
It all paid off.
"By the end of six months, if you persist, something is going to change," he realized. "You know, I started to think I've wasted the last 30 years writing off athleticism."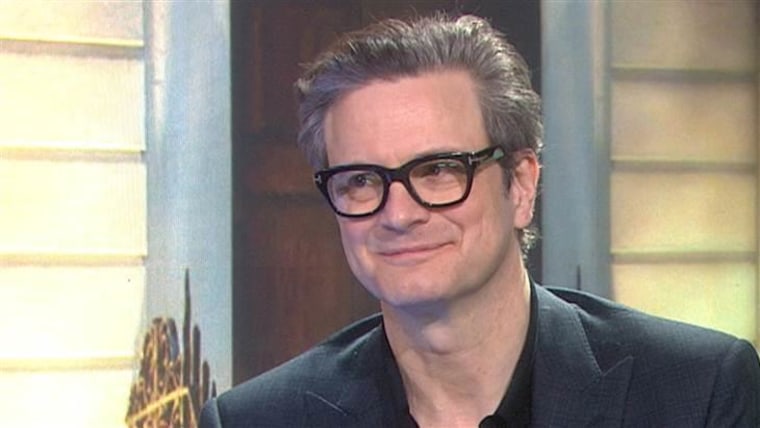 Well, those years weren't exactly a waste, as any fan of his films can attest. And speaking of fans, Guthrie wanted to know if there's going to be another sequel to one of her faves — "Bridget Jones" — on the way.
"I'll say yes to you," Firth teased. "We'll do one just for you."
That may not be a sincere confirmation, but we'll take it!
Check out the clip to hear more from the actor and to find out what his "Kingsman" co-star, Taron Egerton, had to say about working with him.
"Kingsman" opens in theaters nationwide Feb. 13.
Follow Ree Hines on Google+.