Woody Harrelson and "The Friends" are out to change how Hollywood views actors with intellectual disabilities while having some laughs along the way.
Harrelson and cast members of the feel-good basketball comedy "Champions" spoke with Savannah Guthrie on TODAY on March 10 about all the fun they had on set and how they hope the film changes perceptions of people with intellectual disabilities.
"I hope this movie makes it so we are more represented, more accepted," actor Casey Metcalfe told Savannah. "In fact, not just accepted. We want to be included."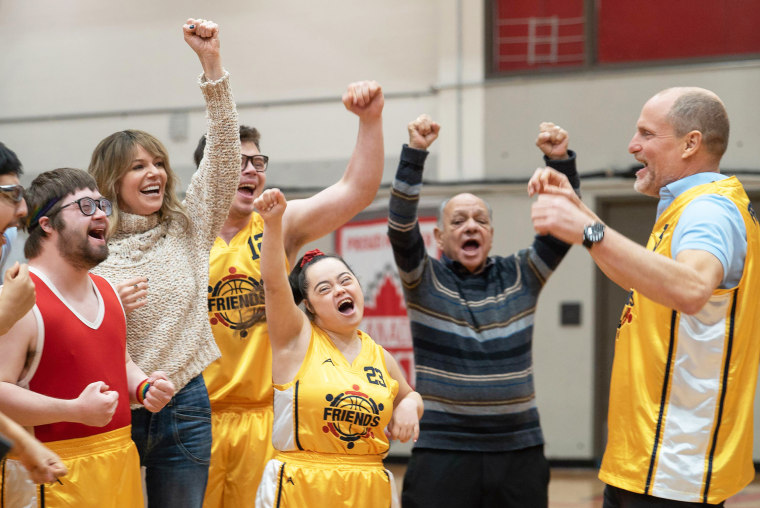 More than 30 years after starring in "White Men Can't Jump," Harrelson returns to the court as a minor league basketball coach who runs into legal trouble and has to coach a team of players with intellectual disabilities to satisfy a community service requirement.
The players are a member of a squad called "The Friends," who deliver plenty of hilarious one-liners as they become a tight-knit team under Harrelson.
"I felt like it was one of the best summer camps I've ever been to," Metcalfe said.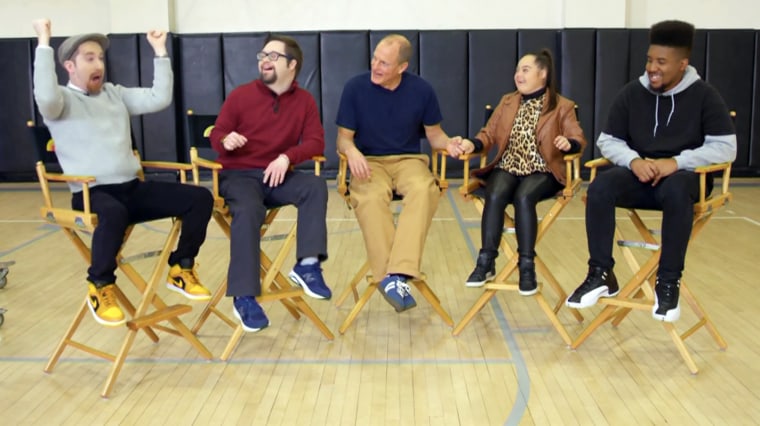 The film also contains emotional moments like a scene where Harrelson tells a player that his squad is up next in the pickup games on an outdoor court, only for the player to reply, "Don't make me say it. They're ret-."
Harrelson punches him in the stomach before the guy can get the word out.
"That's a boo-boo word," Harrelson says.
The moment hit close to home for Metcalfe.
"I cannot say that's not been something that's happened in my life," he said. "Dozens, dozens of times where people say, 'Oh, no, you're disabled, we don't want to play with you. We don't want to hang out with you. You're weird,' blah, blah, blah."
Harrelson also hopes the funny and inspirational performances by "The Friends" might make other filmmakers consider more actors with intellectual disabilities.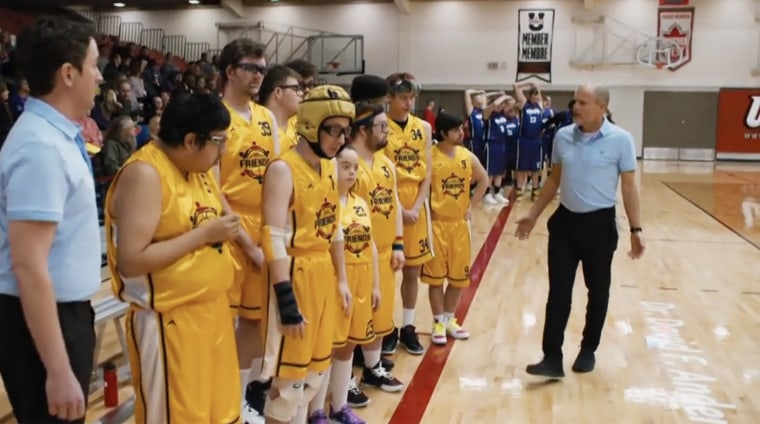 "Hopefully, if people see this film, they'll be like, yeah, you know what, let's write in a part that wasn't in whatever script they're doing," Harrelson said.
The film also features plenty of laughs as it reunites Harrelson with "Kingpin" co-director Bobby Farrelly, who is making his solo directorial debut. Farrelly and his brother Peter are known for the comedy hits "Dumb and Dumber" and "There's Something About Mary."
"My favorite part was just being on set with Woody," actor Kevin Iannucci said. "He is such a talented guy and it was so much fun working with him."
"We had a good time, didn't we?" Harrelson said.
The movie, which also stars Kaitlin Olson, Ernie Hudson and Cheech Marin, hits theaters on March 10. The comedy is an American remake of a Spanish film of the same name.
"I watch that and I'm like, 'Oh, I'm in,' it is such a beautiful story, so funny, so brilliant," Harrelson said about the original film. "And then once I met all these guys the first day, I said, 'Oh, we're going to be in good shape.'"
The studio auditioned thousands of actors before deciding on the group that became "The Friends" on and off the set.
"Right away I call my dad and I said, 'Dad, you will not believe this. I'm in a movie with Woody!'" actor Madison Tevlin said. "He also freaked out when I told him."
"I was shocked," Metcalfe said. "They're both like, 'You got the role.' And then my phone dropped out of my hand. I started doing a little dance. I said, 'I got a role in a Hollywood movie!'"
Whether it's "The Friends" belting out the chorus of the Chumbawamba hit "Tubthumping" during karaoke or Tevlin showing off what Harrelson called her "A+ trash talk" in the movie, it was an experience that bonded them for life.
The actors now aim to show their peers about the possibilities out there for them in Hollywood.
"I hope it motivates them and have them feel inspired to want to find other opportunities for themselves," actor Joshua Felder told Savannah. "They don't have to feel isolated or feel embarrassed for having a disability. We just got to be the best we can be."