Tom Cruise gave the most Tom Cruise acceptance speech of all time at this year's MTV Movie & TV Awards.
The action superstar, who famously does his own stunts, delivered a pre-recorded speech on May 7 while piloting a World War II propeller plane high in the sky with the MTV popcorn statuette strapped in the back seat.
Cruise, 60, won for best performance in a movie for "Top Gun: Maverick."
"Hi everyone, thank you so much for this award," he said from the cockpit. "I make these films for you. I love you. I love entertaining you. To know how much you enjoy it, how much you appreciate it, there's just no better feeling."
Cruise then got in a plug for his upcoming action movie "Mission: Impossible — Dead Reckoning Part One," coming up in July. That film contains what Paramount Pictures called "the biggest stunt in cinema history," which involves Cruise riding a motorcycle off a cliff into a BASE jump.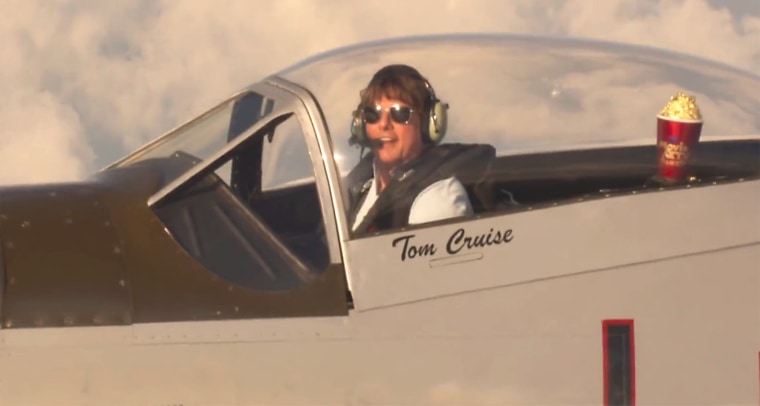 In his acceptance speech, Cruise appears to be flying the P-51 Mustang plane that he owns, which appeared in "Top Gun: Maverick." Cruise also took former late-night host James Corden for a memorable ride on the plane last year.
 "You have a wonderful summer," Cruise said in his speech. "Thank you again for letting me entertain you. It's an absolute privilege. We'll see you at the movies."
Cruise then banks the plane away from the cameras to fly into the clouds.
The MTV Movie & TV Awards featured a host of pre-taped speeches after pivoting from a live event due to the Hollywood writers' strike.
Drew Barrymore stepped down from her hosting duties three days before the ceremony as a show of solidarity with the Writers Guild of America.
Cruise appeared to be multitasking on his flight in the P-51 Mustang. He recorded a similar message from the same plane that was played for King Charles III during the coronation concert in London on May 8.
The monarch is a veteran of the Britain's Royal Air Force.
 "Pilot to pilot," Cruise said. "Your Majesty, you can be my wingman any time."